Trading Taylor Mays Is a Move in the Right Direction for the 49ers
August 24, 2011
Last season, then 49ers coach, Mike Singletary, strong armed the 49ers brass into drafting Taylor Mays, defensive back from USC.  If anyone remembered Mays' career with the Trojans, it was easy to say that he was very gifted in terms of athleticism.  The same kind of athleticism that led Singletary to draft him.  When looking back at the 2010 NFL Draft, it was never a surprise to me that Mays' stock fell as a potential first-round pick.
Mays indeed did display remarkable athleticism for a player at his position, at his size (6'3", 230 lbs). However, he was only an average player at best surrounded by better overall talent. The biggest knock on him during his college days were his poor coverage skills. As physically gifted as Mays is, those gifts haven't necessarily translated into on-field prowess. More times than not, he looked lost in coverage, especially when playing in the deep zones that the 49ers used under Greg Manusky.
Point blank: Mays is a classic example of a superior athlete who is a below average "football player."
There was a point in time when many 49er fans, myself included, thought the same about tight end Vernon Davis. His first three season in the league were marred by underachieving, diva like play. Now, Davis is the most dangerous tight end in all of football and with maturity under his belt, a great locker room presence.  
This isn't to say that Mays cannot have the same turnaround that Davis had. Mays has potential. What he lacks is the drive to be the best player he can be. As a coach of a big-time college program like USC, it had to be disheartening when one of your best players would rather have taken the easy way out (asking Coach Carroll to put him in the box in run support) than work harder to be a better coverage defender. No amount of athleticism can mask poor football IQ or work ethic (Anyone remember a guy by the name of JaMarcus Russell?).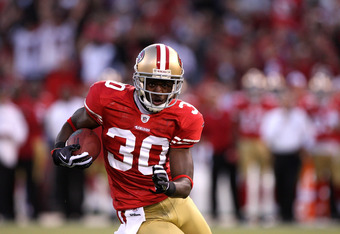 If Mays has to blame anyone for his spotty NFL career, he need not look no further than his own reflection.
What does that mean for the 49ers? Back in 2008, the 49ers drafted Reggie Smith, a defensive back from Oklahoma University. Smith's skill set was harder to determine at the time because he was more a "tweener" coming out of college. In his six starts last season, Smith played well at safety, despite the fact the 49ers are having many issues in the secondary.  
He now has a more defined role with the team as a coverage safety, a big plus in today's pass-happy league. What Smith displayed in those six starts was something Mays had struggled with since his college days: Coverage.
Fast track to 2011, Mays has been traded to the Cincinnati Bengals for an undisclosed draft choice, joining fellow 49ers castoffs, Nate Clements and Manny Lawson. Smith was having a very good training camp before injuring his knee. The injury should only sideline him for a few weeks, and he should produce once he's able to get actual playing time under him.
New 49ers head coach, Jim Harbaugh, sent a message to not only Mays, but to the entire team when he traded the former second-round pick. Mays was drafted by the old regime. The same regime that shackled the proverbial stones to the body of the 49ers franchise and allowed it to drown without a fight. Having been mired as a below average team for almost10 years, Coach Harbaugh has the reigns to this once storied franchise and is slowly guiding the 49ers back to relevancy.