7 Questions the Miami Dolphins Still Must Answer Before the Season Begins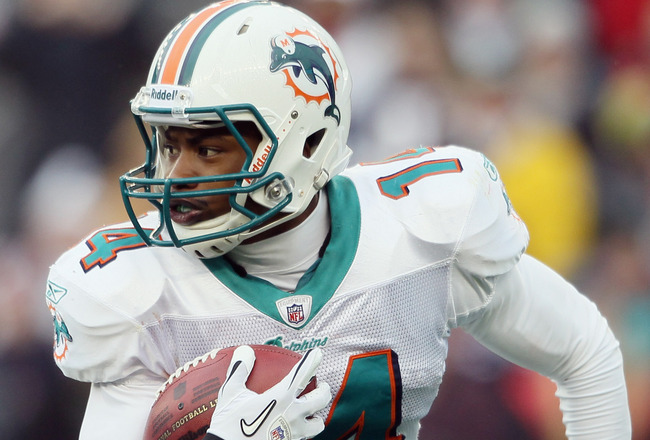 Elsa/Getty Images
Ideally, the NFL preseason serves to solve all of the outstanding questions and concerns a particular team might have. These four exhibitions games can, for example, help a team determine their starting lineup and the back end up their depth chart
Unfortunately, training camp and the preseason sometimes spawn more concerns.
Once the lockout concluded, we all assumed the Dolphins were settled at running back and were stable along the offensive line. However, the team's first two preseason games have suggested otherwise.
So, what other questions and doubts currently plague Miami's roster?
Here's seven that must be answered before Week 1.
Is Daniel Thomas Capable of Shouldering a Substantial Workload?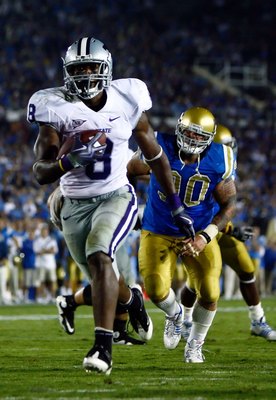 Jeff Gross/Getty Images
By cutting ties with Ronnie Brown and Ricky Williams, the Dolphins entrusted heaps of their 2011 outlook into second-round pick Daniel Thomas. Of course, the 'Fins also acquired Reggie Bush, but because of his scat-back nature, Thomas was pinned as the team's feature back for the foreseeable future.
However, Thomas has been relatively disappointing throughout the Miami's first two preseason games (though he made great strides in Week 2), and Tony Sparano has anointed Bush as the team's starter. The Dolphins also scooped up a burnt-out Larry Johnson from the unemployment line.
Reggie has played a full 16-game slate only once in his five-year career and Larry Johnson is merely an insurance signing. In order for the Dolphins to thrive, Thomas must succeed. But unless he has a breakthrough sometime in the next two weeks, the Dolphins could be in trouble.
How Many Wide Receivers Will the 'Fins Keep Onboard?
Elsa/Getty Images
Brandon Marshall, Davone Bess, Clyde Gates, Brian Hartline and Roberto Wallace will make the 53-man roster. This much we know.
But what will the Dolphins do with Marlon Moore?
Moore is an electric athlete who is loaded with potential, but he needs more grooming before he can become a full-time contributor. By demoting him to the practice squad, Miami risks losing him to another team. So will the run-heavy Dolphins keep six wide receivers (hence limiting depth at another position) in order to retain a raw athlete?
Will the Offensive Line Mesh in Time for the Regular Season?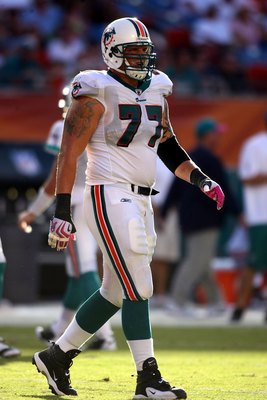 Marc Serota/Getty Images
For the second consecutive summer, Tony Sparano has shuffled his offensive line around like a deck of cards. He added two new pieces (Mike Pouncey and Marc Colombo) and moved another (Vernon Carey to guard).
It's awfully resemblant of his disastrous tactics from one year ago, but the talent and savvy on this season's line is undeniably superior to the one Sparano assembled last summer. Still, Carey must make a substantial adjustment to right guard, Marc Colombo must prove that he can stay healthy and play efficiently, Mike Pouncey must prove that he can play at all, and Jake Long's health is still a looming concern.
For a team that relies so heavily on the run game and for a coach who supposedly specializes in the offensive line, there's an disconcerting number of questions for the line to solve before the season opener.
What Will the Dolphins Do with Their Excess Defensive Linemen?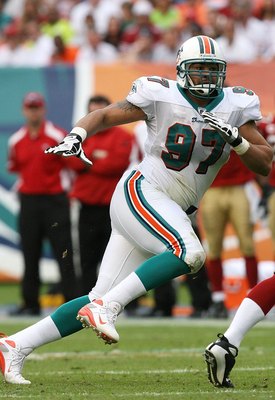 Doug Benc/Getty Images
Between Tony McDaniel, Kendall Langford, Randy Starks, Jared Odrick and Phillip Merling, the Dolphins boast arguably the deepest crop of defensive ends in the NFL.
By rotating those five, Miami could stifle the most lethal of rushing attacks and penetrate the most fortified of offensive lines, but is it really necessary to hold onto all of them? The Dolphins would benefit from adding some 2012 draft picks or perhaps an offensive guard or tight end. Moreover, it seems like keeping any of these guys on the sidelines is a waste.
Phillip Merling would likely be the odd man out if Miami were to seek a trade, but it's difficult to see one transpiring this late into camp. However, if a team loses a defensive end to injury, the 'Fins could find themselves a trade partner.
Who Will Start at Free Safety: Chris Clemons or Reshad Jones?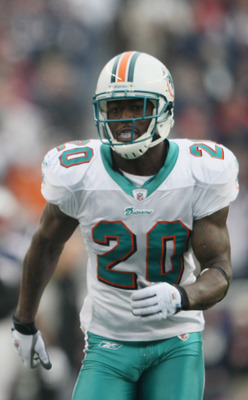 Elsa/Getty Images
Two former fifth-round draft picks are duking it out for the starting free safety job. Incumbent starter Chris Clemons clearly has the upper-hand, but Reshad Jones' knack for playmaking and nose for the football has turned heads.
Because Clemons is more conservative (hence less mistake prone) and has a year of starting experience under his belt, he will probably march into the season opener as the starter. However, Miami's coaching staff is clearly fond of Jones (given him a ton of playing time this preseason), and it will be hard for Mike Nolan to keep a player with such potential on the sidelines.
If Clemons hits any hiccups over the team's next two exhibition games, Jones might have an opportunity to steal the starting job.
Is Will Allen Worthy of a Roster Spot?
Marc Serota/Getty Images
Three years ago, Will Allen anchored Miami's secondary to a playoff appearance, but a pair of lingering injuries have derailed his career.
A bad knee kept Allen sidelined for most of the past two seasons, but he was supposed to return with a clean bill of health this summer and factor into the team's top three cornerback rotation. However, he has been a ghost at training camp and did not appear in the Dolphins' first two preseason games.
There's no doubting Allen's theoretical value to this team, but we still don't know if he is healthy nor if he will be effective once he returns to action. If Allen remains hindered by these injuries, Miami might be best suited cutting him and promoting Benny Sapp into the nickelback spot.
Can Special Teams Improve Before the Regular Season Begins?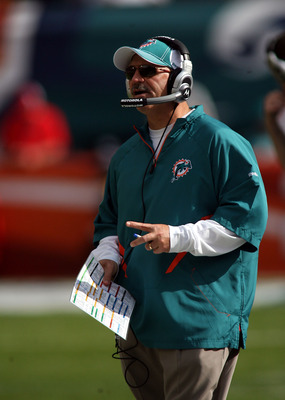 Marc Serota/Getty Images
Miami's special teams woes were exposed to the nation after the team's Monday night meltdown against the Patriots last season. But few realize that the Dolphins' special teams have been abysmal since Tony Sparano took over as head coach in 2008.
The team has been busy adding special teams aces like Marvin Mitchell and John Matthews, but their struggles persist (and there's no guarantee either will make the final roster). Last weekend, the Carolina Panthers averaged over 30 yards per kickoff return, two of which nearly turned into touchdowns.
It's almost unbelievable at this point, and Tony Sparano deserves to be ridiculed for this everlasting issue. Hopefully Sparano can provide his special teams units with some continuity over the next two weeks and fix one of Miami's greatest shortcomings.
Keep Reading

Miami Dolphins: Like this team?