NFL's Top 10 Fullbacks: Leach Leads McClain, Richardson Remains Great
September 4, 2011
Rob Carr/Getty Images
1. Vonta Leach - Ravens
The former Texan was likely a big boost for the running game as Arian Foster had such a breakout year. He has a good, stout build, and is powerful, like the prototypical fullback.
He's really not a rushing fullback at all, but his blocking is superior to all fullbacks in the league. He can catch fairly well, but isn't spectacular.
In short, he does his job, and he does it as well as anyone.
2. LeRon McClain - Chiefs
McClain is most likely the best rushing fullback of any on this list, almost to the point of competing to be a halfback.
However, in the Chiefs' scheme, with Charles and Jones, he will likely only rush on short yardage and block for Charles.
He's not the best blocking fullback, but he certainly isn't a poor blocker. A unique player in the league.
3. Leonard Weaver - Eagles
Weaver is likely the best fullback for a West Coast system in the league. He's versatile, as he is a good receiver and rusher as well as being a pretty good run blocker, just not a great one.
He is a great utility in third down and short-yardage situations. He was injured for a good portion of last year, and he still needs to prove his knee injury is in the past. When healthy though, he might be the best in the league.
4. Lousaka Polite - Dolphins
An underrated player, Polite had an incredibly efficient season in 2009, and still a very good one in 2010. He's not the most agile, but he's strong and smart, and a great straight-line runner.
The efficiency comes in short-yardage downs, in which he very frequently gets the needed yardage in that scenario.
5. Greg Jones - Jaguars
He's getting a bit older, but Jones has been one of the most consistently good fullbacks for the last few years, and more than capable at all aspects of the position.
He is a great lead blocker, clearing the way for marquee running back Maurice Jones-Drew. He can both block for the QB in pass protection and catch balls.
He's also a useful power presence for short runs.
6. Ovie Mughelli - Falcons
A hard-nosed, bruising blocker with plenty of strength. He really is only used in certain formations, but he does his job very well, which is to pave the way for Michael Turner and Co. in the Falcons' backfield.
He also can pass-block well when asked to protect QB Matt Ryan. An underrated part of a dynamic Falcons' offense.
7. Mike Tolbert - Chargers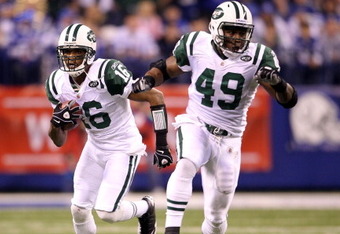 Andy Lyons/Getty Images
Tolbert is an excellent rusher for a fullback, something San Diego took full advantage of last year.
Some may consider him a HB actually, so maybe he belongs on a different list, but he certainly was a big part of a good offense in San Diego.
He's a decent blocker as well, but his versatility as a rusher really puts him up on this list.
8. John Kuhn - Packers
A fan favorite this season in Green Bay, and the praise is warranted. He had a breakout season last year, and shows great athleticism for a fullback.
He really is most like a utility running back; he does a bunch of different roles in Green Bay. Time will tell if the success from last year will continue for the veteran. I'm betting it will.
9. Tony Richardson - Jets
He may not be employed right now, and maybe people don't agree, but Richardson, even at his old age, should be considered a top-tier fullback, just as he has been his entire career.
He has lost a step, but he has incredible technique, awareness, and remains an elite blocking fullback.
He was a staple in the Jets' ground-and-pound offense. All 32 teams have made a mistake so far not picking him up.
10. Madison Hedgecock - Giants
An unheralded lead blocker who has kept the Giants' running game among the best in football over the last few seasons. He has great size and strength for the position, and is a tremendous lead blocker.
All Giants running backs seem to have a bit of success, and Hedgecock is vital to maintaining the reputation of solid running backs in New York.
Also Considered...
Ahmard Hall - Titans: deserving, just misses, good blocker leading way for great RB
Lawrence Vickers - Texans: a good replacement for Leach in Houston's offense
Mike Sellers - Redskins: an experienced veteran, but age knocks him slightly out of Top Ten
John Conner - Jets: maybe not this year, but look for him to be Top Ten, a punishing hitter