Chicago White Sox: The Case for Alex Rios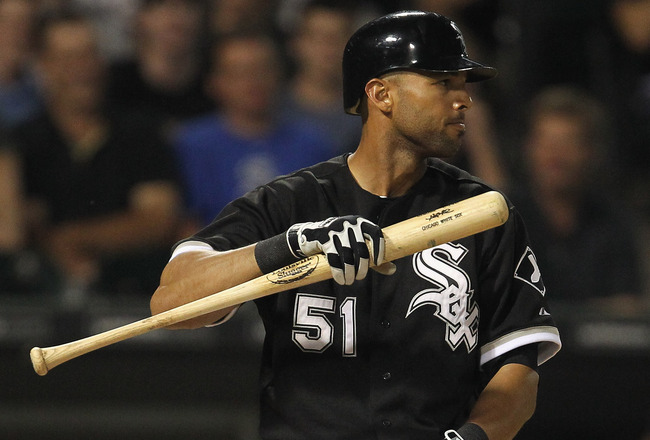 Jonathan Daniel/Getty Images
2011 has been an up and down year for the Chicago White Sox. The most notable examples of the up and down year are among White Sox players is Alex Rios and Adam Dunn. These guys have to search far and wide for fans that will stay with them.
As your eyes pan US Cellular Field during a night game, it may take a flashlight and a bloodhound to find supporters for these guys.
The next three slides should provide a case for Alex Rios remaining with the White Sox.
White Sox Stint Examined
Claimed off of waivers from the Toronto Blue Jays at the end of the 2009 season, Alex Rios solved the White Sox' need at the center field position in 2010. Claiming a player who was a two-time MLB All-Star in 2006 and 2007 was a major pick up for the White Sox.
Rios went on to have a decent season for the White Sox in 2010 by batting .284 with 21 Home Runs along with a .334 On Base Percentage. Add a decent glove to this and the White Sox solved their need in Center Field.
In 2011 as I write this, Rios has eight home runs and bats in the low .200s at .214. It's been a tough year and it is time to consider 2012. The free agent market for veteran center fielders with past success is a tight market.
Outfield Market in 2012
The White Sox are versatile enough to shift things around in 2012. Shifting things around in 2012 will come at a high cost once the free agents in 2012 are considered.
The top three Free Agents in the outfield that could fit the White Sox system are Johnny Damon, Nick Swisher, and J.D. Drew.
High potential cost aside, these players play for American League rivals which means a bidding war would definitely take place and impact the White Sox' ability to sign other players if they seek to go all in.
At this time, it is cheaper to address the needs in the bullpen, third base, and groom a replacement for Carlos Quentin than break the bank in center field.
Conclusion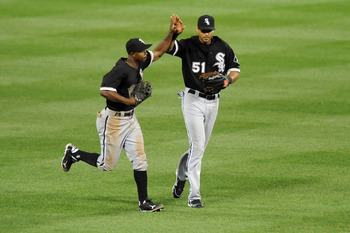 Mitchell Layton/Getty Images
Next year is a make or break year for Alex Rios. His success earlier in his career should be weighed against his down year in 2011. Alex Rios took four years to hit over 20 home runs in a season with the Toronto Blue Jays.
He struggled earlier in his career with hitting for power. After the fourth year with the Blue Jays he hit for power and average. 2012 will represent the fourth year with the White Sox. I look for a similar pattern of success.
White Sox fans should do the same and consider the cost of making a change. While the White Sox are in transition they will still seek to field a competitive team on the field.
By keeping Rios the team can remain competitive at a bargain and address other pressing needs. For this reason alone Rios should be removed from future trade discussions.
Keep Reading

Chicago White Sox: Like this team?