John Mayberry Makes His Case To Be Philadelphia Phillies' Starting LF in 2012
August 24, 2011
Raul Ibanez is a 39-year-old with an expiring contract and diminishing skills. This season is likely his last in a Phillies uniform.
So who will be the starting left fielder in 2012?
After the acquisition of Hunter Pence, the answer seemed obvious. Domonic Brown was promptly sent to Triple-A Lehigh Valley in order to get consistent playing time and begin his transition to left field.
The plan was set. The Phillies would enter 2012 boasting a talented and balanced outfield of Brown, Victorino and Pence.
Unfortunately for Brown, his transition is off to a brutal start. Since returning to the minors, he is hitting a mere .191 with only one home run and three RBI over 21 games.
Brown's struggles have opened the door for breakout star, John Mayberry Jr.
Mayberry is swinging the bat well and has pushed his season totals to 12 home runs, 41 RBI and a .275 average. The most impressive part is that he has complied these numbers in only 193 at-bats.
How would these numbers translate when stretched out over a full season?
Let's say that Mayberry records 550 official at-bats (Ibanez totaled 561 in 155 games last year).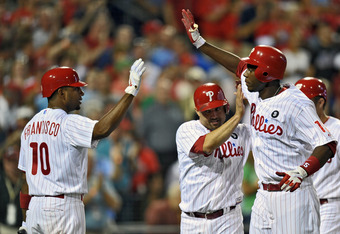 Using his 2011 pace, he would hit 34 home runs and drive in 117 runs during a full season of work.
Those are All-Star-caliber numbers.  
Detractors will be quick to point to the fact that the majority of his at-bats are against lefties. Some still see Mayberry as a platoon player and doubt his ability to produce consistently over a full season.
However, the flip side of that argument is that he has been able to post these numbers in spite of being bounced around and given irregular playing time.
Mayberry would also provide the Phillies with a significant defensive boost in left field. He is an above-average defensive player with solid range and instincts.
If Mayberry keeps hitting at this pace, the left field job should be his to lose in 2012.