Miami Dolphins: Larry Johnson Signing Is a Bad Idea
August 23, 2011
Today the Miami Dolphins signed journeyman running back Larry Johnson, best known for two successful seasons with the Kansas City Chiefs. At one point in his career, Larry was considered among the best running backs in the NFL, and was the highest paid running back.
The Miami Dolphins have question marks at the running back position and needed to get someone to come in and fill a void. With Reggie Bush and rookie Daniel Thomas holding the first and second spots, the Fins needed to get someone to come in and be a stable backup.
Earlier this offseason they looked at Tiki Barber and have recently worked out Clinton Portis. I wrote earlier this year how getting Barber would be a bad idea, and I wouldn't have been much for Portis either.
It suffices to say though, that I would have liked both of those signings better than Larry Johnson.
In 2005, his most productive year, he ran for 1750 yards and 20 touchdowns. The year later he amassed 1789 yards and 17 touchdowns. Those appear to be good numbers, but they are tainted.
In 2005, Johnson fumbled the ball five times. In 2006, it took him 416 carries to get his yardage. He only had a yards-per-carry average of 4.3 yards, a very poor number for a top running back.
In the subsequent five years, Johnson failed to reach the 1000-yard mark once and changed teams three times.
There is no question that Larry Johnson's best days are behind him.
Despite his lack of production and reduction in ability, I think this is a bad signing because of Johnson's ego and character issues.
To summarize his issues quickly, Johnson sat out of training camp, been fined by the league, been benched, been suspended and lost paychecks due to conduct detrimental to the club (Chiefs).
At one point Chiefs fans petitioned that Johnson be released so that he wouldn't be able to pass Priest Holmes' Chiefs rushing yards record. They did this because they didn't believe that he was worthy of the record. Fans felt that his conduct was not what they as fans wanted to represent their club.
A player with this many problems is not someone that you want in the locker room of an up and coming team.
A third running back can come from anywhere; they are a dime a dozen and are easy to come by. I would rather take a chance on a practice squad player from any team, than an over the hill veteran with character issues.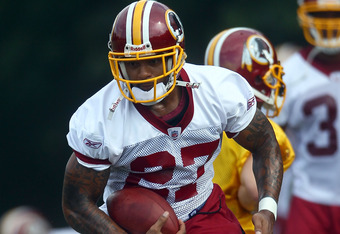 Teams in the NFL put stock into having a good running back, but I think that it's a waste of time. There are only a few NFL backs that are on another level, the rest are interchangeable.
I hope I'm wrong; I hope that this signing helps the fins and their young players. I wish Larry Johnson the best of luck, but I think his best days are behind him.
2011 will be an interesting year for Dolphins fans; let's hope that the signing of Larry Jonson pays off.