NFL: Did Roger Goodell Use Terrelle Pryor to Get to Aqib Talib and Kenny Britt?
August 23, 2011
Roger Goodell keeps playing chess to DeMaurice Smith's checkers. Tampa Bay Buccaneers corner back Aqib Talib and Tennessee Titans receiver Kenny Britt could potentially become the latest victory for the NFL Commissioner over the NFLPA Executive Director.
Goodell was ahead of Smith strategically prior to, during, and it is continuing after the lockout.
When the supplemental draft was approaching the league seemed pretty steadfast that Terrelle Pryor would not be eligible for the draft. At the last moment the draft was postponed and Pryor was eventually allowed in the draft with the agreement to serving a five-game suspension essentially for his actions as a collegiate player at Ohio State.
The NFLPA didn't appeal the suspension and Pryor and his agent Drew Rosenhaus didn't object to the ruling.
Here is where Goodell is at his best.
Granted, I am not familiar with the information and inner workings of Roger Goodell and the NFL's disciplinary strategy. However, I can't help but to think that this was the Pryor ruling was more about Talib and Britt than it was about Pryor.
By gaining the ability to suspend Pryor the league set a precedent to administer suspensions to players that were not a part of the league at the time of the infraction. This could be used to enforce rulings on player conduct during the lockout that by definition weren't a part of the league during their issues.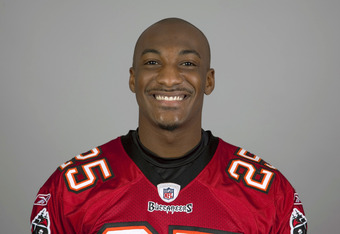 Allowing Pryor into the league in order to get to players that you may have otherwise not been able to suspend may have been worth the change of opinion.
Even if Talib's charges eventually get dropped it's neither his first offense, nor would he be the first player to be suspended without being found guilty of the crime.
With a 10-year labor agreement in place, it appears that by allowing the Pryor deal and suspension to occur that the NFLPA has given the league even more power to punish the players with no outside appeal source.
Glad those $15,000 a year players pay in union dues are going to great use.
Jamal Wilburg is a Featured Columnist for Bleacher Report.
You can follow him on Twitter @JWilburg