Toronto Blue Jays Trade Aaron Hill to Arizona for Kelly Johnson: An Analysis
August 23, 2011
The Toronto Blue Jays and Arizona Diamondbacks have swapped struggling second basemen as Aaron Hill and Kelly Johnson have changed teams.
First reported by John Gambadoro of 620 KTAR Sports Radio in Arizona, the deal reportedly also includes Blue Jays utility infielder John McDonald.
At first glance this appears to be nothing more than a mutually agreed upon change of scenery deal where both Blue Jays GM Alex Anthopoulos and Diamondbacks GM Kevin Towers are hoping the players they receive will be rejuvenated with a new address.
However, Aaron Hill has a 2012 $8 million club option on his contract that would surely be declined.  So, it may be worth noting the possibility that he might actually accept arbitration if he felt that Toronto offered the best chance to maintain a high salary given his two year offensive struggle.
If that's the case then it seems Alex Anthopoulos traded one expiring contract for another that could offer greater value (draft pick compensation) to him come arbitration.  Even though Kelly Johnson is struggling right now with .209/.287/.412 ratios, his 18 home runs, 49 RBI's and 13 stolen bases have him just outside Type A free agent territory.
Therefore, if Toronto decides to offer Johnson arbitration and he declines, Alex Anthopoulos could find himself in the possession of three first round picks in the 2012 draft (the second is compensation for Tyler Beede).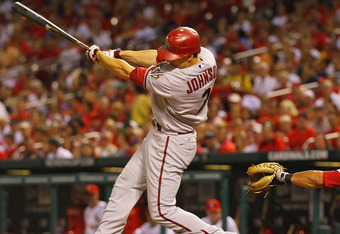 One other thing to note.  Wandy Rodriguez has been claimed off of waivers but the team has yet to be identified.  By including John McDonald in this deal Toronto has cleared a roster spot,  possibly for the Astros lefty.
However, as the Toronto Star's Richard Griffin tweeted: "If Jays claimed Wandy Rodriguez at 3:30 p.m... we (owe) 32-year-old lefty $1.42M this year, $10M and $13M with $13M or $2.5M buyout in '14."
Several other players have cleared waivers as well including Hideki Matsui, Chris Capuano and former Jay Ted Lilly
What are your thoughts on this deal?
As always, feel free to follow me on Twitter @The DelgadoShift