11 Pitchers You Would Trust Most Starting Big September Games
Len Redkoles/Getty Images
September baseball is right around the corner and there are some great divisional races shaping up which should make for a terrific last month of the season. Teams that get hot at the right time (i.e. San Francisco Giants 2010) late in a season can use that momentum to carry them to a long postseason run.
Great pitching and timely hitting is what wins in the playoffs and most of the top teams in each division have an ace they can rely on when they need a victory. In some team's cases they have more than one.
September baseball is when a team relies on their ace more than ever in the regular season. Here are the 11 starting pitchers you should trust most starting in September.
11. Josh Johnson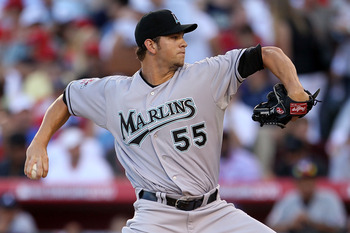 Jeff Gross/Getty Images
Josh Johnson of the Florida Marlins may have been injured for the majority of the 2011 season but he is not forgotten. He is quite simply one of the best pitchers in the game today.
Look no further than his 48-23 record, 2.98 ERA, 1.22 WHIP and .239 opponent's BA against him over his career. He is still young and has time to recover from this injury and hopefully he can return to his dominant form.
If the Florida Marlins can make a postseason push in their new stadium, you'd better believe that Josh Johnson will be a huge reason why. He is a treat to watch when he is healthy.
He would have been much higher on this list if he were not injured.
10. Clayton Kershaw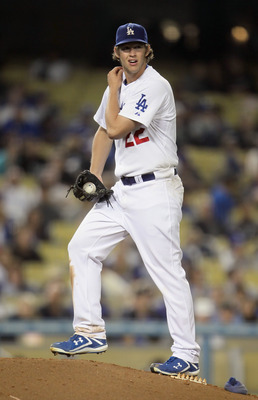 Jeff Gross/Getty Images
Amidst all of the turmoil involving the Los Angeles Dodgers, lefty Clayton Kershaw is again having an outstanding season. He is 15-5 with a 2.60 ERA, four CG and two CG shut-outs.
He has a 1.01 WHIP and opponents are hitting just .211 against him. There might not be a better option to start a game against a tough LH-hitting lineup as Kershaw handle's them with ease.
He has 199 K's in just less than 183 IP. He is having a spectacular season and is one of the most underrated players in MLB.
9. C.C. Sabathia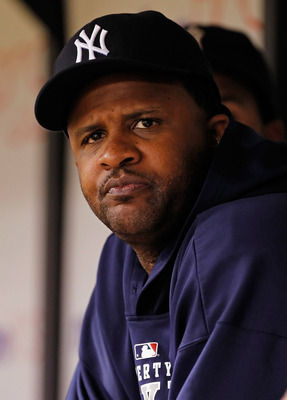 J. Meric/Getty Images
Don't seem so glum Carsten Charles (C.C.), you can start for me in September too, there's only like eight pitchers I'd rather have first. Sabathia is putting together another solid season as he is 17-7 with a 2.96 ERA.
Who said the guy wouldn't be able to handle the bright light's of New York City?
Sabathia is a true work-horse who has thrown three complete-games and one CG shut-out. He owns a 1.16 WHIP and opponents are hitting just ,245 against the lefty.
Sabathia may not have as glowing a postseason resume as guys like Lee or Lincecum, but he is still one of the best pitchers in the game. He is capable of going the distance every time he steps on the mound.
8. Cole Hamels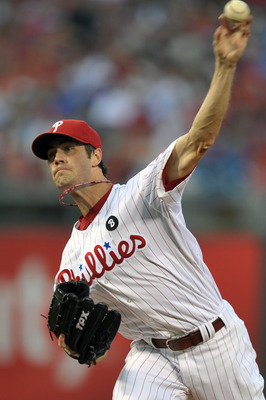 Drew Hallowell/Getty Images
People who have watched every Philadelphia Phillies game this season may tell you that Cole Hamels has been the team's most dominant pitcher in 2011. If you look at his numbers it may be hard to argue.
The 2008 World Series MVP is 13-7 with a 2.62 ERA, 8.1 K/9 and .99 WHIP. The opposition is hitting just .215 off of King Cole and he has hurled two complete games.
Hamels is going through a bit of a "dead-arm" right now, but you wouldn't be able to tell that from his pitching as of late. He has allowed only 21 earned runs over his last ten starts.
Even with Cole Hamels struggles in 2009, he owns a 6-4 playoff record with a 3.45 ERA and a complete-game shutout to his resume. He has shown for the past two years that he is back to ace form and he would be the No. 1 starter for a lot of teams across MLB.
7. Matt Cain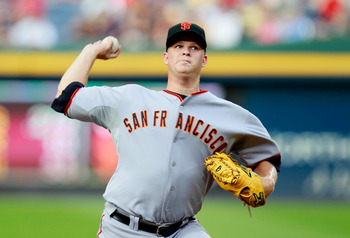 Kevin C. Cox/Getty Images
Matt Cain may not receive the national attention that his teammates Tim Lincecum or Brian Wilson do, but you'd better believe that he was just as important to the team's World Series title in 2010. Cain is a true ace pitching as a No. 2 in San Francisco.
Just like Lincecum, Cain's W/L record of 10-9 suffers due to the poor Giants lineup. He has a 2.86 ERA and a 1.09 WHIP. Opponents are hitting just .221 off of the right-hander and he has a 7.4 K/9 ratio.
Cain showed the country that he can take his game to another level in the playoffs. He started three games in 2010 (2-0) without allowing an earned run.
That's good enough to start for me in September.
6. Jered Weaver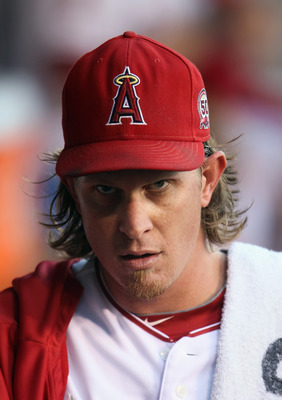 Jeff Gross/Getty Images
Is it safe yet to say that Jered Weaver of the Anaheim Angels will win the 2011 AL CY Young Award? Justin Verlander may have something to say about that, but that's for another slide.
Weaver has to be on this list based on his 2011 season alone as he has been outstanding. He is 14-6 with a 2.10 ERA, four CG and two CG shut-outs.
It's amazing that the opposition is hitting just .207 against him and he owns a .97 WHIP. His 7.6 K/9 ratio isn't too shabby either. Weaver is having a season for the ages and has shown that he can be terrific in the postseason as well.
In three playoff starts he is 2-1 with a 2.61 ERA and 9.6 K/9 ratio. Yup, that will work.
5. Justin Verlander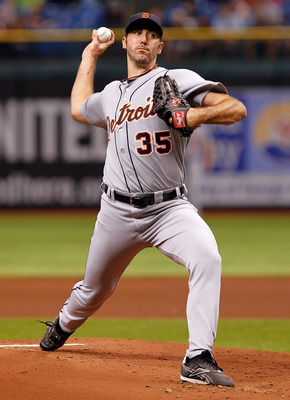 J. Meric/Getty Images
Justin Verlander of the Detroit Tigers may be the best pitcher in baseball right now. He is 19-5 with a 2.28 ERA and .88 WHIP. He has already thrown two no-hitters before his 29th birthday and you have to believe that there are more to come with his devastating stuff.
Verlander has already thrown more than 200 innings and has a 9.1 K/9 ratio. Opponents are hitting just .185 off of Verlander in 2011, and he is only allowing six hits per nine IP.
The four-time All-Star and former AL ROY has electric stuff and could carry Detroit in a short series. Potentially facing Justin Verlander three times in a seven game series could mean the opposition is one game away from elimination.
He's that good.
4. Cliff Lee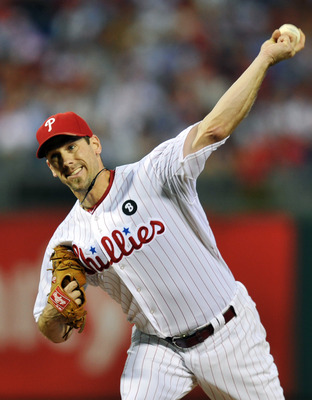 Drew Hallowell/Getty Images
We knew that the Philadelphia Phillies starting rotation was going to be good, but there is a great chance that they will have three of the top five vote-getters for the NL Cy Young this season with Roy Halladay, Cole Hamels and Cliff Lee.
Cliff Lee is a big game pitcher who was coveted by the New York Yankees in the offseason to bring home a 28 World Championship. Lee decided to choose his former team, the Phillies, and form one of the greatest rotations baseball has ever seen.
Many "experts" stated before the season that Lee is an average pitcher during the regular season who pitches great in the playoffs. Well he has silenced those critics as well by posting a 14-7 record, 2.71 ERA, 1.06 WHIP and an incredible 9.3 K/9 ratio.
Lee has thrown five complete-game shutouts this season which leads MLB. Opponents are hitting just .230 off of him, and he has struck out 191 batters in 186 IP.
Lee has started 10 playoff games and has posted a 7-2 record with a 2.13 ERA. He has thrown three complete games and struck out 80 hitters in 76.0 IP.
Home-runs can be killers to a team in the playoffs and Lee has only given up two to 289 hitters. Lee showed the world in the 2009 World Series against the New York Yankees just how brilliant he could be when the stars shine brightest.
There is only one pitcher who I'd rather have starting Game seven of a playoff game. Keep reading.
3. Josh Beckett
Ed Zurga/Getty Images
Josh Beckett of the Boston Red Sox is an absolute beast and for that reason alone he makes this list. Okay he can pitch a little bit too.
Beckett is 10-5 with a minuscule 2.46 ERA and .97 WHIP. He has hurled a complete-game shutout and the opposition is hitting just .201 against him.
He has a 7.9 K/9 ratio while allowing less than a homer per nine innings (.9). He has only allowed 43 earned runs in 157 IP. Dominating stuff.
Beckett is one of the best pitchers in MLB and he is great in the playoffs as well as the regular season. He has started 13 playoff games and is 7-3 with a 3.07 ERA.
He has a 9.5 K/9 in the postseason with a .940 WHIP. Anyone that can break the "Curse of the Bambino" can pitch for me any day.
Especially when I need a win in September.
2. Roy Halladay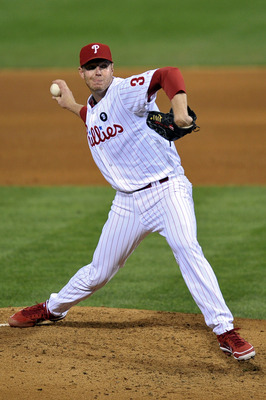 Drew Hallowell/Getty Images
The "Doc" Roy Halladay was a guarantee to be on this list wasn't he? The 2010 NL Cy Young winner (AL CY Young as well) may be on the verge of winning his second straight CY Young in 2011.
Halladay is 15-5 with a 2.56 ERA, 8.6 K/9 and a 1.054 WHIP in 2011. Maybe even more incredibly, he has tossed seven complete games this season as well.
He has allowed only 54 earned runs in 189.2 IP and given up only nine home-runs. Who said Citizens Bank Park isn't a pitcher's park?
It is a privilege to watch Roy Halladay attack the strike-zone with surgical precision and it seems like a sure thing that the Phillies will win every time he takes the mound. Over his last ten starts, Halladay has only allowed 21 earned runs.
Halladay showed his pundits in 2010 that the pressure of postseason baseball has no effect on him. He tossed only the second complete game no-hitter in Phillies postseason history.
He will most likely lead the league in IP and complete games once again in 2011. There is no one I would rather have on the mound in a big game than Roy Halladay.
1. Tim Lincecum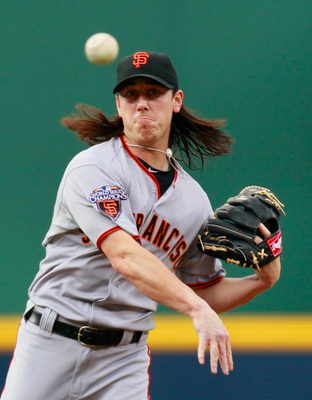 Kevin C. Cox/Getty Images
As a Philadelphia Phillies fan I can honestly say that I love watching "The Freak" Tim Lincecum pitch. As long as it is against another team.
Lincecum is certainly in the conversation (favorite?) to win his third NL Cy Young award in 2011. His win/loss record clearly is suffering because of an anemic San Francisco Giants offense and little run-support.
He is 11-10 with a 2.53 ERA and one complete-game shutout. He own's a solid 1.15 WHIP and opponents are hitting just .212 against him.
His 9.6 K/9 ratio this season is incredibly below his career average of 10.0 K/9. Lincecum is 4-1 in the playoffs with a 2.43 ERA and one complete-game shutout.Oh, and he has 10.5 K/9 ratio in the playoffs as well.
He is a "Freak" indeed.
Keep Reading

Philadelphia Phillies: Like this team?