7 NFL Players Who Were Screwed by Trades Team Didn't Make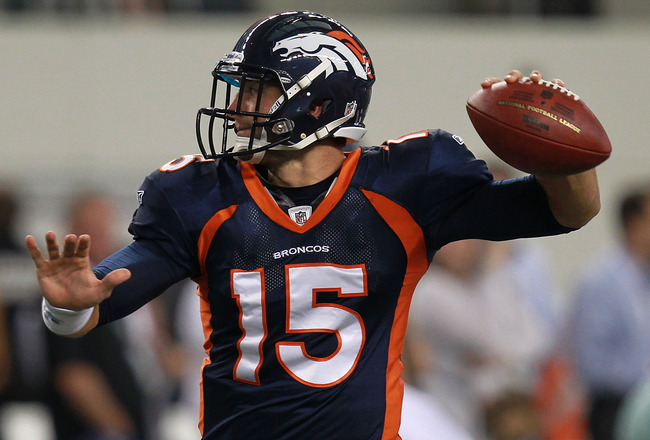 Ronald Martinez/Getty Images
This offseason and into the preseason, teams scramble to find viable starters and backups as final rosters are made.
Opening day is approaching fast and teams need to find out which players will be "the guys" when the starting offenses and defenses take the field for the first time in the 2011 regular season.
Teams made trades and didn't make trades, but here are some talented players who were screwed by the trades that their respective teams didn't make.
Asante Samuel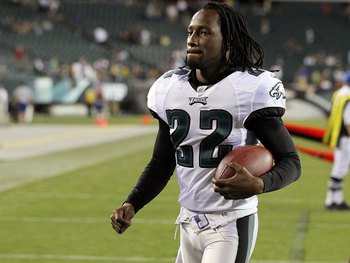 Jim McIsaac/Getty Images
Asante Samuel looks like a starting No. 2 cornerback in Philadelphia, but being on the Eagles will severely limit this defensive back's ability to showcase his talent.
Samuel is an off-cover corner, excelling in zone-type schemes such as those run in Chicago.
Some trade rumors were thrown around about Samuel after the Eagles acquired Nnamdi Asomugha, but unfortunately enough for Samuel, the rumblings never came to fruition.
Brady Quinn and/or Tim Tebow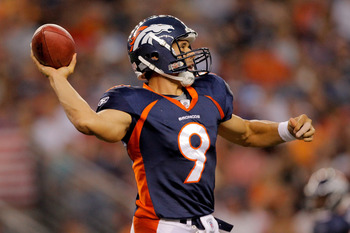 Justin Edmonds/Getty Images
What is going on with the quarterbacks in Denver is not healthy for anyone involved.
Tim Tebow is an NFL player, but being so under the microscope only hurts him as he is a developing second year player like any of his counterparts.
Quinn, also, could vie for an NFL job elsewhere, but Denver's situation only hurts him and his ability to compete for a legitimate spot.
Sidney Rice and Zach Miller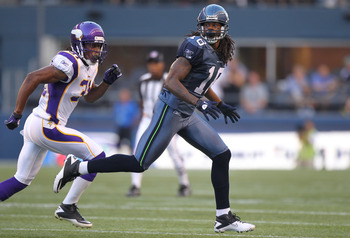 Otto Greule Jr/Getty Images
This is not to say they were screwed by not being traded—rather, they were screwed by the Seahawks not trading for a legitimate starting quarterback.
Kevin Kolb and Kyle Orton (and Donovan McNabb) were trade options for the Seahawks, and the team elected to pass on them, making the job that much harder for their two new acquisitions at receiver.
Tarvaris Jackson and Charlie Whitehurst haven't shown much and look for Rice and Miller to flounder without a true quarterback.
Percy Harvin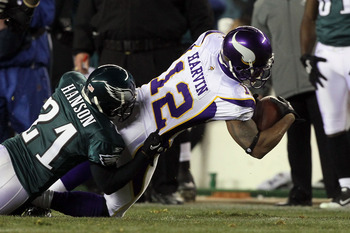 Jim McIsaac/Getty Images
The Vikings lost Sidney Rice and brought in Michael Jenkins, which effectively makes Percy Harvin their number one target.
Harvin had his most success when he could do his damage from the slot, and he will now be thrust into a role in which he's not comfortable in.
Coupled with his migraines, defenses keying in on Harvin could be the worst thing to happen to the Florida product since the 2010 version of Brett Favre.
Casey Matthews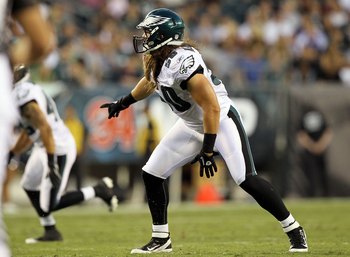 Jim McIsaac/Getty Images
Casey Matthews could be a productive player one day, but the Eagles have handled their linebackers horribly and Matthews' situation is at the center of it.
Philadelphia has given him all of the responsibility to be the signal-caller on defense, rather than bringing in a veteran middle linebacker to call the shots and help ease Matthews into the role.
Throwing Clay Matthews' little brother into the fire like this can only hurt his development and career—he got screwed when the Eagles didn't trade for an older middle linebacker.
Johnny Knox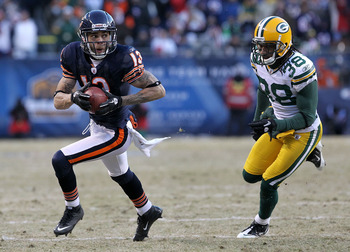 Doug Pensinger/Getty Images
Johnny Knox can say whatever he wants about not wanting to request a trade, but the Chicago Bear was really screwed over after the team chose not to ship him out.
Knox is a productive, fast wideout who can catch the ball in space and make plays—he shouldn't be a second-teamer behind guys like Roy Williams and Devin Hester.
The speedy receiver needs to get out of Chicago or he'll rot away under Mike Martz' archaic system and arbitrary depth chart.
Chris Johnson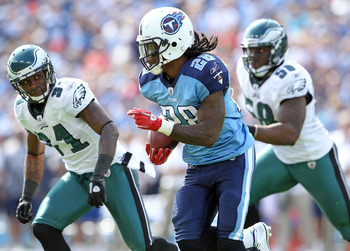 Andy Lyons/Getty Images
Chris Johnson obviously realizes what's going on in Tennessee and with the short shelf life of NFL running backs, I can understand why CJ2K wants no part of this rebuilding phase.
Johnson should have been traded for draft picks and other nice things, but instead, the Titans elected to keep him in limbo as the clock ticks down towards the regular season.
Tennessee needs to understand that they are really screwing over their best asset and should trade him before it's too late.
Keep Reading