Cleveland Browns 2011: Is D'Qwell Jackson Set for a Big Year?
August 31, 2011
Handout/Getty Images
After 22 full months of no football, Cleveland Browns linebacker D'Qwell Jackson is just happy to be back in the swing of things. Jackson told the Plain Dealer: "To feel like I'm part of a team and go through the trials and tribulations of my guys...it's been a long time,"
The middle linebacker, 27, was signed to a one-year deal by the Cleveland front office after almost two full seasons on IR. It was unknown whether Jackson, a second-round pick out of Maryland in the 2006 draft, would be retained at the end of last season.
However, during the offseason, team captain Scott Fujita told the press that big things were in store. Recently Fujita named Jackson the "MVP on the defensive side of the ball"
Coming from a Super Bowl winning veteran like Fujita, those are big sentiments indeed.
Throughout the preseason, Jackson has really benefited from having the "meat wall" of Ahtyba Rubin and Phil Taylor using up the opposing teams blockers, and figures to be a huge part of the run defense.
The Browns defense finished 27th against the run last season, giving up  129.4 yards/game and only seven TDs on the ground. Those numbers can only improve with the addition of another run-stopping defensive tackle and the return of D'Qwell Jackson.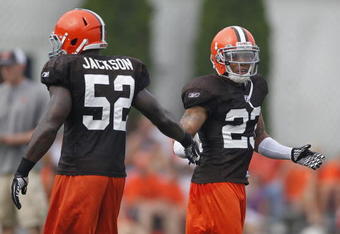 Gregory Shamus/Getty Images
Teams may try to take advantage of the outside running game, which is a definite concern at this point; however, teams will very rarely be able to get a gain running the ball up the gut.
With the addition of a run stopping defensive end or an athletic outside linebacker the Browns rushing defense has the potential to be on par with the Ravens and possibly the Steelers.
Whether or not the defense gains any of those things, it appears that barring injury D'Qwell Jackson is primed for a big year. He is athletic and is a veteran playmaker. He will be entering a contract year and that should be a huge motivating factor.
From what we've seen in the preseason, things look optimistic. With the addition of new coaching systems and front office ideologies, we can only hope a player as talented as D'Qwell Jackson is ready to earn a new paycheck.