Cub SS Castro the Just the Latest Example of Bad Discipline on the North Side
August 23, 2011
If you haven't heard former-manager Bobby Valentine's five-to-ten minute assessment of Chicago Cubs shortstop Starlin Castro on playing defense during Sunday Night baseball, it can be summed up in one word—embarrassing.
As a Chicagoan, I am embarrassed. Following a throwing error earlier in the evening, Castro, who leads the national league in errors, was shot on camera with his back to the infield DURING the pitch. With the cameras still rolling, former big league manager Bobby Valentine and the ESPN crew let Castro and the Cubs organization have it.
"Sometimes you have to develop players at the major league level, and one of the things you have to teach them is watch the ball," Valentine said. "Wherever the ball is, you have to be looking. Castro is thinking about his at-bats, or thinking about the play that was made…" 
"Something like that is absolutely inexcusable at the major league level. This is a teaching moment where (third coach) Ivan DeJesus came in and talked to him about the throw he made on (Jake Westbrook's grounder), talked to him about having his head down."
We in Chicago like players who hustle. We loved Mike Ditka's Bears and Michael Jordan's Bulls. This is a city that shunned Jay Cutler for not playing injured in last year's NFC Championship Game. Cutler was sacked more times than any other QB last year, and we in Chicago were not happy with his toughness. We love teams that would fight to the bitter end, win or lose (preferably win).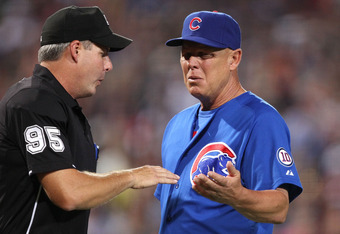 This Cubs team is nowhere close to what a Chicago team should be. Going into the year with a new manager looking to make a name for himself, one would think the defense and hustle would be top priorities. Unfortunately, this team leads the league in errors with 104 through Sunday Night, (Alfonso Soriano leads all outfielders with 7. Geovany Soto leads all catchers with 11).
If you don't associate errors with poor discipline, then take a look at suspended former ace Carlos Zambrano's latest rant/retirement in Atlanta, or former free agent acquisition Milton Bradley, who made a career of underachievement.
Cubs management is wondering why attendance is down this year? How about lack of hustle from players.
I walked up to the park and bought a $5 ticket from a scalper to the Cubs-Cardinals game. Five dollars to one of the greatest rivalries in baseball.
The players act like they don't want to be there. The fans will not want to be there. It is a mess.
I wish owner Tom Ricketts all the luck in the world—he has quite the mess to turn around.