Philadelphia Phillies: Will New Injury Woes Hurt Their Chances To Win It All?
August 23, 2011
Let's start with the good news.  
Phillies third baseman Placido Polanco was activated off the disabled list yesterday and was in the Phillies starting lineup last night against the Mets for the first time since August 6.  Polanco looked like he was making up for lost time with two singles, a walk, a run scored and several slick plays at third.    
Can Phillies fans heave a sigh of relief now that Polanco is back manning the hot corner?  Not so fast. You haven't heard the bad news yet.
Phillies shortstop Jimmy Rollins was placed on the 15-day disabled list following an injury he sustained in Sunday's game against the Nationals.  He left the game early with what was called a right groin strain and was declared "day to day" at the time.  
Unfortunately, an MRI taken Monday revealed a bit more.  He tweeted the results first to his followers on Twitter: 
"Soooo this is what we got...mild grade 2 strain.  DL.  Gone till September."
Instead of having the left side of their infield intact for the stretch run, the Phillies must now deal with yet another injury to a key player.  How much will this parade of players to the DL impact the chances of having that other parade Phillies fans are hoping for?
That depends—on Rollins and Polanco, of course.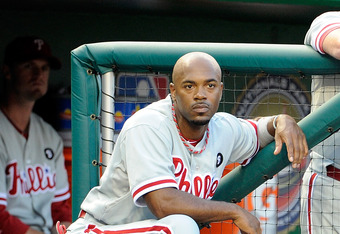 Specifically, when will Rollins return?  And how healthy is Polanco?
Rollins is eligible to return from the DL on September 6, but most estimate his recovery will take more like three weeks which would have him back on September 12.  That leaves him with about two weeks to get his stroke back before the playoffs begin. 
The time off might even help Rollins, who tends to wear down at the end of a long season.  But can the Phillies make it to the postseason without their charismatic shortstop, often considered the team's spark plug? 
It seems likely that they can as long as their starting pitchers remain healthy and the rest of their lineup continues its recent strong offensive output.  With Polanco back and the capable team of Wilson Valdez and Michael Martinez filling in for Rollins, as they did for Polanco, the Phillies should be able to hold their own in the division although their lead over the Braves has decreased to 6.5 games in the past couple of days.
Which brings us to Polanco.  Having a healthy Polanco back in the lineup is a huge asset for the Phillies down the stretch.  And a timely one given Rollins' injury.  But how healthy is he? 
Polanco has actually been hampered by injury all year.  After a terrific April he went on the DL with lower back pain and was never quite the same when he returned.  He had been battling the sports hernia for a good month before he went on the DL and his offensive performance was definitely affected.
Hoping to avoid season-ending surgery, Polanco received an anti-inflammatory injection which helped much more than he expected.  He estimated that he is now at about 80 to 90 percent and ready to go. 
The next step is to see how the injury reacts to the physical rigors of hitting and playing third base. Last night was a good start for Polanco, as he said after the game, "I didn't feel anything. So I'm pretty optimistic now."
Filling in for Rollins now and Polanco if he can't play every day are Wilson Valdez and Michael Martinez.  Although they are capable backups, they are just that—backups.  While they are both better than average fielders, neither is of the level of a Jimmy Rollins or Placido Polanco defensively. 
At the plate, it's not even close.  Martinez is currently batting .213 and Valdez .236.  Although they both have contributed some key hits, they can't compare to the consistency and productivity of Rollins and Polanco. 
The bottom line?  The Phillies should still be the favorites in the division even with Polanco at 80 percent and no Rollins for a while. 
But in the postseason when the games are often close and one clutch hit or defensive gem can be the difference between a win or a loss, it will take a healthy Rollins and Polanco in the lineup to give the Phillies their best chance to win the World Series this team was built to win.