5 NFL Coaches Who Won't Survive the Season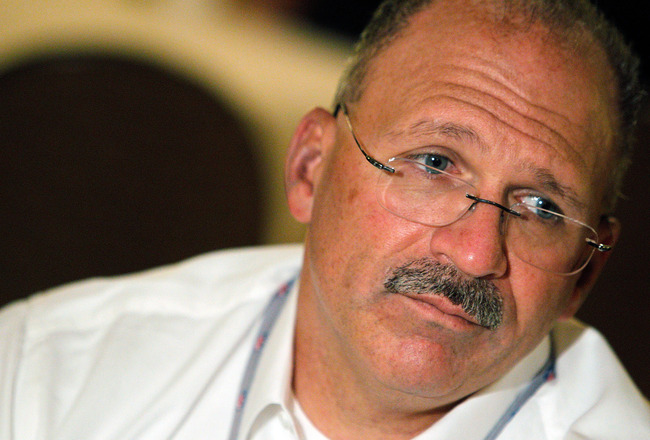 Sean Gardner/Getty Images
The NFL atmosphere is a harsh one for head coaches. If their teams are winning, the players get the credit, but if they aren't, the coaches get the blame for it.
With that being said, it's very possible that a few of them won't make it through the 2011-2012 season. Some are just in a bad situation to begin with, while others are under scrutiny because they have good talent on the team but just can't put it together.
The following represent five coaches who might get the axe before this season even comes to an end.
5. Jack Del Rio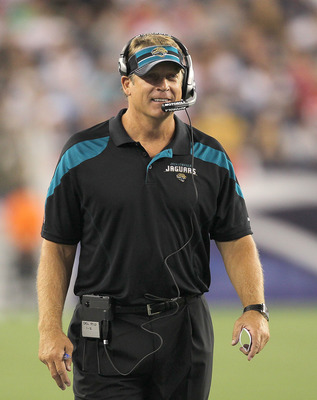 Jim Rogash/Getty Images
Jacksonville Jaguars head coach Jack Del Rio has been under scrutiny over the last few years. After very strong seasons in 2005 and 2007, the Jags have not made the playoffs since.
The issue here is that the window for them to get something done is gone. Starting quarterback David Garrard is likely to give way to Blaine Gabbert in the very near future, meaning the team is likely going into rebuilding mode.
Not only has Garrard's play slipped off in recent years to the point that they wanted a replacement, but star running back Maurice Jones-Drew's injury issues might mean he'll never get back to the elite level.
4. Lovie Smith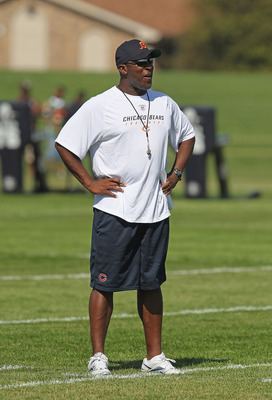 Jonathan Daniel/Getty Images
The Chicago Bears had a solid 2010 season, finishing second in the NFC and making it all the way to the conference championship game.
The problem is that the Bears probably overachieved last season and have to deal with a likely better conference from top to bottom this year. Their defense will still keep them competitive, but they are going to have to figure out issues with the passing game to remain a strong competitor.
Quarterback Jay Cutler has a good arm, but his toughness and decision making can be questioned. He tends to hold the ball too much, epitomized by his 87 combined sacks over the last two years.
The expectation for the Bears will also be higher now after what they did last year. It's unlikely they will meet those expectations, leaving their head coach Lovie Smith on the hot seat.
3. Norv Turner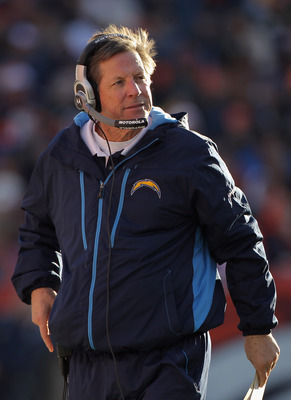 Doug Pensinger/Getty Images
The San Diego Chargers are one of those teams that have the talent, but just can't seem to put it all together and turn it into wins. They have one of most dynamic quarterbacks in the league and a solid defense—a combination that should yield a contending team.
Last season, they managed to go 9-7 even though they were one of the most injury-riddled teams in the league. Phillip Rivers took his game to the next level and almost carried his team to a playoff birth.
Since San Diego plays in one of the weaker divisions, a healthy team in 2011-2012 has no excuse for not making the playoffs. If the Chargers start to struggle again, Norv Turner's time might just be up. How many chances are they going to give him?
2. Gary Kubiak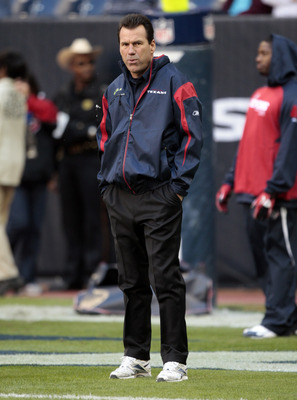 Bob Levey/Getty Images
The Houston Texans' record of 6-10 last season is inexplicable. They had the best running back in all of football in Adrian Foster and one of the best offenses overall.
If Houston does not finally figure things out early this season, Gary Kubiak might have seen his last days. All signs are pointing to this being the year they can finally overtake the Colts in the AFC South.
The major problem for Houston under Kubiak has been a failure to succeed in close games. Those are the times that the coach really becomes important, and that lack of success can be tied greatly to Kubiak.
1. Tony Sparano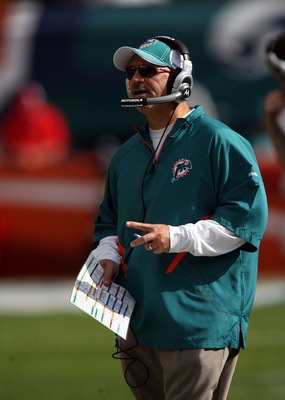 Marc Serota/Getty Images
The Miami Dolphins are in a world of hurt headed in 2011. The offseason was mired by a lack of support for their head coach Tony Sparano and quarterback Chad Henne.
Henne and the rest of the offense had an abysmal 2010 season. The Dolphins did revamp their running game, adding Reggie Bush from the Saints and drafting rookie Daniel Thomas, which might help a little bit.
But if Henne doesn't improve drastically, Sparano is probably going to be gone quickly. The owners of the team do not have trust in him and he has backed his quarterback 100%. That is a deadly combo for a man that wants a job.
Keep Reading