Arizona Cardinals: 5 Replacements for Ryan Williams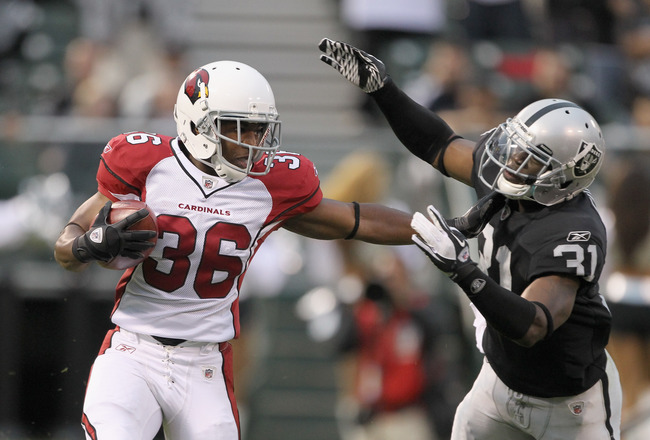 Ezra Shaw/Getty Images
Ugh.
I hate the preseason sometimes.
This year, it was really needed.
But man...why in the world did Ryan Williams have to get injured?
Still, what makes good teams great is overcoming adversity. Take the Packers last year for example- they lost numerous players to injury and still won the Super Bowl.
As sad as this is, it's not a huge loss.
Sure, I thought that Williams would take the starting nod by week nine or so, but what if he didn't?
Either way, he was just going to be a role player for at least eight weeks- maybe more.
And as much as I'd rather have him, this opens the door for a couple of Cardinals backs in my opinion.
Or it could open the way for a free agent.
So who will help lessen the pain of Ryan Williams loss?
Here's five options for the Cardinals.
1. LaRod Stephens-Howling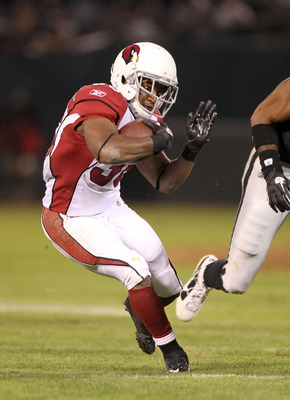 Ezra Shaw/Getty Images
I personally think the running back who benefits the most from Ryan Williams's injury is LaRod Stephens-Howling.
I've been clamoring for the Hyphen to get more touches, and now is his opportunity.
For one, I think he makes a great change of pace back.
Sure, he's small, and you need him for kickoff returns.
Actually, with the new rule, you could probably stick anyone back there if you're Arizona. Good luck getting many returns this season.
So...I think Whisenhunt should wise up and give LaRod 10-15 touches a game. His speed will keep defenses honest, that's for sure.
2. Alfonso Smith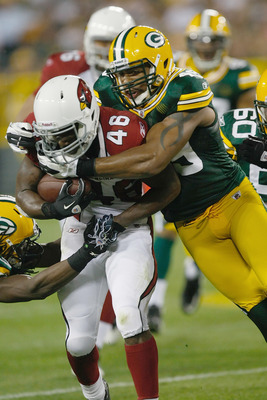 Scott Boehm/Getty Images
I thought Smith played well against the Packers, as he ran 12 times for 39 yards with a touchdown, and caught a couple of passes as well.
Granted, he's played nothing but third and fourth stringers thus far, but neither had Arian Foster up until last year.
Now, I'm not saying that Alfonso Smith is the next Arian Foster, but you can't deny the similarities: both undrafted from SEC schools, both on the practice squad, both having injuries give them opportunities.
I still think the Hyphen makes a bigger impact, but you never know. Smith isn't gonna kill you with speed, but he's a tough runner from what I've seen. Fairly straightforward too, which I think fits the Cardinals blocking scheme better anyway.
Keep your eye on Smith for sure.
3. Clinton Portis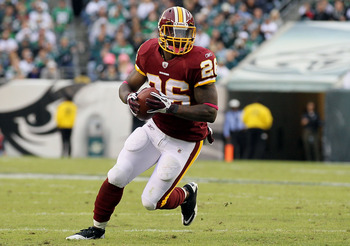 Jim McIsaac/Getty Images
Portis's name has circled around quite a bit since Williams went down.
Portis would be a guy that could fill the role of not only mentor, but capable ball carrier should Wells go down with injury as well.
On that note, if Wells were to go down, LaRod Stephens-Howling couldn't be expected to carry the load at his size, and Alfonso Smith hasn't play in an NFL game yet.
So Portis would provide the Cardinals with an experienced stopgap option, with at least some upside, although he won't be the Clinton Portis of old.
4. Laurence Maroney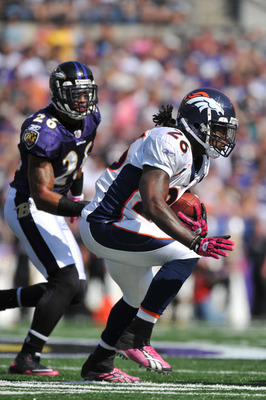 Larry French/Getty Images
He's probably the youngest of the "high-profile" free agent running backs.
At one point in time, he was considered the Patriots future at running back as well.
Well...that didn't work out so well.
Still, Maroney has potential and is a good athlete. I don't see the Cardinals going this direction, however.
But you never know.
5. Julius Jones
Jonathan Ferrey/Getty Images
I'm not sure if Jones could be brought in to compete or mentor.
But I can't help thinking of how well Jones did in his first few years with Dallas when he was in a one-two combination with Marion Barber.
I can't help but think he'd make a decent compliment to Beanie Wells.
Plus, he's played against Arizona the last couple of years, so he knows their offense fairly well.
Let's call him the sleeper of the bunch shall we?
Keep Reading

Arizona Cardinals: Like this team?