Tim Lincecum and Matt Cain Leaving the Giants? Not So Fast
August 22, 2011
Are Tim Lincecum and Matt Cain chomping at the bit to leave the Giants because they can't get any run support?
If you've been listening to sports talk radio or other Giants-related conjecture around the Bay Area lately, the subject of free agency for some of San Francisco's most prized yet coveted stars has been front and center.
In particular, much has been made of the idea that Lincecum and Cain, the anchors of one of the best pitching staffs in all of baseball, could very well opt to leave the Giants come free agency, primarily due to the fact that their individual stats have suffered so much with San Francisco's infamously impotent offense over the past few seasons.
With the Giants' mighty struggles in 2011, mostly due to injuries to key players such as Buster Posey and Freddy Sanchez, the natural tendency to look into the near future at San Francisco's window of championship opportunity has gone into overdrive.
But all such talk is very, very premature.
Tim Lincecum will be a free agent following the end of the 2013 season. Matt Cain will become a free agent one season earlier, following the last pitch of the 2012 season.
Certainly there is the issue of big-market teams like the Yankees and Red Sox, who have seemingly unlimited financial resources at their disposal, going after Lincecum and Cain, doing whatever it takes in the form of dollar signs to lure them away from the Bay.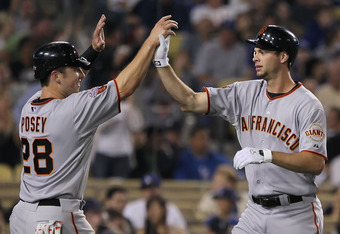 But the argument that these two all-star pitchers are going to leave the Giants because of lack of run support is, at least for now, unfounded.
While it's absolutely true that San Francisco's offensive woes have been of mind-boggling proportions, especially in 2011, the Giants have another season to reverse that trend before Matt Cain is out of team control, and yet another after that before Tim Lincecum is free to shop around.
What that means is that the Giants have 2012 and possibly 2013 to make run support a moot point when it comes to their push to re-sign Lincecum and Cain.
And that task should become easier with next season's projected lineup.
With the expected returns of Freddy Sanchez and Buster Posey, as well as a proven rejuvenation of Pablo Sandoval, and the everyday presence of Brandon Belt (with the probable departure of Cody Ross), the Giants will suddenly be a much more dangerous offensive club.
With what will very likely be a vastly improved offense (barring injury of course, and we now know all too well how injuries can decimate a lineup), as well as the fact that both Lincecum and Cain are home-grown Giants, it is far from a certainty that these two elite arms will be headed east in the next few years.
The window of championship opportunity is open for the San Francisco Giants, and while a repeat title in 2011 would be a miraculous yet somehow still possible feat, there is no doubt that this team will compete for some time to come.