NFL Season Preview: Can Nick Barnett Help Buffalo Bills Contain Tight Ends?
August 22, 2011
We all know just how dreadful the Buffalo Bills run defense was last year, as the unit allowed 2,713 yards on the ground and an average of 169 yards per game. However, another area the defense struggled with was containing opposing tight ends.
With Chris Kelsay playing outside linebacker for the first time in his nine-year career, as opposed to a defensive end in the 4-3 defensive front, offensive coordinators exploited his weakness of dropping back into coverage. This resulted in Donte Whitner's ridiculously-inflated 140 tackles, most of which came after big gains. 
Over the course of the season, the Bills allowed 66 receptions for 803 yards and 11 touchdowns to tight ends. With Whitner and Paul Posluszny gone, will the trend of tight ends shredding our defense continue throughout the 2011 season?
Kelsay is still listed as the starting strong-side linebacker, yet for some odd reason, head coach Chan Gailey is giving outside linebacker reps to Alex Carrington, a 290-pound five-technique defensive end. Now I don't know how much to look into this come regular season, but I sure as hell don't want a 300-pound man who's never dropped into coverage in his life chasing down a Vernon Davis or Dallas Clark.
George Wilson, a versatile and productive defensive back has taken over Whitner's role as strong safety. Poz, the team's leading tackler who departed for the Jacksonville Jaguars, has been replaced with veteran inside linebacker, Nick Barnett, formerly of the Green Bay Packers.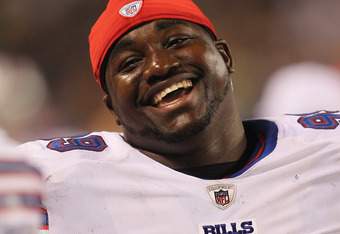 Barnett plays sideline to sideline, and has the speed to keep up with tight ends, unlike Kelsay. He also has the benefit of a stronger pass rush, as rookie Marcell Dareus should help collapse the pocket, allowing Shawne Merriman to bring the heat. 
The Bills really need to make defending tight ends a priority, as they face Rob Gronkowski, Aaron Hernandez, Dustin Keller and Anthony Fasano twice a year, among the various receiving tight ends that pretty much every team in the National Football League has, except the Bills of course.
The defense is definitely improved on paper over last year's roster, and hopefully that year of experience for the returning starters under George Edwards' defensive scheme will allow the unit to prosper as a whole. In the first two preseason games, the Bills played two teams, the Chicago Bears and the Denver Broncos, who don't have a noteworthy tight end, but managed to contain the two to just four receptions for 48 yards. 
While many fans don't really look too deeply into preseason stats, I still think that the Bills realized their deficiency covering tight ends and hopefully that trend will continue into the regular season.