Minnesota Vikings' Preseason Week 2 Complete Team Report Card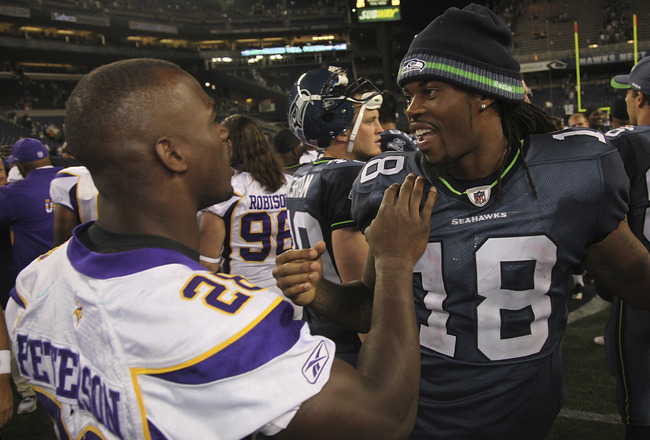 Otto Greule Jr/Getty Images
With Week 2 of the 2011 preseason in the books, the Minnesota Vikings still have plenty to sort out before whittling their roster down to 53 players.

The Vikings showed improvement from last week's loss, defeating the Seattle Seahawks 20-7, but much work remains to be done, and injuries are starting to pop up.

Here's a look at the Vikings' preseason Week 2 complete team report card.


(Last week's report card)
Quarterbacks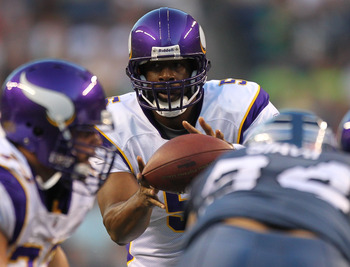 Otto Greule Jr/Getty Images
After a three and out on the first series, Donovan McNabb connected with five different receives on an 81-yard drive that resulted in a field goal.
Although they failed to get the ball in the endzone, McNabb looked comfortable, completing 6 of 8 passes for 81 yards.
The competition between Joe Webb and Christian Ponder for the backup quarterback job is still up for grabs.
Ponder had a few nice throws against the Seahawks, but overall he played conservatively and didn't show much improvement. Webb wasn't spectacular either, but he was more willing to thrown the ball down the field.
McNabb played with poise, and he didn't make any costly mistakes. As he gets more comfortable within the offense, the touchdowns will come.
Overall Position Grade: B+
Offensive Line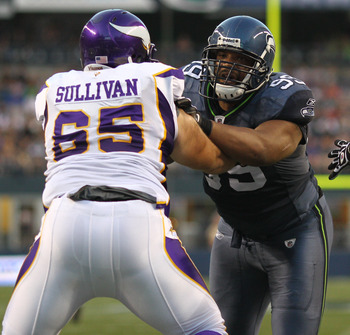 Otto Greule Jr/Getty Images
The offensive line has to be the Vikings' main concern heading into the regular season, but offensive line coach Jeff Davidson seems to have things pointed in the right direction.
Overall, the line had a few breakdowns throughout the game, but the men in the trenches began to show some chemistry during their second drive.
Aside from a missed assignment that left Seahawks' defensive end Raheem Brock untouched for an easy sack of Donovan McNabb, newly acquired left tackle Charlie Johnson played a fairly solid game. Johnson consistently kept his defender out of the play.
The main issue going forward is at the right guard position.
Anthony Herrera has yet to return to action after having ACL and triceps surgeries this offseason, and Scott Kooistra, who started at right guard against the Seahawks, suffered a season-ending injury during the game.
The Vikings' offensive line is still a work in progress, but their performance against the Seahawks was an improvement. And that's what you look for during the preseason.
Overall Position Grade: C+
Running Backs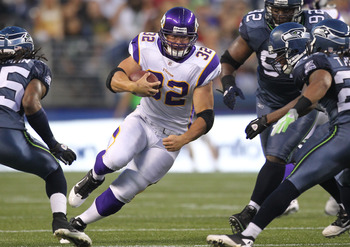 Otto Greule Jr/Getty Images
The Vikings' don't have much to worry about at the running back position.
Adrian Peterson finished his day with only 16 yards on six carries, but two of his attempts resulted in first downs. He also caught two passes for 11 yards.
Second-year player Toby Gerhart didn't knock anyone's socks off with his performance, but he found some holes and showed some power on a few of his runs.
Once again, Lorenzo Booker looked good in space, consistently making the first tackler miss, but he needs to work on his ball security—something Adrian Peterson should be able to help him with.
Late in the fourth quarter, Tristan Davis took a handoff from Joe Webb and ran 35 yards for a touchdown. Davis could be in consideration for the practice squad.
On Monday, the Vikings signed another running back: free agent rookie Caleb King. King was eligible for the supplemental draft, but ended up signing a deal with Minnesota.
If Saturday was any indication, the Vikings' running backs will be more involved in the passing game under Offensive Coordinator Bill Musgrave.
Overall Position Grade: A-
Wide Receivers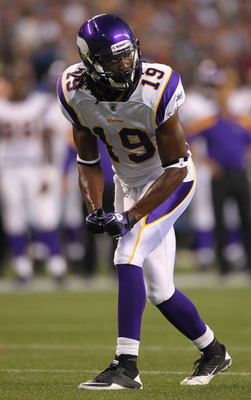 Devin Aromashodu
Otto Greule Jr/Getty Images
With Percy Harvin and Greg Camarillo sidelined, the Vikings were able to get a good look at their wide receiver depth.
Michael Jenkins, who is known for his blocking, showed good body control when he slipped underneath a defender, and made a nice adjustment to the ball, snagging a 21-yard pass from McNabb.
Devin Aromashodu and Juaquin Iglesias each finished with 2 receptions for 30 yards. Aromashodu also displayed good down-field blocking and made a few nice plays on special teams.
On the Vikings' first drive of the fourth quarter, Emmanuel Arceneaux did a good job of finding a soft spot in the Seahawks' zone and reeling in Joe Webb's pass before fumbling through the endzone, giving the ball back to Seattle.
The Vikings' receivers made some good plays against the Seahawks, and they will get a big boost when Percy Harvin returns this weekend against the Dallas Cowboys.
Overall Position Grade: C+
Tight Ends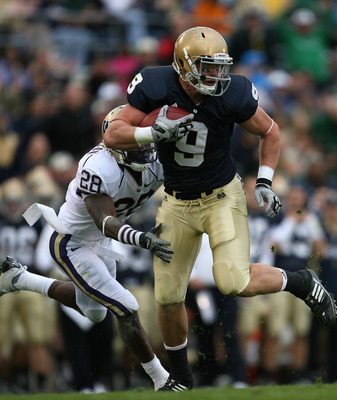 Kyle Rudolph
Jonathan Daniel/Getty Images
With Visanthe Shiancoe still sidelined with a hamstring injury, rookie Kyle Rudolph looked good playing with the Vikings' first-team offense.
He had a terrific shoestring catch that helped spark the Vikings' scoring drive in the second quarter.
Rudolph is a big, athletic target, and he should make an immediate impact for the Vikings this season.
Veteran Jim Kleinsasser had a solid game as well. He looked good while blocking (as he usually does), but he also caught a pass for 23 yards.
He may be getting up there in years, but Kleinsasser knows what it takes day in and day out to be a professional.
Under the guidance of Offensive Coordinator Bill Musgrave, the Vikings will make good use of the talented tight ends on their roster.
Overall Position Grade: B+
Defensive Line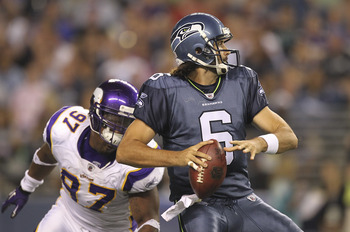 Everson Griffen
Otto Greule Jr/Getty Images
The Vikings' defensive line did a much better job against the run this week while consistently flushing Tarvaris Jackson from the pocket on passing plays.
In the first quarter, Jared Allen was left untouched with a free shot at Jackson but couldn't bring him down.
Brian Robison was also able to penetrate the Seahawks' backfield, but he struggled in containment on more than one occasion.
Kevin Williams, who is battling a nagging foot injury, left the game after only one series. He will see a specialist to determine the severity of his injury.
The Vikings once again showed solid depth along the defensive line. Letroy Guion, Everson Griffen and Christian Ballard were all disruptive up front against the Seahawks.
The second-team unit had an impressive goal line stand, stopping Justin Forsett on four consecutive running plays from the two yard line.
On Monday, the Vikings added defensive end Stylez White to their roster after placing offensive lineman Scott Kooistra on injured reserve. White, who tallied 24 sacks over the last four years while playing for the Tampa Bay Buccaneers, will likely be used as a situational pass-rusher.
Overall Position Grade: B
Linebackers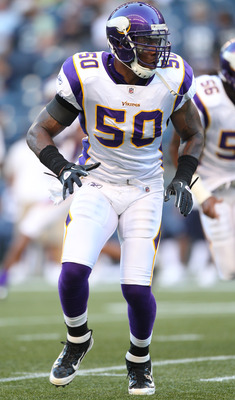 Otto Greule Jr/Getty Images
The Vikings' linebackers have been playing well under new coach Mike Singletary.
E.J. Henderson looked powerful while bursting through the offensive line to stuff a Seattle run play, and Chad Greenway made a nice open field tackle during limited action.
After another solid performance against the Seahawks, Erin Henderson has the starting weak-side linebacker job firmly in his grasp.
Undrafted rookie Larry Dean had a good night for the Vikings. He finished the game with four tackles and two assists.
The Vikings have plenty of depth at linebacker and will have some tough decisions to make when it's time to trim the roster.
Overall Position Grade: A-
Defensive Backs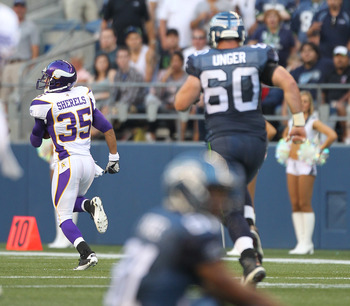 Marcus Sherels
Otto Greule Jr/Getty Images
The Vikings secondary did a good job of taking away the deep ball, forcing the Seahawks to dump the ball off.
Cedric Griffin looked good while playing a single series for the Vikings' defense.
On the first play of the game, Griffin made his presence felt by breaking up Tarvaris Jackson's pass intended for Golden Tate.
After a rough game last week, Chris Cook looked much better against the Seahawks, providing good coverage on former teammate Sidney Rice.
He also made a nice play on special teams.
The star of the game was undrafted second-year player Marcus Sherels. After fumbling a punt return, Sherels redeemed himself by intercepting a bobbled pass and returning it 64 yards for a touchdown.
With Asher Allen sidelined, Rookie Brandon Burton entered the game when Cedric Griffin came out. He performed pretty well and should continue to improve as he adjusts to the speed of the NFL.
Tyrell Johnson and Jamarca Sanford continued their battle for the starting free safety, but neither player was very impressive. Rookie Mistral Raymond is actually my favorite to win the job. He made a couple nice plays against the Seahawks.
Overall, the Vikings' secondary improved on their first performance, but I would like to see more out of the safety position this weekend against the Cowboys.
Overall Position Grade: C
Special Teams
Chris Kluwe
Christian Petersen/Getty Images
After finishing last season ranked in the bottom half of the league, the Vikings' special teams units have been impressive so far this offseason.
The Vikings kickoff coverage team has held opposing returners inside the 28-yard line six times this preseason, and opposing punt returners are averaging a measly two yards per return.
Meanwhile, the Vikings' punt returners are averaging close to 11 yards per attempt.
It looks like the Vikings' new special teams coordinator Mike Priefer has his guys playing with passion and purpose.
Overall Position Grade: A
Coaching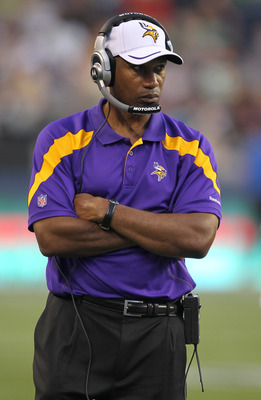 Head Coach Leslie Frazier
Otto Greule Jr/Getty Images
The Vikings have some new faces within the coaching staff, and it looks like they have been moving in the right direction.
Offensive Coordinator Bill Musgrave's playcalling is a significant upgrade over last year when Brad Childress and Darrell Bevel were running the show. Defensive Coordinator Fred Pagac has been very aggressive as the Vikings' defensive play-caller.
When Charlie Whitehurst entered the game, he completed 11 of his first 12 pass attempts, and the Vikings' defense failed to adjust. Other than that, the Vikings' staff coached a pretty good game.
Head Coach Leslie Frazier is doing a great job, and things should continue to improve as the season progresses.
Overall Position Grade: A-
You can follow me on Twitter @KellyMangin
Keep Reading

Minnesota Vikings: Like this team?