MLB Trade Speculation: Should the LA Angels Deal Dan Haren This Winter?
August 22, 2011
On Sunday, the Los Angeles Angels locked up their ace, Jered Weaver, when they reportedly signed him to a five-year, $85 million contract extension. The news came as a relief to Angels fans who over recent months worried that Weaver may have tested the free-agent market after the 2012 season.
More disconcerting were the worries that the Angels may have been unable to sign him if they had to compete with the Boston Red Sox and New York Yankees in a bidding war for the 28-year-old right-hander.
Well, on Sunday the Angels got their man, but what about the other ace the Angels have on their staff?
Dan Haren as a Potential Trading Chip

On most pitching staffs, Dan Haren would be a legitimate No. 1 starter. The Angels, then, are in a unique position to have two veritable aces in their starting rotation.
While normally, most teams would covet such an advantage, the Angels are also unique in that they have been somewhat hamstrung by recent bad trades (Vernon Wells) and have one of the most shallow farm systems in Major League Baseball.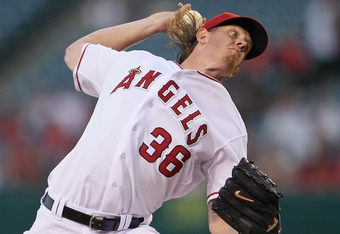 While having two aces is certainly not the type of advantage the Angels would want to take for granted, the question about whether or not to trade Haren to either bolster their farm system or to fill other offensive holes in their lineup is one the Angels front office should be considering.
Haren's Importance to the Angels
Haren is quietly having a superb 2011 season, and his importance to the success of the Angels' season should not be overlooked. He currently ranks fourth in the AL in wins (14), fourth in WHIP (0.98), seventh in ERA (2.98), eighth in SO (156) and first (by a long margin) in K:BB ratio (6.0).
In short, Haren has been phenomenal.
But with all the gaps in both the offensive production and farm system talent, should now be the time to move Haren?
The Vernon Wells Factor
The Angels have a little less than $80 million wrapped up in Wells until 2014, when he will turn 35.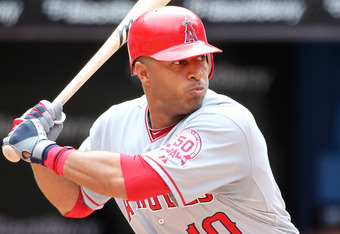 In contrast, Haren stands to make $12.75 million in 2012 with a team-option for 2013 where the Angels would owe him a little more than $15 million, if exercised.
So the prospect of moving Haren is not a financially driven one. In fact, he is a relatively cheap ace by MLB standards.
Essentially, Wells has become what Alfonso Soriano is to the Chicago Cubs—an aging outfielder with declining speed, power and range in the outfield.
However, if the Angels could package both Wells and Haren to a team with plenty of salary-cap space to make a move, it may be worth it. Admittedly, the number of teams that could take on that sort financial obligation comprises a small list, but if it were possible, Haren could act as the catalyst to unload Wells' ridiculous contract.
The Farm System Angle
It is a relatively well known fact that the Angels have a considerably shallow farm system. If you look beyond their young, rookie talent currently on their 40-man roster (Bourjos, Conger, Trumbo, Trout, Chatwood and Walden), there is essentially nothing left at the minor league level.
In fact, excluding the players currently on the 40-man roster, the Angels only have two prospects in the top 200, and none in the top 50.
Another angle for a Haren trade, then, would be for the Angels to trade him to a team that is loaded with prospects and see what they can get in return. With as much young, MLB-ready talent the Angels already have, adding two or three other pieces could set them up for the next 10 years.
David Wright or Pedro Alvarez for Haren?

Finally, the last option may be to try and push for the World Series next year. If the Angels believed they could rely on the strength of their rotation as it stands today without Haren, they could make a push to make themselves more offensively potent.
The problem here is: for whom could they trade, and at what position?
With the overabundance of veteran outfielders and first baseman that the Angels will have, where could they add a big bat?
The most glaring hole, of course, is third base. But with Aramis Ramirez hitting the free-agent market after the 2011 season, what other power third baseman is an option for trade?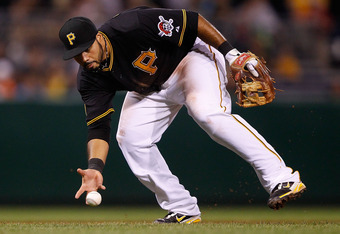 David Wright comes to mind as a possible trade target for the Angels. However, in the Mets' current situation, I can't see them having much interest in a 30-year-old starting pitcher. The Mets are in more of a rebuilding stage, looking to get younger and would probably consider Wright in a trade for top-tier prospects as opposed to a star-swap.
The other possible trade target for a power-hitting third baseman is just a little farther west. Pedro Alvarez, the third baseman for the Pittsburgh Pirates would seem to be another potential target for the Angels, but that scenario is far from foolproof either.
The Pirates are in a position they haven't been in for over 18 years, so considering any major trade proposals this offseason is going to be heavily scrutinized by their front office.
While there has been some talk by other B/R writers that Alvarez may become a piece for the Pittsburgh Pirates to move this winter, there have also been some concerns about his erratically poor play this season and what that may suggest about his future.
Assuming there are similar questions in the minds of scouts and front offices across MLB, Alvarez may not end up being worth the price of trading a top pitcher like Haren away.
For the Angels, while it maybe a great advantage to now know they have their best pitcher locked up for the next five years, perhaps they will begin to look at Haren in a different way. Pitching is always at a premium in offseason dealings, and I'm sure the Angels are well aware of that.
The Angels front office may find themselves asking: At what point does Haren become more valuable by giving him away?