New York Yankees Rumors: Should They Pursue Rich Harden?
August 21, 2011
On Sunday, the Yankees completed their series by beating the Minnesota Twins in three of the four games.
It could have been a four-game sweep if not for the third game—another implosion by A.J. Burnett.
How bad was Burnett against Minnesota on Saturday?
He lasted only 1.2 innings, allowing five hits, seven runs and three walks, earning his 10th loss of the season and seeing his ERA sky rocket up to 4.96.
This is a guy who is making $16.5 million this year and for another two seasons.
It can be summed up with one word: pathetic.
Burnett's lousy pitching is the reason why the Yankees are still scouting the waiver wire for starters.
According to Susan Sussler of the San Francisco Chronicle, the Yankees, among other teams, were on hand to scout Oakland Athletics starter Rich Harden's last game Friday night against the Toronto Blue Jays.
How did Harden do in that game? Seven innings, allowing two hits, no runs, walking four and striking out 11 batters for the victory.
That performance definitely increased Harden's value right before the August 31 waiver deadline. And it just might have increased the Yankees' interest as well.
Going after Harden has a lot of risk involved in it. He's been extremely injury prone over the last seven years, including this season.
The Boston Red Sox nearly made a deal for Harden at the July 31 trade deadline last month, but backed off because of Harden's medical history and records, opting to trade for Erik Bedard instead.
But Harden has been healthy for the most part and pitching well enough for teams to consider dealing for him.
Personally, I think it makes sense for the Yankees to get Harden for quite a few reasons.
First, he's a two-month rental who would cost them all of about $360,000. I think Hank Steinbrenner has enough money in his wallet right now to pay Harden.
Secondly, Boston has interest in him, which means the Yankees will also have interest.
Third, Burnett alone is enough of a reason why the Yankees are still even interested in pitchers, especially someone like Harden.
Fourth, Bartolo Colon is still a mystery and didn't look that great in his last start against the Kansas City Royals. He also hasn't won a decision since July 30.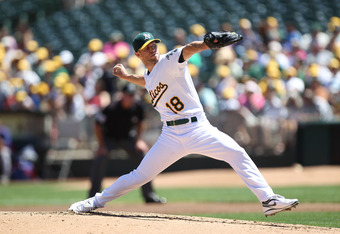 Fifth is Freddy Garcia's latest injury. It might be a minor kitchen incident, but it's on Garcia's throwing hand. And at age 35, who knows how Garcia will be coming back for the rest of the season.
Sixth, nobody knows if Phil Hughes will hold up. He's won his last several games, but he's not making batters swing and miss.
Lastly, who else is out there? The White Sox are still in the race, so I doubt they would let Jake Peavy leave now. Carlos Zambrano of the Cubs basically quit on his team. Ted Lilly of the Dodgers left his last start with an injury, and Wandy Rodriguez of the Astros makes too much money to be a rental.
Which means it's Harden or nothing at this point.
The Yankees have CC Sabathia, and Ivan Nova is emerging into a really dependable starter with a 13-4 record and a 3.97 ERA.
But after those two, there are question marks with the rotation.
I'm skeptical about trusting Harden to stay healthy if the Yankees got him. But his upside is enough to make the Yankees make the deal. Harden can get people out, and he can make bats miss the ball.
At this point, the Yankees certainly can't trust Burnett and keep giving him the ball anymore. Especially not after his last start in Minnesota.
By August 31, I wouldn't be surprised to see Harden in pinstripes. Even if for only a few weeks.