Chicago Bears: The 12 Biggest Fan Favorites in Bears History Not in the HOF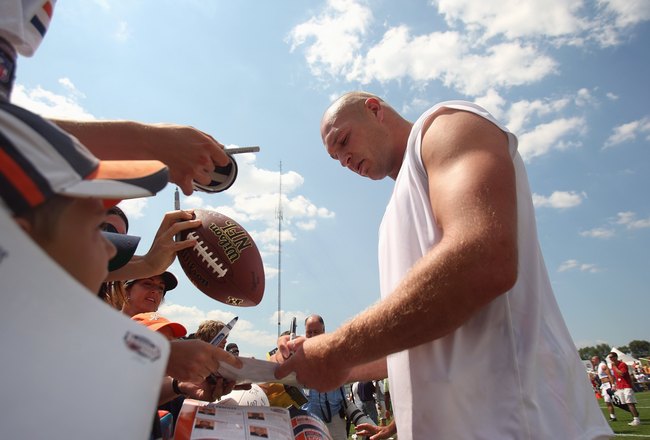 'Lach signing autographs for the masses.
Jonathan Daniel/Getty Images
As fans of the most storied franchise in the NFL, there will always be those players who hold a special place in our hearts.
Whether they be all-time greats, generational great or just charismatic personalities, some players just rise above in the hearts and minds of the fanatics who follow the Monsters of the Midway.
Of course, an edition of greatest fan favorites can also quickly become an edition of the greatest. Guys like Walter Payton, Dick Butkus, Sid Luckman, Red Grange and Richard Dent will always be loved for many reasons, including their fantastic careers.
So we're going to do this a bit differently. Rather then the predictable old slideshow, let's throw a curve ball into the works.
We're going to focus only on players who haven't made it to Canton, those who might later make it and those who will likely never make it. Either way, they won the hearts of Bears fans, and while they may not all be among the enshrined, they were all special to Bears Nation.
First a few honorable mentions who garnered consideration: Hunter Hillenmeyer, Joe Fortunato, Ted Washington, James "Big Cat" Williams, Olin Kreutz, Jay Hilgenberg, Thomas Jones, Roland Harper, Julius Peppers, Jerry Azumah, Willie Galimore, Matt Suhey, Steve McMichael, Dennis McKinnon and Willie Gault.
And now onward to our list of the 12 biggest fan favorites in Bears history not in the HOF.
No. 12 Tom Waddle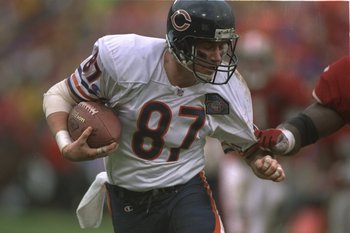 Al Bello/Getty Images
Tom Waddle was just a blue-collar, hard-working receiver who made more out of what he was given than he should have. And that endeared him to Bears fans everywhere.
He just did things that people never believed he should have been able to do.
An undrafted free agent out of Boston College, Waddle overcame his physical shortcomings through hard work, eventually earning him a starting job in Chicago. He just seemed to make things happen.
Waddle went on to a fine radio and TV career after he retired and continues to get much love from Bears fans.
No. 11 Doug Buffone
Doug is Chicago's single season sack record holder (18 in 1956) and is first among Chicago linebackers with 24 career interceptions and third among all Bears with 186 games played.
Now a color commentator and radio personality in Chicago, Doug was and is still loved by Bears fans everywhere.
A bit of trivia about Doug: He was the final player to retire from the NFL who was coached by the legendary George Halas.
No. 10 Gary Fencik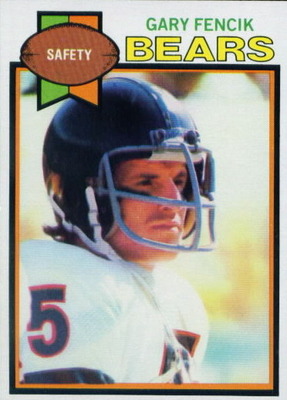 Fencik retired as the Bears all-time interception leader and all-time leading tackler.
The Yale and Northwestern graduate was one of the Bears defensive captains through the '80s and was an important part of the Bears dominant defense.
Fencik was just brutal, though. Paired with Doug Plank, the two were known as the "Hitmen" and fans loved watching him punish ball carriers.
No. 9 Charles "Peanut" Tillman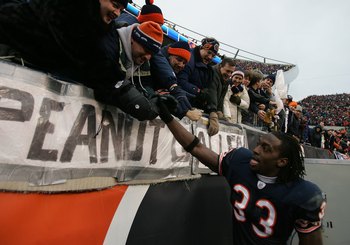 Jonathan Daniel/Getty Images
The guy has his own section of fans at Soldier Field known as the "Peanut Gallery." What more really needs to be said about the Bears under-rated corner?
No. 8 Doug Plank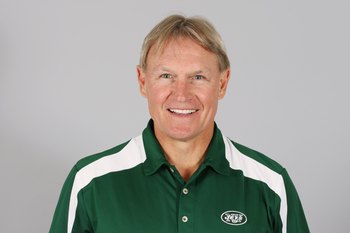 NFL Photos/Getty Images
Buddy Ryan so loved the aggressive and hard-hitting style of Doug Plank that he named his signature defense after him.
While his aggression eventually led to retirement before the defense would truly take off, Plank is still a name that people remember.
Safety Chris Harris has referenced Plank frequently as a player he wants to be associated with, and Harris is currently known as "The Hitman," which is fitting enough, since Doug and fellow safety Gary Fencik were collectively known as "The Hitmen."
Plank went on to coach in the Arena League and with the Jets under Buddy's son Rex Ryan.
No. 7 Neal Anderson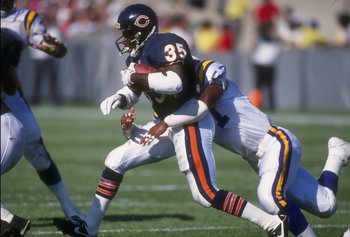 Jonathan Daniel/Getty Images
Often, when a player is forced to fill the shoes of a legend, it doesn't turn out well for that player, and fans end up despising the guy who failed to live up to that legend's accomplishments.
Neal Anderson was the exception to the rule. He was never going to be Walter Payton, but he was good enough to finish his career second to only Payton in rushing yards on the Bears all-time list.
And Bears fans love him for it. He was a complete player who did everything he could to step out of the legendary shadow of Walter Payton, all the while maintaining an aura of class and dignity.
No. 6 Devin Hester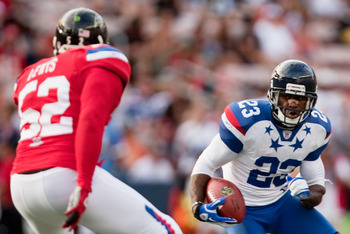 Kent Nishimura/Getty Images
When the Bears spent a second-round pick on a kick returner in 2006, there was a collective sigh across the Internet as Bears fans thought this would be another head-scratcher from GM Jerry Angelo.
Then Hester proved everyone but Angelo wrong. In his first NFL game he scored a return touchdown on the hated Packers, and the rest is Canton-bound history.
A true threat every time he touches the ball, Hester gets the fans blood pumping and gets much love for it. Arguably the most exciting player in Bears history—though Gale Sayers and Red Grange both have a claim to that title, too—"The Windy City Flyer" has the eternal love of Bears fans.
No. 5 Mike Brown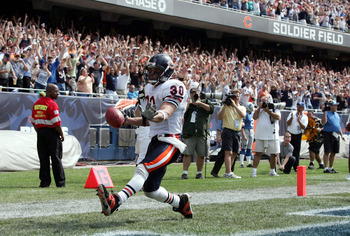 Harry How/Getty Images
Mike Brown was the perfect free safety for Lovie Smith's defense when he was healthy. A heady, ball-hawking defender, Brown was also a vocal leader as well as a fan favorite.
Were it not for being a member of the same draft class as Brian Urlacher, Mike Brown may very well have won Rookie of the Year in 2000. But it was 2001 that endeared Brown to Bears fans the most.
In consecutive weeks against the the 49ers and the Browns, Brown returned overtime interceptions for touchdowns, thus vaulting himself into Bears lore and fans' hearts.
Though injuries cut his career short, fans still hold Brown in high esteem.
No. 4 William "Refrigerator" Perry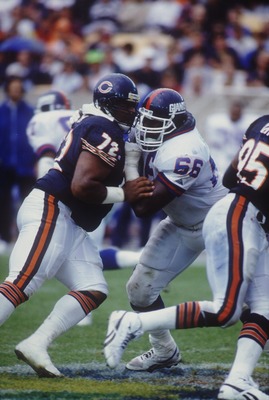 Jonathan Daniel/Getty Images
Buddy Ryan didn't like him, but Bears fans sure did. Perry almost symbolized the fun the Bears were having on their championship romp through the '85 season.
When Ryan wouldn't use him as a defensive tackle, Mike Ditka found a way to get him on the field utilizing him as a fullback. Perry even rumbled for a Super Bowl touchdown.
Fun facts about "The Fridge:"
He recorded and anti-drug/pro-peace rap song with Walter Payton;
Perry had his own G.I. Joe Action figure;
His Super Bowl ring is the largest produced to date (size 25).
No. 3 Brian Urlacher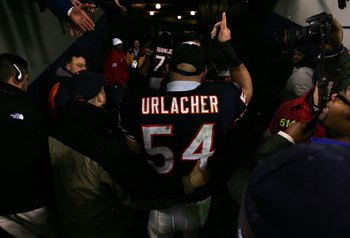 Al Bello/Getty Images
Drafted to be the next in a long line of great middle linebackers in Chicago, Brian has been the most popular spots figure in the Windy City since his arrival.
One of only five players to ever win the Defensive Rookie of the Year (2000) and the Defensive Player of the Year (2005) awards, Urlacher is the prototype for what coaches and general managers look for in a linebacker in the modern pass-dominated era.
Wonder about his popularity? Urlacher was still among the top three jersey sellers for defensive players in 2010 and has spent most of his career as the top selling jersey among defensive players and quite a bit of his career as a top 10 overall jersey seller in a market dominated by quarterbacks and offensive players (52 percent and 88 percent of the top 25 jersey sales respectively).
'Lach is the face of the franchise and has been for over a decade.
No. 2 Jim McMahon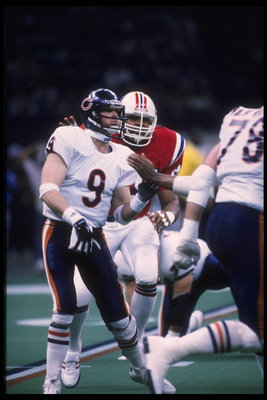 Getty Images/Getty Images
McMahon's style threw caution to the wind. It shortened his career and lessened his footprint in the stats columns.
But it endeared him to Bears fans from the start. From arriving with beer in hand as a rookie to mooning helicopters to take the pressure off of his team, the punky QBs' brash personality meshed like magic with the over-the-top charisma of the teams defensive leaders and coaches.
And his play on the field was no less aggressive. No one to slide, there are some iconic images of McMahon helicoptering through the air after being hit.
Charles Martin became the most hated man in Chicago history when he infamously slammed McMahon to the ground well after McMahon threw an interception in, ending McMahon's season with a shoulder injury and garnering a two-game suspension.
But maybe the game that most endeared McMahon in the hearts of Bears fans was the Miracle in Minnesota.
McMahon was held out of the game after suffering back spasms and was loaded with pain killers. But with the Bears down 17-9, McMahon harassed Ditka until the head coach finally let him into the game out of frustration.
McMahon would go on to throw two touchdowns in his first two attempts and three in his first seven attempts in a seven-minute span to lead the Bears to a 34-24 win and set the team on the path to Super Bowl history.
No. 1 Brian Piccolo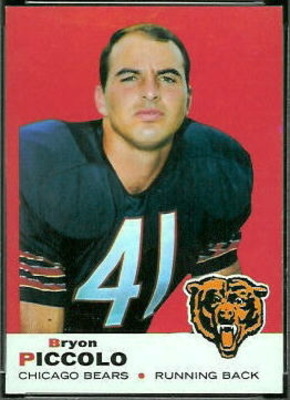 Brian Piccolo is the embodiment of courage for Bears fans everywhere.
Piccolo started his career in Chicago as an undrafted free agent who found his way onto the practice squad in 1966. Though hard work and determination, Piccolo eventually worked his way onto the starting roster in 1969 as a fullback, even though he was considered far to small for the position.
He was also, along with fellow running back Gale Sayers, the first desegregated roommates in the NFL.
When Sayers won the George Halas Most Courageous Player Award for returning from a potentially career-ending knee injury, he dedicated it to Piccolo.
After finally working his way onto the starting lineup in 1969, Brian removed himself willingly from a November game because he was having trouble breathing. It was later determined that he was suffering from embryonal cell carcinoma. After several surgeries that resulted in the removal of his left lung and pectoral muscle, Brian finally succumbed to the aggressive cancer in June of 1970.
Gale Sayers famously was said after Brian's passing, "I love Brian Piccolo and tonight, when you hit your knees, please ask God to love him too."
And Bears fans love him, too.
And now, as always, it is your turn. Have a favorite payer that wasn't listed? Tell us about it. Have a story or an opinion about someone who was included? Step up to the soapbox below and give us your take. Sound off, ladies and gentlemen!
Keep Reading

Chicago Bears: Like this team?