Ricky Stanzi: The Next Tom Brady or the Next Curtis Painter?
August 21, 2011
Meaningful football games are right around the corner.  Most teams are starting to fill out their depth charts and make their final roster decisions. NFL rookies are beginning to make their impressions and learning how to play the professional game. 
This is the time of year when teams look at their late round draft picks and try to determine which ones could turn out to be the steal of the draft.  Tom Brady is the epitome of a draft steal.  He was the 199th pick in the 2000 draft and has become, well, Tom Brady.
The Kansas City Chiefs are hoping their newest quarterback, Ricky Stanzi, could be the next Tom Brady.  This comparison has been made before, and when looking at their college careers, it is no surprise why.
Let's look at a year by year breakdown of their college careers. 
Stanzi's Sophomore Season - 150-254, 59.1%, 1956 yds, 7.7 y/a, 19 TD, 9 INT, 134.8 RAT
Brady's Sophomore Season - 12-15, 80.0%, 103 yds, 6.9 y/a, 0 TD, 0 INT, 137.7 RAT
In their sophomore season, Stanzi was far more used than Brady. This season isn't really comparable because of Brady's limited time. Let's move on to their junior season.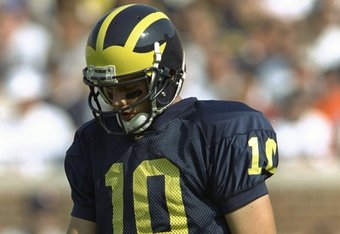 Stanzi's Junior Season - 171-304, 56.3%, 2417 yds, 8 y/a, 17 TD, 15 INT, 131.6 RAT
Brady's Junior Season - 214-350, 61.1%, 2636 yds, 7.5 y/a, 15 TD, 12 INT, 131.7 RAT
Those numbers are eerily similar.  Both quarterbacks caught heat from their respective fan bases in their junior seasons for throwing too many interceptions, but kept on winning games.  Both teams finished with double digit wins in Stanzi and Brady's junior seasons, despite the high interception numbers.  Both quarterbacks worked hard in the offseason to cut down their interceptions.  On to their senior years.
Stanzi's Senior Season - 221-345, 64.1%, 3004 yds, 8.1 y/a, 25 TD, 6 INT, 157.6 RAT
Brady's Senior Season - 214-341, 62.8%, 2586 yds, 7.6 y/a, 20 TD, 6 INT, 142.3 RAT
We see a drastic improvement in both senior seasons.  Stanzi's numbers last season at Iowa were fantastic.  Many Iowa fans were not happy with Stanzi's interceptions in 2009, so he cut them down, and increased every other category.  The fans still were not real happy because of Iowa's record.  I argue that it was in no way Stanzi's fault.  His senior season showed the improvement he promised after his junior season.
Brady's senior season was equally impressive.  He also cut down his interceptions to only six.  Brady had his first 20 TD season and increased his completion percentage, just like Stanzi.
Both guys have been lauded for their work ethic.  They are an almost identical size.  Stanzi and Brady are both measured at 6'4".  Stanzi is listed at 228 lbs, while Brady is listed at 225 lbs.  The similarities at Stanzi's stage in his career are remarkable.
The devil's advocate point on this would be to look at all the other "next Bradys."  Current Colts backup (or starter if Manning isn't healthy), Curtis Painter, had a better college career statistically than either Stanzi or Brady.
Painter's junior year at Purdue he threw for 29 TDs, 3,848 yards and had 356 completions. 
I mention Painter because he is an example of a guy who was more built for the college level than the NFL.  Painter's college career was better than Stanzi's and Brady's.  He is still young, but it seems pretty apparent he isn't the next Tom Brady. 
So, will Stanzi cash in on these similarities and his talent and show the determination to improve that he showed at Iowa and that Tom Brady has shown in his 11 year NFL career?  Or will he turn out to be a career backup like it appears Painter could be? 
I am sure I am with thousands of other Iowa fans who hope to see Ricky Stanzi starting for some NFL team in the near future and showing the leadership and work ethic he showed for three years as Iowa's starter.