10 Weirdest Baseball Uniform Fashion Statements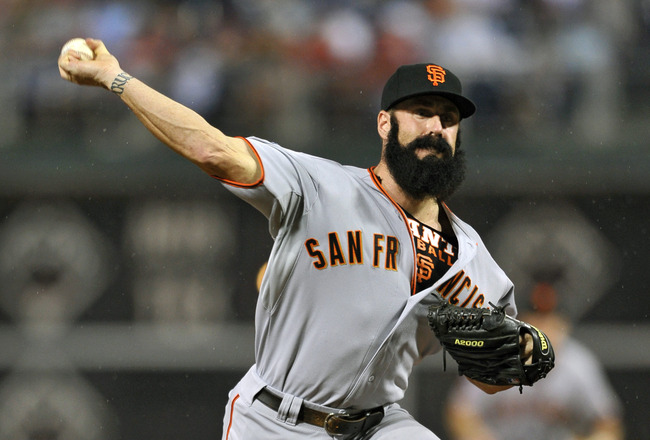 Drew Hallowell/Getty Images
Long gone are the days of baseball uniforms being "uniform."
For years now, baseball players have been finding small ways of expressing their individuality through small accessories to their uniform or just finding a different way of wearing their uniform.
Some looks work better than others, and not all of these fashion statements would work for every player in the league.
As a matter of fact, we may be reaching the days where those few players that still wear the uniform the way previous generations wore theirs are going to be considered the ones making a "weird" fashion statement.
Josh Outman Going Old-School Trying to Bring Back Stirrups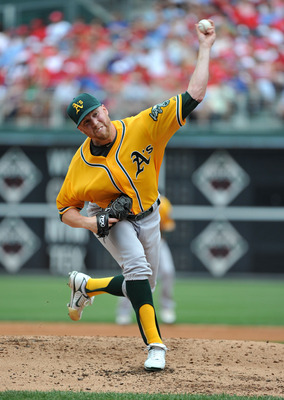 Christopher Pasatieri/Getty Images
Josh Outman, currently playing for Oakland's Triple-A team, is a dying bread of old-school players still willing to wear stirrups.
Admittedly, the look doesn't work so well with the modern uniforms.
The above-pictured uniform may be the exception. The yellow socks under the green stir-ups actually works pretty well with Oakland's alternate gold jersey.
C.C. Sabathia and His off-Center Baseball Hat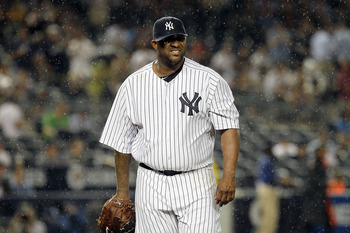 Jim McIsaac/Getty Images
C.C. Sabathia has been wearing his cap off-centered since he came up with the Cleveland Indians.
He's not alone when it comes to this fashion statement though.
Juan Pierre, Brandon Phillips, Torii Hunter, Mike Cameron and Dontrelle Willis (to name a few) are other players who have at least at one point worn their hats off-center.
Johnny Cuetto (and Others) and the Flat-Brimmed Baseball Hat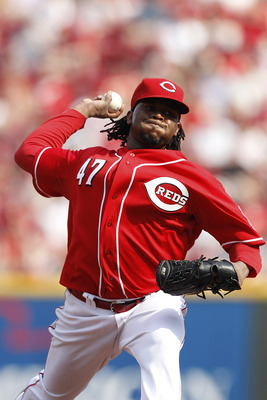 Joe Robbins/Getty Images
Not quite as bad as the off-centered hat, the flat-brim fashion statement is one that seems to be gaining popularity amongst fans.
Johnny Cuetto (pictured to the left) is one of many players that has at one point or another worn his hat in this style during recent seasons.
It works better for some players than others.
I used to think Dallas Braden was the most ridiculous-looking ball player to sport the look. Thankfully, he began bending the bill of his cap slightly.
Josh Beckett (and Many Others) and Their Phiten Necklaces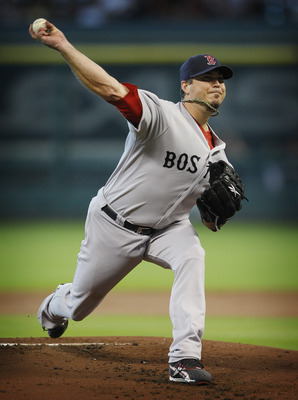 Bob Levey/Getty Images
The phiten necklace phase is one that I have been hoping would disappear for a while.
As illustrated by Josh Beckett (pictured to the left), the thick necklace manages to fly upwards on full display as pitchers work their way through their delivery.
The phiten necklace is supposed to increase energy and relax muscles. Whether it works or not, I have no idea, but the players who wear them seem to swear by their effectiveness.
Dustin Pedroia (and Again, Many Others) and the Phiten Sleeve
Jim Rogash/Getty Images
Another fashion statement that has grown in popularity amongst ball players is the single phiten sleeve.
Similar to the necklace, the sleeve is supposed to reduce muscle fatigue and keep the muscles loose.
I have no basis of knowing whether or not it is truly effective, but the players that wear them swear to their effectiveness.
Are we going to get into a phase of PEC's (performance enhancing clothing) instead of PED's (performance enhancing drugs)?
(Okay, you can quit rolling your eyes at that lame joke now...)
B.J. Upton and the Pants over the Cleats Look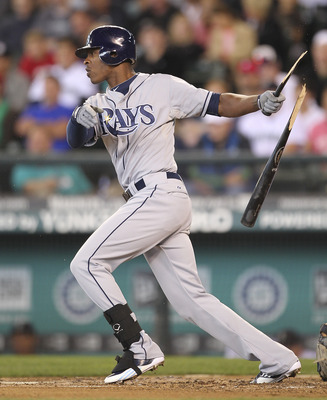 Otto Greule Jr/Getty Images
While I personally prefer the old-school look of knee-high socks, I've never had a problem with the long pants look down to the cleats.
B.J. Upton takes it a step further though and has his pant legs down over his cleats.
I may be in the minority, but I just fail to see how this look is either practical or good fashion for the speedy Upton.
Prince Fielder and the Baggy Pants Style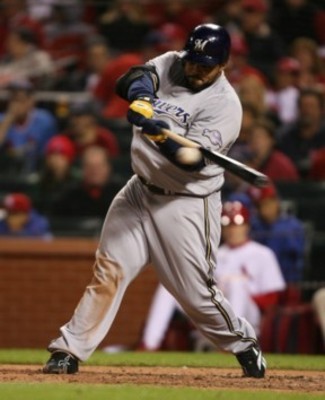 Equally as weird, if not more so, to B.J. Upton's over the cleat look is Prince Fielder's extreme baggy pants look.
Nobody is going to mistake Fielder for a track star, but wouldn't you think he'd want to reduce as much drag as he runs the bases as possible?
All joking aside, the look actually is not practical for ball players that need to slide into a base and/or dive to make a defensive play.
As long as he keeps smashing balls out of the park though, nobody (aside from possibly the commissioner) is going to challenge his fashion statement.
Pablo Sandoval and the Super Baggy Jersey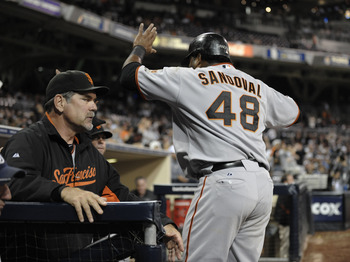 Denis Poroy/Getty Images
I believe Manny Ramirez may have been the pioneer of the super baggy jersey look, but Pablo Sandoval (pictured to the left) has been known to sport the look on occasion as well.
Again, I'm not sure it's the most practical look on the diamond, but it's not as bad as some of the others.
This one could find its way out of the league if it is ever proven to interfere with the player's ability to throw or swing without the uniform interfering.
Brian Wilson and His Tight Pants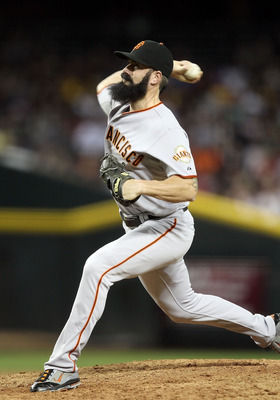 Christian Petersen/Getty Images
From super baggy to super tight...
As if his ridiculously long and dyed beard isn't enough, Wilson manages to draw more attention to his well-toned physique by wearing really tight pants as part of his uniform.
Not that it should come as much a surprise though, Wilson loves being the center of attention and wouldn't have it any other way.
Brian Wilson and His Unbuttoned Jersey
Christian Petersen/Getty Images
And I'm not done with Wilson's uniform fashion statements quite yet...
In addition to the skin-tight pants he likes to wear, he also sports his jersey partially unbuttoned with a cut-off under shirt partially visible when he takes the mound.
I'm not sure if Wilson has ever explained this look to the media, but even if he had his explanation would probably border on the ridiculous.
For the record, I could add the bright orange cleats that he colors with a sharpie to this list too, but I'd rather not focus too much attention on one player.
(Let's not forget the beard. The only reason it doesn't get a slide is because it can't be considered part of his uniform).
It would have been hard to do any MLB slideshow mentioning the term "weirdest," regardless of the use of the word, without mentioning Brian Wilson at some point.
Keep Reading