A.J. Burnett is Killing the New York Yankees
August 21, 2011
There is no other way to slice it. A.J. Burnett is KILLING the Yankees. Another dreadful outing, this time against Minnesota, Burnett continues to give the Yankees a better chance to lose than he does to win.  It's time that the Yankees swallow the $85.2 million pill and remove him from the rotation.
Burnett couldn't get out of the second inning tonight, allowing seven runs on five hits, suffering his 10th loss of the season. Burnett has won only one game since June 29 and seems to be getting worse with every start, not better. 
So why is Burnett still in the rotation? 
Well, GM Brian Cashman and the Yankees would have to eat that $85.2 million contract I was talking about. It may be time to do that considering there isn't a single person, other than Cashman, who could try to logically defend that contract. 
Cashman's comments from last week defending Burnett blindly, telling reporters to smoke from the "objective pipe" when analyzing Burnett's season, show that Cashman will ride this signing out until the very end. Some would say Cashman's credibility takes more of a hit defending the indefensible, rather than being realistic about Burnett's struggles.
With Freddy Garcia being sent to the DL, it looks as though Burnett's job will be saved for the time being. If not for Garcia's injury, Burnett may be sitting in the bullpen. He doesn't deserve to be in the rotation at all and in my opinion, is only still there because Cashman refuses to give up on him.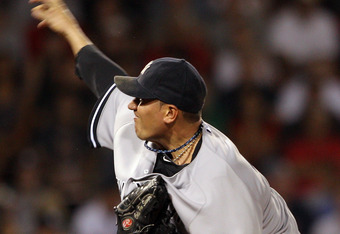 It's honorable to see Cashman standing behind his man, but in doing so, Cashman is helping to hurt the Yankees.
I have always said that Burnett is not pitching like the No. 2 starter the Yankees thought they were paying. But now, I would go as far as to say Burnett isn't pitching well enough to be a starter in the majors, period. In fact, the excuse has been made that Burnett hasn't been as bad as last year, but looking at his numbers, he's quickly getting there.
In 2010, Burnett was 10-15, with a 5.26 ERA. In 2011, he is 9-10, with an ERA of 4.96. Any similarities? Many. It's gotten to the point where the only defense that could be made about Burnett is now gone.
If not for Garcia's injury, Burnett may be sitting in the bullpen as we speak. He doesn't deserve to be in the rotation at all. Garcia's injury has now bailed Cashman out, giving him two more weeks to keep Burnett in the rotation. 
He will ride the excuse that the Bombers have no choice but to keep Burnett in the rotation because of Garcia's DL stint. That still won't keep the heat off Cashman's defense of Burnett, especially if Burnett continues to throw up stinkers over the next two weeks.
Who could replace Burnett in the Yankees rotation? Despite being out the next two weeks, Garcia should be implanted right back into the rotation when he returns. It would've been funny to say this to start the season, but Garcia is more deserving to be in the rotation than Burnett. It isn't even close. 
There has also been talk that top prospect Manny Banuelos could be brought up and placed in the bullpen for the remainder of the season and the playoffs. But with the Yankees' history of moving prospects from bullpen to rotation and vice versa, they may want to think twice about that move. 
Instead, the Yankees could insert Banuelos into the rotation over Burnett. God knows he couldn't be any worse than Burnett. Whatever the remedy may be, one thing is clear: ANYBODY will give the Yankees a better chance to win than Burnett does.