Alex Smith and San Francisco 49ers Down Cross-Bay Rival Oakland Raiders
August 21, 2011
After a poor performance against the Saints, Alex Smith, Colin Kaepernick and the San Francisco 49ers offensive line rebounded with some welcomed improvement.  
Alex Smith looked good, going 8 for 13, with one interception.  Three of Smith's incomplete passes were right on the hands of the receivers. The majority of the passes were crisp, including a nice downfield pass that Edwards caught on a beautiful one-handed grab.  
The 49ers opening series was great, as the 49ers drove down the field on a 15-play drive, eating up just under nine minutes.
However they came away without points, due to the questionably safe call, a third-down draw play that didn't get much of anything, and the 49ers sent out Akers for a chip-shot FG attempt, only to have the punter, Andy Lee, drop the hold and then scramble and throw an interception.
On another drive, the 49ers moved the ball, but Smith was picked off due to the Raiders defensive end dropping into coverage. This looked to be Smith's only error, though it stopped the 49ers momentum.  
The offensive line was awesome, picking up the blitzes and giving Smith time to throw in the pocket. Smith also moved better in the pocket, keeping his eyes down field and hitting his check downs.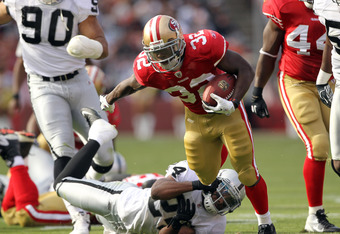 Colin Kaepernick, 6 for 8 for 52 yards in a quarter and a half of play, led two TD scoring drives, though they were against the Raiders second- and third-string defense units.  Kendall Hunter had one of the two best highlights with a 53 yard TD run thanks in part to the offensive line and the outstanding blocking.
Alex said after the game that he felt he was improved but not where he wants to be. It's correctable, according to Harbaugh, "We talked about it. We feel it's a correctable thing. I know what happened. We have to do a better job with our eyes."
Well we all know why it happened: Smith stared down the receiver.  People seem to wonder about the last statement "Our eyes"  I'm pretty sure I get it:  While it might feel like Harbaugh's implying that Smith and the coach share a set of eyes, it's that Harbaugh feels the team is one.
When he says "our eyes" he's talking collectively.  Does that mean he meant that the QB and Coach share a set of eyes on game day?  Eh, probably not, but it really depends on your interpretation, and opinion of Harbaugh and Smith as to what your answer to that question will be. 
Omon also had a rushing touchdown for the 49ers late in the fourth quarter. Masoli got one series. Neither former Arena Football McLeod Bethel-Thompson nor recently signed NFL QB veteran Josh McCown got a snap.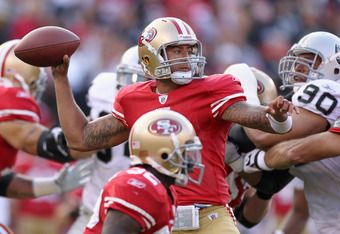 Raiders starter Jason Campbell went 5 for 7 for 74 yards with no TD and no interceptions before being knocked out of the game.  He did fumble, but the Raiders recovered.  
Trent Edwards went 3 for 6 for 36 yards and 1 INT, while Kyle Boller went 6 for 11 for 56 yards and 1 Interception.
All in all, Smitty and the 49ers looked much improved from eight days ago in New Orleans.  Still lots could be improved upon and they'll get a good test against when the Houston Texans come into town next Saturday, before heading south to San Diego to face the Chargers in the final preseason game.  
That's right, I've coined a new nickname for Alex Smith, well, not new, but you know what I mean.