5 Preseason Position Battles to Watch
Mike Ehrmann/Getty Images
The Miami Dolphins head into the 2011 season coming off a pretty disappointing 7-9 result last year.
Unfortunately for the franchise, the offseason wasn't much better. The organization let it be known that they were not behind their coach, Tony Sparano, or quarterback, Chad Henne.
They did revamp the running back position, however, in hopes of improving one of the most abysmal offenses in the game.
While most of the starting roles for Miami this year seem to be figured out, there are still a few positional battles brewing. Here are five key ones.
RB: Daniel Thomas and Reggie Bush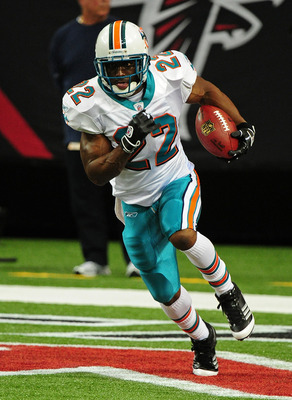 Scott Cunningham/Getty Images
The question here is not about who is going to start, but how the carries are going to be split. Offseason acquisition Reggie Bush obviously has more experience than rookie Daniel Thomas, and will probably start throughout the season.
The problem with Bush is that he has never showed the stamina and ability to be a feature back over the course of a season. He has been more of a change-of-pace and receiving back in his NFL career.
Thomas, therefore, presents a good compliment to Bush. He's a downhill runner who can be used in short-yardage situations.
The Dolphins have said they are really high on Bush heading into the season, and he impressed in their second preseason game yesterday against the Carolina Panthers. But they will no doubt have to give Thomas at least a handful of carries each game, if it's not an even timeshare.
Backup Tight End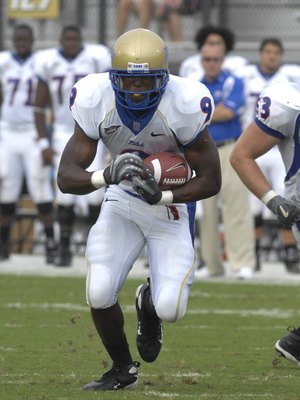 Al Messerschmidt/Getty Images
Over the last three seasons, starting tight end Anthony Fasano has been a pretty rock-solid player for Miami. He's missed just a combined three games, and has put up some decent receiving numbers.
The problem for Miami has been complimenting Fasano, and that is no different heading into this year. The likes of Mickey Shuler, Jeron Mastrud and Dedrick Epps have not been getting the job done, and may lose their chance to a rookie fullback.
Reports say that the Dolphins may soon try to switch H-back Charles Clay into a tight-end role. This could solve their long-time issues at the backup tight end spot. His emergence could also mean they cut at least a couple of the tight ends on their roster.
Free Safety Is Up for Grabs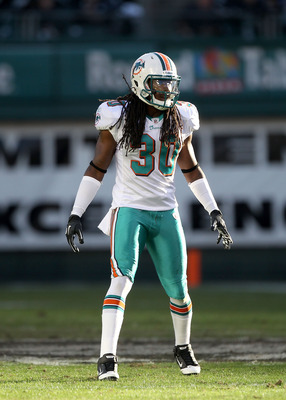 Ezra Shaw/Getty Images
In what is probably the closest battle for a starting job on the team, free safeties Chris Clemons and Reshad Jones will battle it out in the preseason for the second straight year.
Clemons won the job last year, started 15 games and finished the year third on the team in tackles. Jones had 11 tackles, one sack and one interception in limited time on the field.
The two players are very different, as Jones is more of a play-maker while Clemons is more of a heady and steady guy. Clemons may not be able to make the plays that Jones does, but he usually gets to the right position, which has set him apart so far in their careers.
Offensive Line Issues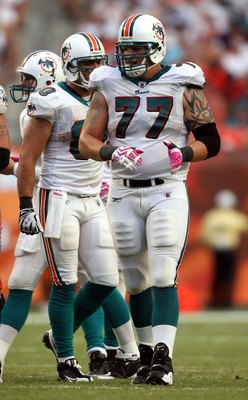 Marc Serota/Getty Images
Miami has a lot of depth on the offensive line, but needs to figure out how to utilize it if they are going to improve this season.
Center Mike Pouncey, guard Vernon Carey, guard Richie Incognito and tackles Lydon Murtha and Jake Long (if healthy) will probably get the starting roles. The question just becomes where they all fit in and if they can hold off the other linemen behind them on the depth chart.
The line is normally a strength for Sparano, so you know he will work these guys hard to figure out the lineup that gives his team the best chance to win.
After a strong 2009 running season, the Dolphins couldn't get much of anything going on the ground last year. For what it's worth, the line looked very good in the team's win over the Panthers on Friday night.
Fullback Usage: Will Lousaka Polite Stay on Roster?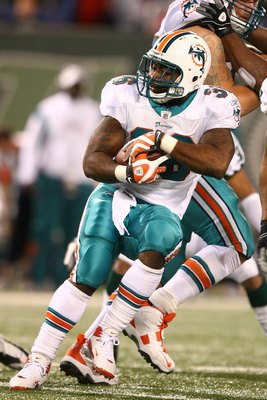 Al Bello/Getty Images
Just like anything else in life, the NFL is mired by change. One of the more recent changes is the lack of the power running game, leading to many teams rarely using a fullback.
Starting running back Bush is nowhere near a power runner, and when he is on the field, the Dolphins are likely to be passing.
Lousaka Polite has been the starting fullback for the Dolphins for quite some time, but hurts himself by only being a fullback. The team has guys like the rookie Clay, and backup running back Lex Hilliard, that can be used at fullback and other positions as well.
Sparano has maintained that he will still use Polite, but it will be interesting to see if that lasts the whole season. Much will probably depend on how well Clay is prepared for a role in the NFL.
Keep Reading

Miami Dolphins: Like this team?