NFL Preseason Preview: Champ Bailey, Steve Johnson Highlight Bills-Broncos Game
August 19, 2011
The Buffalo Bills travel to take on the Denver Broncos this Saturday, in a matchup that features the No. 2 and No. 3 overall picks in the 2011 NFL draft, linebacker Von Miller of the Broncos, and Marcell Dareus of the Buffalo Bills, respectively.
After a devastating 10-3 loss to the Chicago Bears, the Bills are looking to bounce back. Despite the loss, the Bills' defense looked sharp, recording nine sacks; two from Shawne Merriman and another from Marcell Dareus.
However, Bills head coach, Chan Gailey, stated that Merriman would sit out for the Denver game due to stiffness in his leg...ugh. Those who will also not be dressing are wide receiver Roscoe Parrish, who is still nursing a hamstring injury, rookie offensive tackle Chris Hairston, tight end Shawn Nelson (no surprise there), rookie cornerback Justin Rogers and rookie inside linebacker Kelvin Sheppard.
Coach Gailey stated to BuffaloBills.com that he wants to give the first and second team units more playing time this week, so expect to see about three to four series from each.


WR Stevie Johnson vs. CB Champ Bailey

Buffalo Bills' wide receiver Steve Johnson is coming off of a stellar 2010-2011 campaign in which he hauled in 82 passes for 1,073 yards while scoring 10 touchdowns. This week, he will face off against one of the top cornerbacks in the entire National Football League, in Champ Bailey.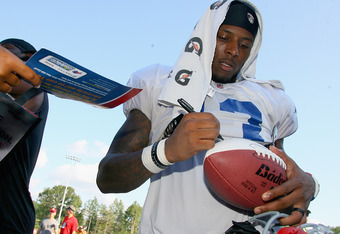 Bailey is a physical, lockdown corner who strikes fear in opposing quarterbacks, who rarely even think about looking his way. Despite his lone two interceptions, he batted away 13 passes that were thrown this way.
This will be a true test for Johnson, who is looking to earn a long-term deal with the Bills before becoming a free agent next year. Last week in the loss against the Chicago Bears, Stevie caught just three passes for 15 yards.


NT Kyle Williams vs. RBs Knowshon Moreno, Willis McGahee

Kyle Williams was an absolute stud on the Buffalo Bills defense last year, receiving high praise from various media outlets and is reportedly in talks with the Bills' brass regarding a new contract.
However, the Bills ranked dead last in the National Football League in rush defense, allowing over 167 yards per game. Denver Broncos new head coach, John Fox, loves to run the ball, proven by the absurd rushing statistics put up by DeAngelo WIlliams and Jonathan Stewart during his tenure as head coach of the Carolina Panthers.
Knowshon Moreno is entering his third year, which is the benchmark year for most pros to realize their full potential. Willis McGahee, a former Buffalo Bills first-round draft pick is also on the roster. Last week against the Dallas Cowboys, McGahee and Moreno combined to rush six times for 40 yards.
This is another true test for the Bills' defense, as the Broncos will look to pound the ball, and you can't rule out quarterback Tim Tebow's running ability.


DE Marcell Dareus vs. OTs Ryan Clady, Orlando Franklin

Marcell Dareus has been receiving nothing but rave reviews for his play in training camp, and he showed it on the field last week against the Chicago Bears. Dareus has the size to play nose tackle, due to his 343-pound frame, but his agility, speed and explosiveness make him a mismatch against most offensive tackles in the league.
Dareus should be licking his chops, after he told NFL Network's Michael Irvin, "Denver, I'll get a chance to play them this year and I'm going to make it hell for them every time I play against them."
This was said after the Broncos decided to select Texas A&M's standout linebacker, Von Miller, over Dareus with their No. 2 overall pick. 
Last week he made his first sack in the National Football League and was consistently collapsing the pocket, allowing the linebackers behind him to make plays.
Dareus will face off against Orlando Franklin and Ryan Clady, depending on the defensive rotation. Personally, I'd like to see him take on Clady, who has proven himself to be one of the elite offensive tackles in the NFL, just to see how powerful this man really is.