Donovan McNabb Goes Under Microscope in Vikings' Meeting with the Seahawks
August 19, 2011
Donovan McNabb and the Minnesota Vikings are gearing up for their upcoming Week 2 preseason showdown with the Seattle Seahawks. You can bet that Donovan McNabb will be under the microscope in this one.
Why?
Despite only being Game 2 of the 2011 preseason, many fans want to see just how the acclimation process is going for McNabb as he continues to learn a system that is otherwise unfamiliar to him.
The Vikings brought in McNabb to take the reins of this team; to do what the last veteran quarterback could not do. So it's crucial that McNabb starts showing signs of life NOW, before we draw any nearer to opening day.
Fans—and the Vikings' coaching staff—will be eager to see what McNabb can do under center against a Seattle defense that was ranked 27th against the pass in 2011.
But it isn't just McNabb's current status that is of interest here.
The media buzz surrounding the fact that ex-quarterback Tarvaris Jackson and ex-receiver Sidney Rice now play for Seattle will surely seep into this contest. This will afford everyone the opportunity to see just how McNabb will handle, not only the added media coverage and pressure, but also how all of this will affect his play.
Think about it.
McNabb's plate is already full with what he has to learn, and adapt himself to, without the unwanted media coverage that is inevitably going to exist with the other sub-headlines here.
In addition to the aforementioned, the Vikings are still trying to solidify a shaky offensive line, and get their new crop of receivers on par with the system as well.
I really wouldn't want to be in the guy's shoes right now.
But from an analytical viewpoint, this game is a goldmine for, well, quality analysis.
On a small scale, McNabb is going to be under the microscope all year long: If he does well, he's the hero; if he performs poorly, he's the pariah.
So in his first real-time game where he gets a little bit of everything from the buffet, we'll all be chomping at the bit to see his current status and progression, and whether or not he is, in fact, the incumbent champion or the pending exile.
But to digress just a bit, this is something that is par for the course; it has to happen this way.
The Minnesota coaching staff wants to see if McNabb is still "the McNabb" that was a Pro Bowl-caliber QB a few years ago. The fans want some form of reassurance that the organization made the right choice in bringing him aboard.
And this is also a prime situation for McNabb.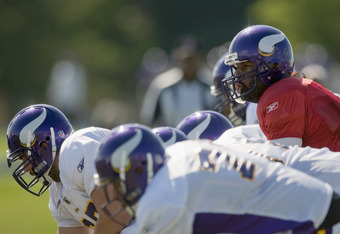 As a player, it will afford McNabb the insight into himself as the newest member of this team and where he stands in his own development.
In a small way, it's a win-win situation for everyone.
I don't think McNabb has to go out there and blow everyone away. Rather, he just has to go out there and give everyone a sigh of relief and show that this team is moving forward rather than backwards.
In the end, it's an inescapable situation for McNabb, but in the same vein, nothing he hasn't dealt with before.
Let's just hope the outcome is more positive than negative, for everyone's sake.