Thomas Jones vs. Jonathan Baldwin and 7 Other Wild Teammate Fights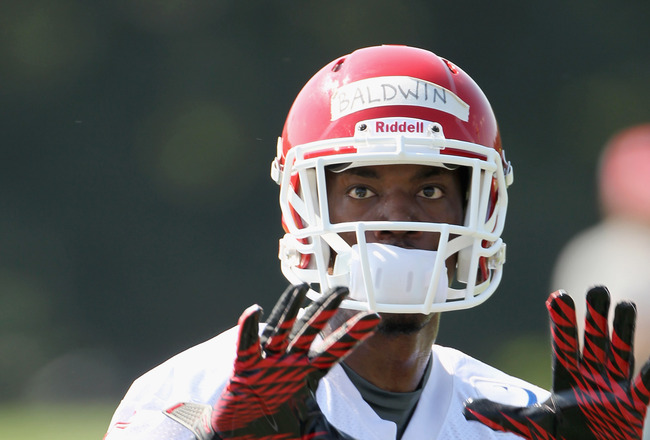 Jamie Squire/Getty Images
Nick Wright of 610 Radio in Kansas City is reporting that the reason why wide receiver Jonathan Baldwin was absent from camp on Wednesday is because he and running back Thomas Jones got into a fight in the Chiefs locker room before practice.
Baldwin hurt his wrist in the fight and will miss the rest of the preseason because of it.
What started the fight has not been officially disclosed, but it's been alluded to that Jones took exception to Baldwin's work habit and diva-like attitude.
What is training camp anyways without a fight or two. I submit to you seven other cases of wild teammate-on-teammate violence.
Brandon Lloyd vs. Rahim Moore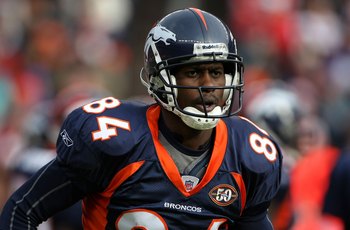 Doug Pensinger/Getty Images
Earlier in training camp, Denver Broncos receiver Brandon Lloyd and rookie safety Rahim Moore got into a fist-fight when Moore cutoff Lloyd's route during practice.
Lloyd took exception to the young player's enthusiasm in practice and the two traded blows before it was broken up.
Lloyd didn't speak to reporters after the incident and Moore just offered that the two "disagreed" on how the play went down.
Arthur Jones vs. Bryan Mattison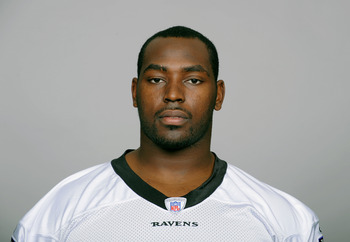 Handout/Getty Images
In 2010 at Raven's camp, rookie defensive tackle Arthur Jones took exception to being pushed around by offensive tackle Bryan Mattison.
Jones, who was getting tired of being pushed around the field by Mattison, took a couple of swings at his teammate. Mattison swung back, but before an all-out melee could ensue, fellow Ravens teammates separated the two players and order was restored.
Jason Babin vs. the Philadelphia Eagles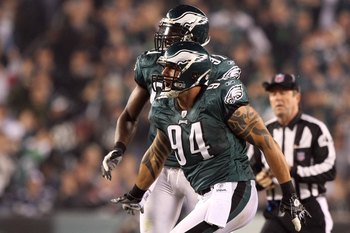 Al Bello/Getty Images
Jason Babin first joined the Eagles back in 2009 after playing for the Texans, Seahawks and Chiefs in his first four years in the league.
Babin felt the best way to introduce himself to his new teammates was to fight them—all of them.
During training camp, Babin would find himself in five fights with five different teammates.
He really should have saved some of that energy for the regular season because he only had two sacks in '09.
He was cut and signed a one-year deal with the Titans in 2010 where he had 12.5 sacks. Now he's back in Philly in 2011 with a sweet five-year deal.
Hmm, why does that sound familiar? A troubled player has a big contract-year with the Titans then signs a lucrative deal with an NFC East team.
Don't tell me, I'm sure it will come to me eventually.
Steve Smith vs. Ken Lucas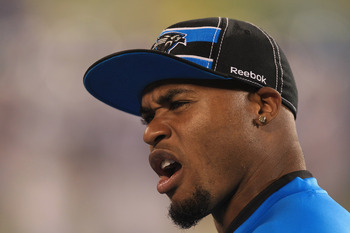 Streeter Lecka/Getty Images
Wide receiver Steve Smith has a temper and can be volatile at times. No one knows this better than his own teammates.
In his second teammate fight, Smith took exception to the way cornerback Ken Lucas was covering him and hit him with a left hook.
Lucas went down and had to be carted off the field.
Smith was suspended for two games and Lucas' nose was broken.
Donovan McNabb vs. T.O.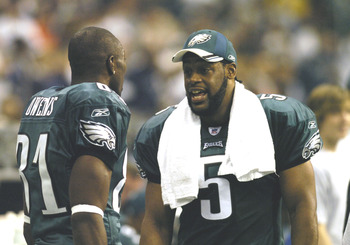 A. Messerschmidt/Getty Images
When the Eagles signed Terrell Owens in 2004, Donovan McNabb finally had the receiving threat he had always wanted.
In fact, T.O. seemed to be just what the Eagles needed and helped them finally get over that NFC Championship hump and into the Super Bowl.
Well unfortunately for them, they ran into the New England Patriots.
The game was close and the Eagles came up short in their final drive.
In the offseason, Owens said that McNabb had thrown up in the huddle on the final drive and questioned McNabb's mental toughness. T.O. also said Tom Brady was the better quarterback.
That was just the start of the show. T.O. did his best to divide the locker room against McNabb, and was seen berating his quarterback on the sidelines and taking cheap shots whenever he could.
McNabb's only response was not naming T.O. in a press conference, and saying that he shouldn't mention McNabb's name anymore.
The end result was T.O. being suspended for the last four games of the season before being cut.
This one didn't come to blows but it entertained those of us who don't like the Eagles.
Bill Romanowksi Breaks Marcus Williams' Face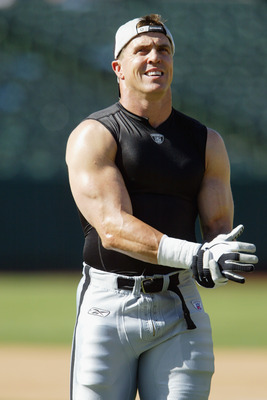 Justin Sullivan/Getty Images
To say Bill Romanowski is crazy is a bit of an understatement (author's note: Please don't tell Bill I wrote that).
During Raiders training camp in 2003, Bill was being blocked by offensive lineman Marcus Williams.
According to Romanowski, Williams was doing a bit of holding and Romo didn't like it. In fact Romanowski ripped off Williams' helmet and delivered a crushing blow to Williams' face, breaking his left orbital bone.
Romo then stood over his teammate a yelled, repeatedly, "Don't you ever hold me!"
Williams later sued Romanowski in court and won his case.
Michael Westbrook vs. Stephen Davis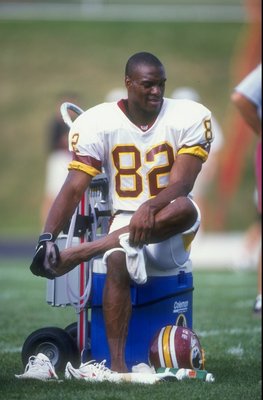 Doug Pensinger/Getty Images
Stephen Davis is remembered by Redskins fans as a hard-nosed running back who would have been a perfect fit in Joe Gibbs' power-running attack had Steve Spurrier not cut him.
Michael Westbrook isn't remembered for much by Skins fans except for kicking the crap out of Davis because he called him a homophobic slur.
Now it's not uncommon for players on opposite sides of the ball to get into it during camp. After all, you're just hitting each other—it's bound to happen.
But a running back and a receiver coming to blows and trash talking? That's almost unheard of.
But apparently Davis and Westbrook didn't like each other and constantly talked trash, and finally Westbrook had enough.
At camp in 1997, local news cameras were on hand to see Westbrook give a beat down to his teammate Davis. It was quite a one-sided fight with Westbrook on top of Davis just raining down punches before it was broken up.
Westbrook was fined $50,000 for the incident.
Keep Reading