Toronto Blue Jays: Forecasting 2012 Opening Day Lineup Decisions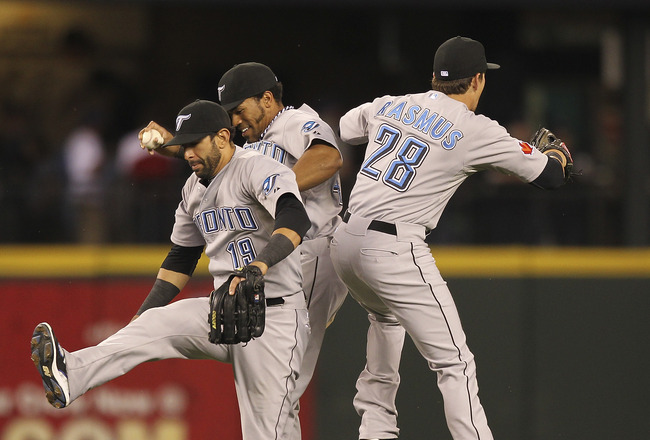 Otto Greule Jr/Getty Images
Since the Rasmus trade and the Lawrie sighting, the Blue Jays have been winning at a 59% clip and have won four of their last five. Rasmus and Lawrie are two excellent young pieces that this franchise can be happy about.
So where are we lacking? Where can we improve in 2012? This article will give you some ideas of possible lineups to expect in 2012 when the Jays could legitimately challenge for a playoff spot.
The Stalwarts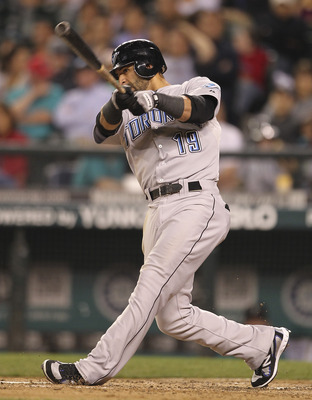 Otto Greule Jr/Getty Images
Many players have their spot in the lineup entrenched for the Blue Jays. But where will they be playing? I think only two players have solidified their defensive position for next year and no, it isn't Jose.
Lind will be at 1B and Rasmus will play CF. Guys like Escobar, Bautista and Lawrie will definitely be everyday starters but their positions could change. It is safe to say that Escobar, Arrencibia, Rasmus, Lawrie, Bautista and Lind will be on the opening day roster. So who will fit those three extra spots? Here are the options:
Thames
Davis
Snider
Hechavarria
Encarnacion
With that being said we have a void at 2B and the OF options up for grabs.
This is assuming that E.E. has done enough post-All Star Break (OBP: .476 1st in A.L; OPS: 1.088 2nd in A.L) to warrant his $3.5 million option.
We will first look at options to play 2B.
2B Option #1: Move Lawrie Back to 2B
Otto Greule Jr/Getty Images
Think of this infield: Lind 1B Lawrie 2B Escobar SS Bautista 3B.
Personally, I think Bautista makes an outstanding 3B and allows the Jays to start another decent OF of which they have a surplus. Lawrie has had some issues defensively at third and could be an excellent middle of the infield player alongside Escobar (Lawrie was initially drafted as a second baseman).
By moving Bautista out of RF, this would allow the Jays to start a young crop of OFs with Thames, Rasmus and Snider/Davis, giving Snider another chance to break out or allowing Davis to run rampant on the base paths.
2B Option #2: Move Escobar to 2B, Hechavarria to SS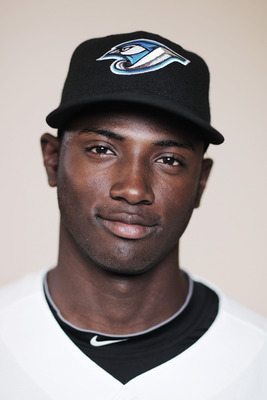 Nick Laham/Getty Images
At some point the Jays need to understand the importance of defence and not focus on having a potent offensive lineup from 1-9 with some defensive holes.
Hechavarria is going to be an excellent defensive SS for years and our infield defence would be mesmerizing with Hechavarria at SS and Escobar at 2B. Have him bat eighth or ninth and allow him to excel on defence.
2B Option #3: Take Hill to Arbitration / Sign Him for Much Less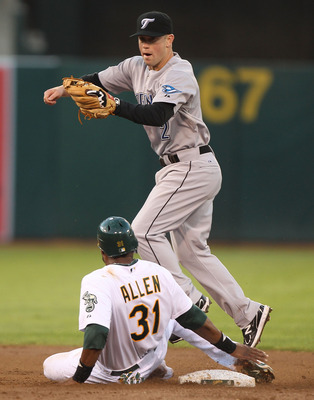 Jed Jacobsohn/Getty Images
There is little doubt that Aaron Hill's option will not be picked up for next season at $8 million. He has underperformed offensively and severely hampered my fantasy squad. He has experience and veteran leadership but needs to offer more to retain his spot at second.
The Jays could go to arbitration which would yield a much lower salary (batting .205 then .229 in consecutive seasons won't help your arbitration case). AA could also try and re-sign Hill for cheap.
Either way I think his time is done but this is nonetheless an option to keep the veteran leadership in the infield and clubhouse secure.
2B Option #4: Sign a Free Agent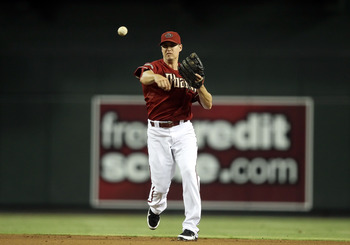 Christian Petersen/Getty Images
We could always use the money we spent on Hill for another 2B. Although I think the money would be better spent in the bullpen, there is always an option of attracting someone to this young upstart squad.
Moreover, when you look at the list of 2012 2B UFAs, it does not excite you one bit.
Outfield Option #1: Eric Thames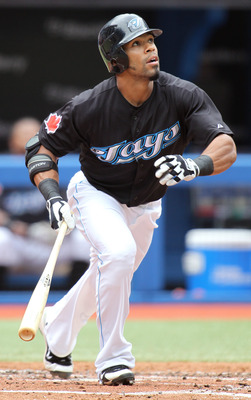 Claus Andersen/Getty Images
I think it would be safe to assume that Eric Thames has played well enough to warrant the starting LF spot on opening day 2012. He is turning into a fan favourite batting ahead of J.B.
He needs to work on that OBP by generating more walks (then again his aggression is what makes him dangerous; Vlad Guerrero–lite). He could start the season poorly and lose his starting gig but it is his to lose.
His position is by no means secure and that is why he was added here, yet the smart money is on Thames starting in 2012.
Outfield Option #2: Rajai Davis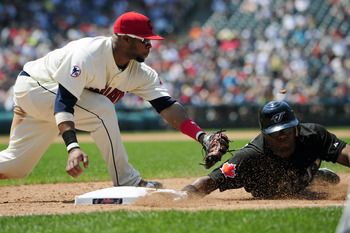 Jason Miller/Getty Images
I have been a fan of Davis' game since his days in Oakland. His speed can change the scope of a game. I believe that Farrell loves having him as a fourth OF that can pinch run whenever necessary in a tight game. Speed would be an issue on this 2012 Blue Jays team so I think he could have a place as the starting RF who bats ninth.
Outfield Option #3: Travis Snider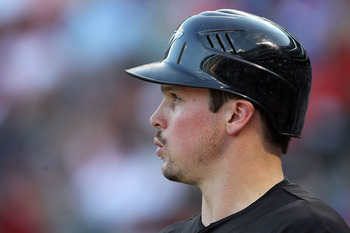 Ronald Martinez/Getty Images
He will only make the club out of camp if he is secured an everyday spot. Everyone needs to remember that the guy is ONLY 23! Don't think he needs to produce this year or he is done with the Jays. He continually rakes AAA pitching (since his demotion he is hitting .448).
The Jays need to be patient and not do anything that could hinder his progression. I think the fight for RF will come down to who has the better camp.
My Projected Batting Order / Lineup
Jed Jacobsohn/Getty Images
Escobar (SS)
Rasmus (CF)
Bautista (3B)
Lind (1B)
Lawrie (2B)
Thames (LF)
Arrencibia (C)
Encarnacion (DH)
Davis (RF)
I think Lawrie's switch allows the Jays to improve defensively and maintain some speed in the OF. Our offensive infield would rival the Phillies and Yanks and our lineup has a mix of everything. Ideally, that top seven can be cemented for years to come.
Let Hill walk (with the lack of solid 2B UFAs someone will pay him) and keep Hechavarria in the minors for some more seasoning.
Thoughts?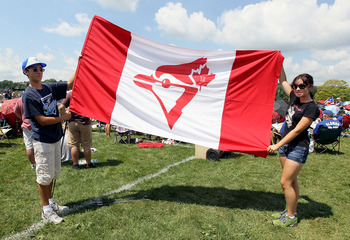 Jim McIsaac/Getty Images
Let me know what you think!
Thanks for reading!
Stay tuned for my forecast of the Blue Jays Pitching Staff.
Keep Reading

Toronto Blue Jays: Like this team?