Tampa Bay Buccaneers Preseason 2011: 4 Best/Worst During New England Blowout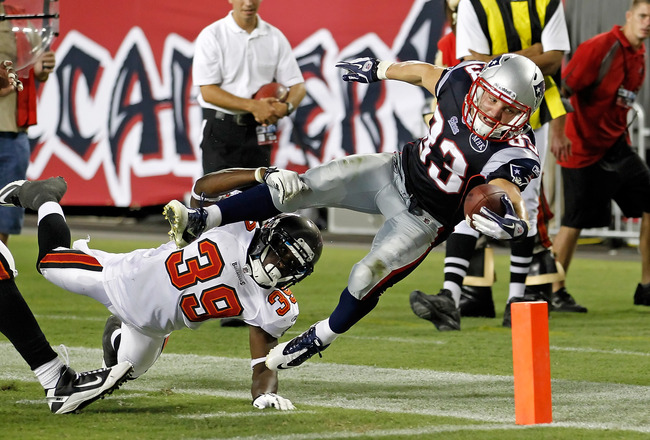 J. Meric/Getty Images
The Tampa Bay Buccaneers aren't in the same league as the New England Patriots.
Tom Brady was prolific and surgical with his approach to Game 2 of the preseason, and the Buccaneers' defense appeared slow, tame, and not even close to being regular-season ready.
The offense doesn't receive a pass either, netting 17 yards of total offense in the first half.
Granted, the Patriots defense had plenty to do with the Bucs' inept offense, but there was never any early adjustments.
Buccaneers' head coach Raheem Morris and his staff have their work cut out for them, and need to revisit those listed as their starters.
Although the game was a blowout (it was 28-0 at halftime) there were a few bright spots. Here are four of the best and worst from the Buccaneers-Patriots preseason game.
Worst: Pass Protection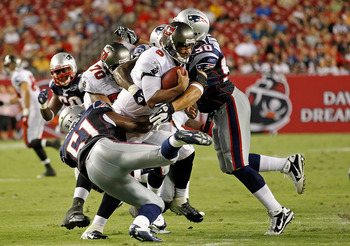 J. Meric/Getty Images
Buccaneer quarterback Josh Freeman was sacked twice and pressured all night by a savage Patriots blitz.
The offensive line did their best to show the 49,313 in attendance the new turnstile protection offensive line coach Pat Morris has implemented.
New England was just more physical and the Bucs' o-line appeared to be intimidated by a more experienced team.
Running back Earnest Graham didn't make a solid case for the Buccaneer organization not re-signing Cadillac Williams. In the second quarter, Graham completely whiffed on a block, which led to one of Freeman's sacks.
The offensive line committed numerous penalties in the first half, two alone by starting left guard Ted Larsen.
Starting right guard Davin Joseph had this to say in the St. Petersburg Times, "We have a very experienced group of players," Joseph said. "It's no surprise (when they blitz). We should be able to adjust. We're one of the most experienced groups on this team. We have to go out there and lead by example. We have to go out there and set the tone for our team. We didn't do that."
Best: Preston Parker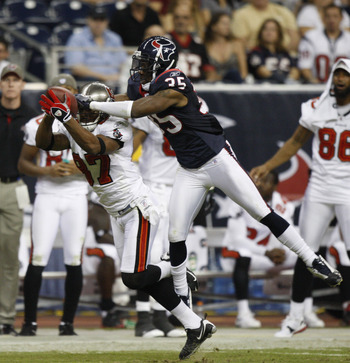 Parker reeling in an incredible catch against Houston last preseason
Bob Levey/Getty Images
The second-year undrafted free agent out of North Alabama struggled in his preseason debut against the Kansas City Chiefs, but made amends against the Patriots catching two passes for 43 yards.
While the numbers seem unimpressive against New England's backups, Parker made a case to be a part of the 2011 Buccaneer squad by showcasing excellent route-running skills and remedying his "alligator arms," which plagued him against the Chiefs.
The Patriots certainly keyed in on starting wide receiver Mike Williams and someone else has to step up in order to give Freeman a reliable target.
Worst: Mason Foster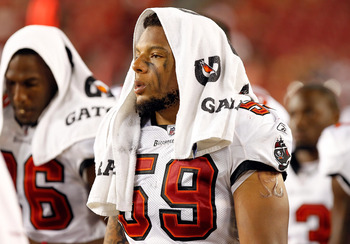 J. Meric/Getty Images
Rookie middle linebacker Mason Foster looked completely lost and struggled to adjust to the speed of the New England Patriots.
Foster was responsible for the Brady to tight end Aaron Hernandez touchdown pass in the first quarter, biting hard on a play-action fake allowing Hernandez to sneak behind him for the score.
He was found out of position the majority of the night, and Foster couldn't step into the gaps or force blockers off of him quickly enough to make plays.
The one effective play Foster managed was crushing wide receiver Chad Ochocino and knocking the football out of his hands, but the refs called a personal foul penalty for what appeared to be a helmet-to-helmet hit.
Repetition and more game time will benefit the rookie, and no one should count him out yet, but the coaching staff needs to instruct Foster a bit harder in practice.
Best: Dekoda Watson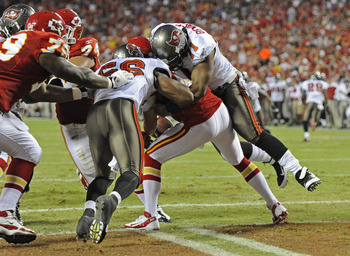 Watson, along with Michael Bennett sacking Tyler Palko during Chiefs preseason game
Peter Aiken/Getty Images
Watson managed seven tackles and made his presence felt in the second quarter when he bull rushed Patriots left tackle Matt Light into Brady resulting in a bad throw.
The Buccaneers lacked aggression in their loss to the Patriots, and Watson was one of the few bright spots on a defense that allowed 213 yards in the first half.
No one is giving Watson a spot on the starting defense just yet, but if he continues to play well during this preseason it'll be hard for the coaching staff to keep him off of the field.
Worst: Rush Defense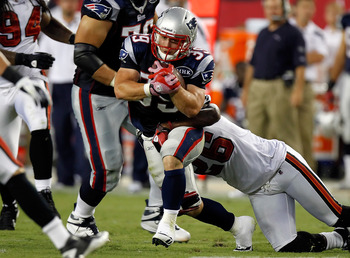 J. Meric/Getty Images
The Buccaneer's defense as a whole was atrocious, but especially the run defense, which allowed 117 rushing yards in the first half.
The defensive line struggled with their gap responsibilities, which is an integral part of the Tampa-2 defense. If Gerald McCoy and Roy Miller don't shoot and maintain their gaps, linebackers Quincy Black, Geno Hayes, and safety Sean Jones can't make clean tackles.
Instead, the defensive line got blown off of the ball and were downright manhandled by a bigger, and more prepared offensive unit than the one they faced in Kansas City.
The Bucs were 28th in rush defense a season ago and look to be just as good, if not worse, then their 2010 stats indicate.
Best: Elbert Mack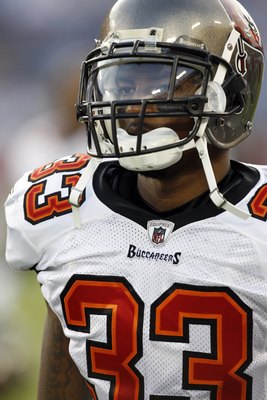 Joe Murphy/Getty Images
Mack has been criticized and discredited since last season, but he continues to fight for a roster spot with the Buccaneers.
During the third quarter, Mack intercepted Patriots' quarterback Ryan Mallett and followed his blockers on his way to a 69-yard interception return for a touchdown.
On a night when the defense battled and failed miserably, Mack found a way to keep fans excited in the hopes of making the team alive.
Worst: Legarrette Blount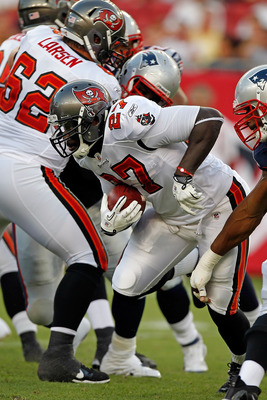 J. Meric/Getty Images
Blount appeared to have zero explosion in his step and never followed his blockers against the Patriots' defense—that is, when there were running lanes.
Instead, Blount tried to pull a Barry Sanders by bouncing the plays to the outside. Problem with that, New England preaches excellent tackling technique and Blount never got momentum going.
Blount had this issue a season ago where he didn't trust his offensive line and never hit the hole the way he was supposed to. Although he did an excellent job of creating his own holes and was a freak in the open field, Blount had a hard time blasting through the running lane like running backs should.
The sample size isn't fair considering he only had four rushing attempts and the offensive line were off of their game, but Blount was hesitant and that's something running backs coach Steve Logan will have to address.
Best: Michael Koenen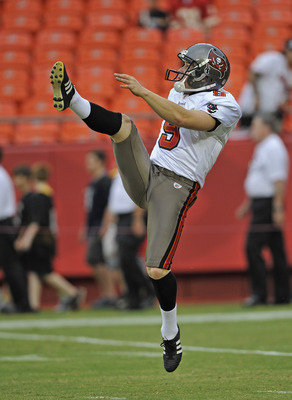 Peter Aiken/Getty Images
What? The punter?
Yeah, if not for Koenen, the Bucs would have been much worse defensively than the stats already indicate.
Koenen was able to get the Buccaneers out of some hairy situations against the Pats, and a 51.8 punting average doesn't look so bad on the box score.
With the way the defense struggled against elite competition, chances are Koenen is going to really earn that $19.5 million through the season.
Keep Reading

Tampa Bay Buccaneers: Like this team?