Cincinnati Sports: The Reds Aren't the Bengals—Stop Comparing Them.
August 18, 2011
Joe Robbins/Getty Images
Living in Cincinnati and being a sports fan can be very tough.  Especially in my lifetime.
I'm 22 years old, in that time this city has seen one World Series title, two NL MVP's and a few division titles. We also saw the Bengals make their first few playoff appearances in decades, both of which ended in disaster.
It seems Cincinnati fans love to call both the Reds and Bengals failures and to me it's just ridiculous.  I get that both teams have been a big disappointment following their recent trips to the postseason, but the Reds franchise blows the Bengals organization out of the water.
The experience at Great American Ball Park is great. The Reds do promotions to get you to come, show their very rich history and tradition and give provide activities around the ballpark for the whole family.
The Bengals make their die hard fans question day in and day out why they keep returning every year to support Mike Brown and this horribly run franchise.
I highly doubt that the Castellini family would let a guy stick around and make a mockery out of their franchise the way the Brown family let Carson Palmer do just that this offseason.
Another point that is maddening is the Bengals have just one athlete in the Pro Football Hall of Fame and another great Quarterback who deserves to be there (Anthony Munoz and Ken Anderson). Why is it so difficult to honor these men by retiring their numbers?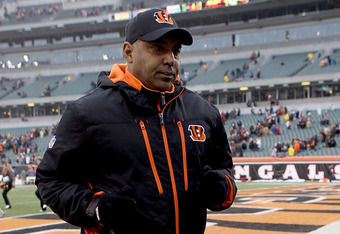 Any Red that has been monumental or in Cooperstown needless to say you get to see there uniform number hanging under the press box. As a current season ticket holder for the Reds and a former Bengal season ticket holder this is frustrating to me.
Redsfest is a great event.  You have so many different ways you can interact and current and former Reds players and really gives you so many ways you can have a blast.  The only way you can get a series of autographs from the Bengals is by going to Georgetown, KY for training camp and sometimes you don't even stand a chance at getting your favorite player's signature.
I don't see why it would be such an issue to have a day for the Bengals die hard fans to really interact with their favorite team and players. 
The Castellini family wants to win. There's no doubt about it. They work so hard to scout talent and are victims of being in a mid market.  The Bengals on the other hand embrace there lack of success and just deal with it.
I'm sorry but if Dusty would've been THAT disappointing in his contract year do you really believe Walt Jocketty and the Castellini family would've brought him back? I don't think so.
I'm sorry Who-Dey Nation but it had to be said.