Green Bay Packers: Comparing the Careers of Aaron Rodgers and Kurt Warner
August 19, 2011
The 2009 NFC Wild Card Game may be a painful memory for most Packers fans, but despite the outcome, it was still an incredible shootout in the desert between two of the greatest quarterbacks in the NFL's recent history.
The Green Bay Packers will host the Arizona Cardinals this time around and much has changed. While the Pack is preparing to defend the Lombardi Trophy, the Cardinals are focused on rebuilding around their newly acquired quarterback Kevin Kolb.
The stakes on Friday night at Lambeau will also be much lower considering it is simply a preseason contest and not a playoff matchup, but let's go back to that wild-card clash in January of 2010 when two very similar signal-callers carried their teams to a tie after regulation.
Kurt Warner and Aaron Rodgers had nearly identical performances in a high-scoring battle that ended with an ugly, as well as controversial, defensive score. Rodgers threw for over 400 yards and Warner put up five touchdowns, yet it was a fumble recovery return that allowed Arizona to advance.
It could have been one of the best playoff games of all time, and it proved that both QBs have had phenomenal postseasons in their careers, which have been very similar thus far.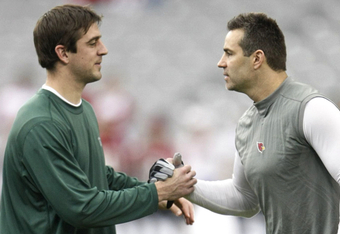 Rodgers has even mentioned that Warner has been one of his best mentors in life and on the field, and that he has great respect for him. Warner has also praised Rodgers' ability.
Both men have openly professed their faith in Christianity, and their humble characters are very similar along with their NFL endeavors.
The Journey to the NFL
Warner also faced adversity when entering the NFL. He wasn't a potential No. 1 pick who was passed on until No. 24 like Rodgers. In fact, he went undrafted and was released after being invited to Green Bay's training camp in 1994.
It wasn't until 1998 that a few AFL seasons became his gateway to the NFL, and he signed with St. Louis Rams.
Rodgers did not even receive a single scholarship offer from a Division I school coming out of school because there were questions about his athleticism and size.
After settling in at a local junior college for a season, he was finally noticed by California and excelled for two seasons. His worth was high, or so he thought, as he entered the 2005 NFL draft, deciding to pass up his senior season at Cal.
The path to professional football wasn't easy for these two men, but nothing would taste sweeter than when the doubters were quieted and the critics proven wrong.
Super Bowl Success
Warner was stuck at third string in his first season, but fought his way into the starting role in 1999 and exploded for over 4,000 yards passing and 41 TDs. He stole the NFL MVP as well as the Super Bowl MVP after leading the Rams over the Titans in Super Bowl XXXIV.
Rodgers didn't immediately take the Packers to the big game, let alone the playoffs, after taking over for Brett Favre in Titletown. The 2008 season resulted in a losing record for the Pack, but it proved that the new QB had what it took to replace the legend.
In the same year, Warner almost took the Cardinals to a Super Bowl victory, but a last second touchdown allowed the Steelers to steal the win. In 2009, Rodgers played in his first playoff game against Warner and the previous season's runner-ups.
However, 2010 turned out to be Green Bay's year, but the team's luck still hadn't changed. Rodgers himself suffered two concussions as 16 players were sent to the IR.
Still, the Pack snuck into the playoffs with a 10-6 record and caught fire. Rodgers played the best football of his three-year career on his way to knocking off the Steelers in Super Bowl XLV and like Warner, securing the game's MVP award.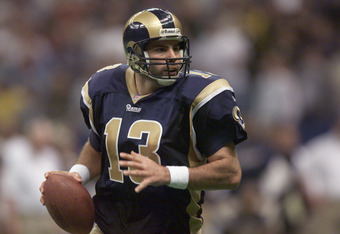 Comparing Careers and Hall of Fame Chances
In his first three seasons as a starter, Warner gained 12,612 yards and 98 TDs while missing five games. Rodgers' numbers, on the other hand, are great but not quite as large. He's thrown for 12, 394 yards and 86 TDs, sitting out only one start.
Rodgers is also seeking his first NFL MVP, where Warner gathered two in his first three starting seasons. However, later in his career, Warner struggled with injuries and poor performances and couldn't find a steady job.
If Rodgers can stay consistent and avoid concussions, his career stats should trump Warner's if he plays as long. Many expect Warner to be inducted in the Hall of Fame, but Rodgers future remains uncertain no matter how promising it appears.
He is a preseason favorite for the 2010 MVP, but I'm sure he wouldn't want to hear that. My guess is that Rodgers just hopes he can accomplish half of things that Warner did in his career and maybe even break a few of his records.
So if you get a chance to watch the Packers and Cardinals face off on Friday, think of these two top quarterbacks who played the game with honor and class. Remember that amazing game back in 2009 for its greatness and forget about who won or who lost.
Maybe the real question is can Kevin Kolb work his way into this discussion?
Sources: ESPN, Wikipedia.org