Ziggy Hood, Antonio Brown, Isaac Redman: Taking Their Game to the Next Level?
August 18, 2011
Larry French/Getty Images
Ten thousand hours. This is the amount of time that, according to recent research, it takes to excel at any given activity.
But the story doesn't stop there. Mindlessly repeating an activity over and over does not necessarily result in improvement. To truly excel, you have to engage in what the authors of a German study termed "deliberate practice."
Author Geoff Colvin, in his book Talent is Overrated: What Really Separates World Class Performers from Everybody Else, describes deliberate practice, "Across realms, the required concentration is so intense that it's exhausting...in most cases, it's 'not inherently enjoyable...'"
Which explains why few of us do it, day after day, year after year.
But this "deliberate practice" pays big dividends in the end.
When you look at the best players in football (or any endeavor), the constant refrain is that no one works harder. Each one has his or her own routines and methods for getting better.
But from Jerry Rice to Sidney Crosby to Bela Fleck, you find that they work and study harder than the majority of their peers, and this pays off when they perform.
Three Steelers many think will have a "breakout" season in 2011 are Ziggy Hood, Isaac Redman and Antonio Brown.  I believe that there is good reason for optimism. When we look at what is being said by them and about them, we see the signs of deliberate practice.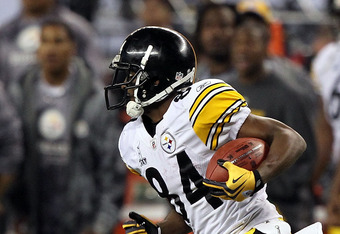 Al Bello/Getty Images
Second-year wide receiver Antonio Brown is known as a speedster who had some crucial catches in last year's post-season games. 
"Long after many of his Steelers teammates and fans had left the practice fields of Saint Vincent College, wide receiver Antonio Brown burst into a route and found himself on the receiving end of a lob from quarterback Dennis Dixon...

With an apparent work ethic and drive that haven't been tempered by heightened expectations, Brown is attempting to elevate his game after a promising rookie season and trying to help his team get back to the Super Bowl.

'I want to be the last one to leave every day and I want to be the first one in,' Brown said.

'I want to put this work in, so, when game time comes, it's a lot easier because I already prepared for it.'"
Third-year running back Isaac Redman came to the Steelers from Bowie State as an undrafted free agent. He had an impressive college career, despite some injury setbacks, and part of what determined the Steelers to give him a chance was the work ethic he had displayed in college.
A camp darling from the get go, Redman appears to finally be getting the opportunity for playing time this season that many fans have been clamoring for since the 2009 preseason. A sign that he has been applying himself to good effect is indicated by the following comment.
In an interview with The Fan morning show, Redman responded to a question from Jim Colony, "I'm feeling a lot more comfortable, even from last year. Last year I felt pretty good at camp; this year the game is just slowing down a lot for me."
"The game is slowing down."
One of the things that college players notice the most upon entering the NFL is that the speed of the game is so much greater. It is a bit like playing an arcade-type game like Jetball.
If you've been playing at the "slow" level and move up to "normal," your level of proficiency drops dramatically, because you aren't accustomed to reacting at that speed.
If you persevere, eventually you regain the proficiency at the new level. It isn't possible to do so by thinking about it or studying the layout of the game. Nor is it helpful to return to the "slow" level. The only way to get comfortable at the faster level is to play at that level.
Isaac Redman has clearly crossed that hurdle. A few good runs in a rookie preseason game are exciting for fans, but consistent excellence on the field comes with experience and hard work.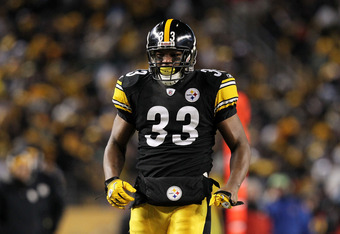 Ronald Martinez/Getty Images
Finally, the Tribune-Review reports:
"Defensive end Ziggy Hood said he may have been putting too much pressure on himself during his previous two seasons. He spent part of preseason camp prepping himself mentally and playing without overanalyzing every snap, every situation.

'I can see what's going on,' he said. 'Whenever you can take the thinking out of the game you become a better player. Right now, I'm just reacting and going with it.'"
Whether you are practicing scales on a piano or defensive schemes on a football field, the secret to great technique is to be so familiar with the scales or the schemes that they become second nature.
Hood may not realize it, but the pressure he put on himself and his analysis of "every snap, every situation" is what has made him able to "take the thinking out of the game."
And indeed that is necessary. The split-second hesitation created by having to consciously access the correct action or reaction can make you a step too late.
If Hood is actually able to play without that momentary hesitation, he's taken a big step toward his destined spot as the replacement for the man many have deemed to be the best defensive end in the league, Aaron Smith.
Here's hoping that these encouraging signs point to some highlight reels for Brown, Redman and Hood. And a banner year for the Steelers.