Surprisingly, an Expected Surge by Derek Jeter in the Second Half
August 18, 2011
Jamie Squire/Getty Images
Earlier this season, I will be the first to admit my worries for the fate of shortstop Derek Jeter were elevated.  For one, he is my second-favorite athlete in history behind Tiger Woods, so the idea of a preemptive failure was a bit troubling to bear.  But more realistically, it looked like his skills were diminishing without return.  
Before heading to the disabled list, Jeter's performance was lacking, mostly at the plate as he carried a .260 average.  His injury ensued, followed by a long two-plus week absence, replaced by Eduardo Nunez.  
The young infielder did very well, so well in fact that Jeter acknowledged him in regards to Wally Pipp.  Pipp, a first baseman for the Yankees in the 1920's, sat out one day not feeling up to par. He was replaced by Lou Gehrig, and Pipp never got his job back.
Jeter returned, but was immediately thrown into the fire that was his 3,000th hit, a burden he wore like Frodo wore the Ring of Power.  After reaching the prestigious milestone, the Captain admitted that he was definitely nervous while approaching the mark and that it did bother him.  
Since his disabled-list stint, Jeter has hit .338, looking more in the form we remember him in for the last 15 years.
Whether or not this is surprising is up for debate, and will be debated, but it shouldn't be.  Many people probably expected Jeter to bounce back over the course of the season, maybe ending up with around a .275 to .280 average, with minor platooning with Nunez to keep him fresh.
However, there is no reason to think that Jeter can't finish this year above .300 yet again, a tremendous feat for the circumstances.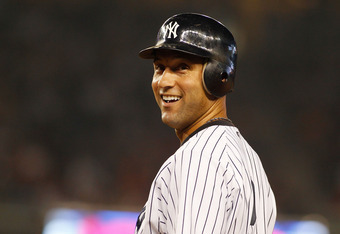 Mike Stobe/Getty Images
Why his surge has taken so long is a big question, but there could be a couple reasons.  For one, his pursuit of 3,000 was weighing on him relentlessly, with New York media and HBO breathing down his neck daily.  
Once the pressure dissipated, Jeter has taken off toward October, seemingly driven to show his nay-sayers how much he really has left in the tank.  Apparently, his tank was well over half-full.
But will that be enough of gas to get home?  
He is hitting on a tear right now, hitting over .500 in the recent series with the Kansas City Royals.  It would be tough to expect him to hit as such a torrid pace until the postseason (where everyone knows he will most likely perform no matter what), but who's to put it past him?  
Many fans have claimed he should move down in the line-up to let speed-demon Brett Gardner take the lead-off reigns, but Jeter is currently the best front-man on the team by quite a bit.  
If Jeter can keep this pace, or at least something close to it, the Yankees will be set to win the division.  With the return of Alex Rodriguez, a hot-hitting Jeter will set the table for an even deeper line-up that includes A-Rod, their best pure hitter in Robinson Cano, switch-hitting Mark Teixeira, and a run-scoring factory in Curtis Granderson.  
And who would have thought it would have been Jeter who would lead the team to a pennant?  Ah, right.  We all saw that one coming.