NFL Preseason Week 2: What Tim Tebow Must Do To Move Up the Depth Chart
August 17, 2011
Ronald Martinez/Getty Images
Tim Tebow and the Denver Broncos will have their hands full against the Buffalo Bills in Week 2 of the NFL preseason. Tebow needs to show improvement against the Bills by finishing his reads and consistently delivering the football to receivers on time in a place where they can extend the play.
The preseason is a time when quarterbacks work on their deficiencies and grow and mature in areas they are lacking. If Tebow wants to become a starter in the NFL he must demonstrate that he is learning, instead, of reiterating to the coaching staff that he only has one trick in his bag: running the football.
Last week, the Bills defense wreaked havoc in the backfield against the Chicago Bears starting offense. Bears quarterback Jay Cutler was constantly scrambling and made one play purely with his legs after being flushed from the pocket.
Improvisation is Tebow's specialty. Tebow, in the last preseason game against the Cowboys, however, spent much of his playing time on the run. One of Tebow's most criticized plays in the NFL preseason opener was an improvisation where Tebow ran across the line of scrimmage, then ran back, scrambled and passed the ball to a receiver for a short gain.
The criticism revolved around his lack of awareness of the field when he crossed the line of scrimmage, his first penalty, and then completing a pass without realizing that most of his lineman were already downfield, a second penalty on the play.
One of coaching staff's biggest concerns for Tebow is that he doesn't finish reads of the defense and where his second and third option is before he pulls the ball down and looks to run. This is a concern because there are often other options available that could make bigger plays downfield if the first receiver is covered. Also, if a quarterback runs the football constantly, many believe that he will not be able to consistently absorb the hits in the NFL.
Tebow was able to take on defenders in college because they were typically smaller than him. In the NFL defensive backs are huge and deliver very heavy hits. Even Michael Vick last season spent some time out of the lineup due to injury when he was hit attempting to rush for a touchdown. Tebow doesn't run with it and avoid contact at the end of play but instead, he lowers his pads to take the contact on.
In the second preseason game, He needs to show some more maturity as a quarterback in the NFL. He needs to avoid major collisions with defenders to demonstrate that he respects opposing defenses and he values the playing time. One serious injury in this league could mean extended time out of the lineup and would seriously set back his NFL career.
Defenders will likely be coming after with a little extra to teach a lesson to young Tebow about the game of football in the NFL. Shawne Merriman impressed in the game last week against the Bears as he recorded three tackles, two of which were sacks. Also, rookie Marcell Dareus recorded a sack against the Bears in his first NFL game. The Bills recorded a total of nine sacks against the Bears last week.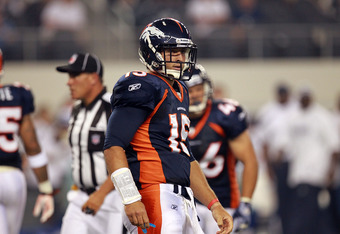 Ronald Martinez/Getty Images
When faced with the Bills' fiery, fast-paced defense up front, I would like to see Tebow evade tacklers, but then look up field to see if any of his receivers have come open, especially with the cornerbacks looking to help bring down Tebow, who is known for running the ball when a play breaks down.
If he held up from taking off every time a play breaks down, it would act as a pump fake in the passing game opening up receivers down field. If he could make these adjustments he will both protect his body and impress coaches, hitting open receivers and going through all of his reads.
Tebow's learning and growing is up to him. He has been pro-active in putting in the extra work, working on his passing accuracy, working on his strength and conditioning. He has spent lots of hours watching game tape. He believes that his game play and results will equal more playing time or winning the starting job in 2011.
While all of the work and the practice are very helpful, the next level for Tebow will be applying his coaching. It will be doing what he's asked to do and executing. If he ignores his coaching, don't expect him to start anytime soon, but rather, if he accepts his training, and makes the effort to follow through, he will grow exponentially into a dominant quarterback in the NFL.
Tebow needs to be Tebow, but he must apply the training he has received to flourish at this level.