Lions vs. Browns Preview: Good Test for Joe Thomas and the Browns Offensive Line
August 17, 2011
Gregory Shamus/Getty Images
It was great to see that Colt McCoy had all the time in the world to throw the ball against the Packers. Granted, Dom Capers did not disguise their blitzes like he normally does and the Packers defense was without All-Pro corner Charles Woodson. But still, the Packers have one of the best defenses in the league and the Browns offensive line did a great job of not letting them get to McCoy. However, this week against the Lions may be an even tougher assignment for this veteran offensive line.
Anchored by last year's second overall pick, Ndamukong Suh, the Lions defensive line is expected to be one of the tops in the NFL. Also, the addition of Nick Fairley (13th overall selection in 2011 NFL Draft) makes for a potential dynamic duo at the defensive tackle position for the Lions in the near future. For right now former Brown Corey Williams has been penciled in as the other starter. Many believe that Williams will have a successful season now that he is back in the 4-3 defense where he feels most comfortable.
At the defensive end positions, the Lions have Kyle Vanden Bosch playing right end and Cliff Avril on the left side. Vanden Bosch, who was a big-time free agent acquisition last off-season, is a scrappy player who can stop the run and also rush the passer. His presence on the d-line is a big reason why Ndamukong Suh had such a great rookie season. Avril, in his fourth season out of Purdue, has quietly had a successful career so far. He notched 8.5 sacks last season and has a total of 19 sacks and eight forced fumbles in his first three seasons.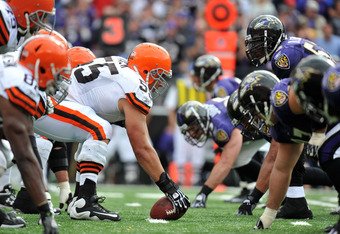 Larry French/Getty Images
Although the defensive line for Detroit may be filled with current and future star players, the Browns offensive line is not too bad themselves. So far during training camp the first team offensive line has not missed a beat. Third-year center Alex Mack is coming off his first of many (hopefully) Pro-Bowls. Right tackle Tony Pashos and right guard Shawn Lavauo, who are both coming off of injury-plagued seasons, are expected to anchor the run game. Left guard Eric Steinbach is back 100 percent healthy after an undisclosed injury early in training camp. Finally, All-NFL left tackle Joe Thomas is still dominating every player thrown his way (with the exception of Falcon's DE John Abraham).
I understand it is still only the second preseason game. But, this game is a big test for this offensive line. Last week they went up against the 3-4 defense and this week it's a 4-3. So, it will be interesting to see if they are able to protect McCoy and make the needed adjustments at the line. Also, it will be nice to see if the line can control a dominate player like Suh and what different schemes they draw up to attack the defensive line.