St Louis Cardinals: 5 Things They Must Do to Stay in the Playoff Chase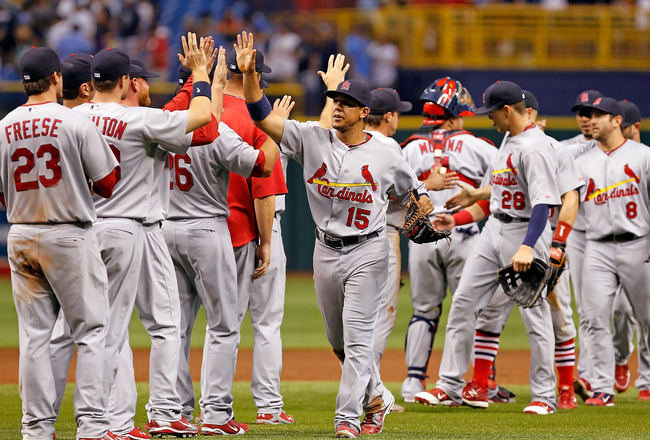 J. Meric/Getty Images
The St. Louis Cardinals woke up today to find themselves seven games behind the Milwaukee Brewers for the NL Central lead.
After dropping an 11-inning heart-breaker to the previously lifeless Pittsburgh Pirates, the Cardinals are also seven games back in the wild-card race, staring up at the Atlanta Braves and the San Francisco Giants.
With 39 games left to play, the clock is ticking. The fat lady hasn't sung yet, but she's definitely off stage warming up.
Here's what the Cardinals must do to keep their playoff hopes alive.
Quit Whining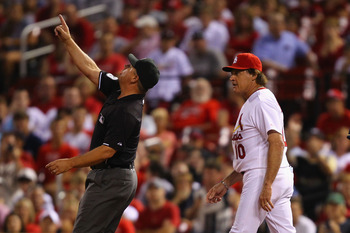 Dilip Vishwanat/Getty Images
Every team in baseball faces obstacles throughout the season. It is a 162 game grind filled with injuries, bad luck, blown calls, and blow-ups. The Cardinals have been through all of those, no doubt, but do we always have to hear about it?
The challenges that they face have been no different from those of any other team, but somehow, Tony La Russa has made every trial seem like a personal persecution of his team. He's argued about lights, complained about the umps, and tried to start a beanball war.
From throwing at players to throwing tantrums, the Cardinals have got to stop with the childish antics. There is too much talent on this club to go to waste.
It the Cardinals blow it, they will have no one left to point fingers at but themselves.
Get More out of the Starting Rotation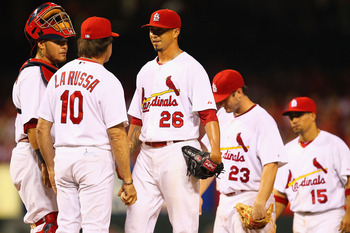 Dilip Vishwanat/Getty Images
The Cardinals rotation currently ranks 23rd in the majors in quality starts.
Chris Carpenter has been the unquestioned ace of the rotation, leading the Cardinals in both innings pitched and strikeouts. Carpenter has not been as dominant as in years past, but there has been no doubt about his intensity and determination to compete when he takes the mound.
As for the other guys?
Kyle Lohse has made it out of the seventh inning only once since the month of June. He threw a season low three innings against Florida on August 4.
Jaime Garcia has not pitched more than five innings in the month of August. He has become completely ineffective on the road, with a .320 batting average against and an ERA (4.71) more than double what it is at home (2.06).
Jake Westbrook has been a season-long mystery. He started the year as a complete disaster but has seen his ERA drop as the season has continued. However, there is no predicting which Westbrook will pitch: the one who gave up four hits in eight innings on July 21 or the one who gave up two home runs in 5.2 in his last appearance.
Edwin Jackson has been unremarkable for the Cardinals, except in his willingness to truly take one for the team.
Now that the bullpen has almost managed to right itself (except for Arthur Rhodes, who seems worse than a left-handed Miguel Bautista), the starters owe it to their team to pitch much better.
.
String Together a Run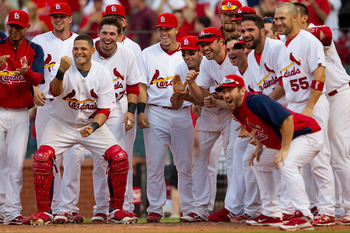 Dilip Vishwanat/Getty Images
The Cardinals have seemed incapable this season of stringing wins together. They have accomplished a four-game winning streak a few times this year and put together their best run of baseball in May when they won eight out of nine.
So what gives?
St. Louis has demonstrated a real problem sweeping opponents this year, including recent series against the Houston Astros and the Chicago Cubs.
Did the team become complacent after a few wins? Has the team been undermined by the small things—an error, a double play, or a blown call?
Regardless of the reasons, the team must regain their focus down the stretch.
The squad is finally healthy. The big three of Albert Pujols, Lance Berkman, and Matt Holliday are all heating up. The bullpen has (almost) quit imploding.
This team has yet to play it's best baseball. There's no time like the present to start.
Have Albert Play Like Albert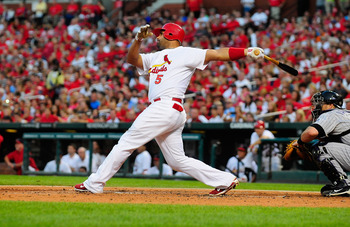 Jeff Curry/Getty Images
There's no doubt that Albert Pujols has turned up the intensity. "The Machine" is batting .423 in his last seven games, raising his average to .288 and setting his sights on his eleventh-straight .300 BA/30 HR/100 RBI season.
That's great and all, but where has he been against the Central?
Pujols has feasted on NL Central pitching his entire career. His stats range from a ho-hum .304 BA against the Chicago Cubs to a ridiculous .370 against the Pittsburgh Pirates.
With the exception of the Cubs, Pujols has yet to do much real damage this year against Central foes.
His struggles against Milwaukee are the most damaging. Before his 4-4 game against the Brewers on August 11, Pujols had managed only five hits against the team.
The Cardinals play 26 of their remaining 39 games against their NL Central competition. Pujols must supply the firepower.
Get a Little Lucky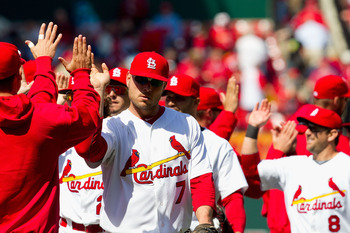 Dilip Vishwanat/Getty Images
There's no doubt the Brewers have played outstanding baseball this season, especially at their home park. They've won 18 of their last 20 and have lost only one game at Miller Park since the MLB All-Star Game.
St. Louis has now become an afterthought.
According to Nyjer Morgan, the Cardinals are no longer on the Brew Crew's radar: "Since we have nobody to really chase in our division, let's go chase Philly."
But will they be able to keep it up?
The Cardinals have to hope that the Brewers have peaked too early. They have to hope that somewhere along the lines, the Brewers' cockiness will catch up with them and they will falter against subpar competition. The Brewers play 29 or their remaining 39 games against teams that are under .500.
The Birds have to hope for a little luck on their side to stay alive in the race.
Keep Reading

St Louis Cardinals: Like this team?