Eli Manning Says He's in Same Class as Tom Brady
August 17, 2011
Jim McIsaac/Getty Images
Well this sure is a far cry from anything we've ever heard Eli Manning say. Most of the time in the media, you'll hear the New York Giants quarterback abstain from anything that could create controversy, but on "The Michael Kay Show" on ESPN Radio 1050 FM in New York he dropped a bomb on us.
In good fun, the host asked Eli "Are you in the Tom Brady class?"
"I consider myself in that class and Tom Brady is a great quarterback, he's a great player and what you've seen with him is he's gotten better every year and he started off winning championships and I think he's a better quarterback now than what he was, in all honesty, when he was winning those championships," Manning said.

"It's funny, you say well he won championships, but the team, but I think know he's grown up and gotten better every year and that's what I'm trying to do. I kind of hope these next seven years of my quarterback days are my best."
Let me just go on a rant for a while here. First of all, Tom Brady is one of the greatest quarterbacks we've seen play that game.
He is going to own plenty of records when he retires and many MVP trophies. However, I agree with Eli when he says he's gotten better over the years.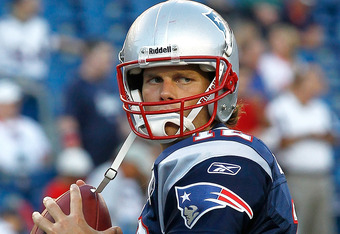 Jim Rogash/Getty Images
The Patriots won those championships because Bill Belichick is a genius with his defense. His game plan for the Giants Super Bowl win in 1990 is in the Hall of Fame.
Brady was in the right spot at the right time, and just happens to have probably the best clutch gene right along with Joe Montana and John Elway. So when his defense was shutting down great offenses and putting him in a position to win the game, he went out and did it.
He deserves every trophy he won because while his defense won the game for 55 minutes, he went out and put his foot on the other team's throats for the final five.
All you Patriots fans right now are thinking "Yeah Brady is a beast he won those games for us" but in the same breath you will rip Eli Manning's credit away from him and say his defense is the only reason he won a ring.
Wrong.
The Giants won that ring because Eli also possesses the clutch gene. Over the years he's had one of the best QB ratings in the fourth quarter as well as the final two minutes of each half. He already has multiple come from behind wins, and oh right those two 80 yard touchdown drives in the fourth quarter of a Super Bowl come from behind win.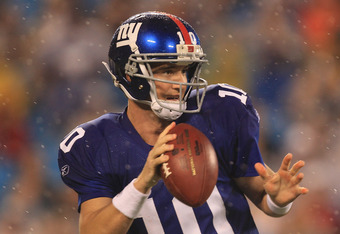 Streeter Lecka/Getty Images
I don't think there will ever come a time when I can compare Eli to Tom Brady. You never want to close the door on improvement, but Brady and the other elite QBs like Peyton Manning, Aaron Rodgers, and Drew Brees are in another class by themselves.
That doesn't mean the Giants won't win another Super Bowl with him.
My favorite part of this whole quote is Eli seems to be subtly taking a shot at all of his doubters. He is one of the most scrutinized players in all of football because he plays in New York with the same last name as the greatest regular season quarterback ever. 
Eli will never be Peyton, but he never said he was going to be, only those people with no brain cells are trying to compare him to Peyton.
If that offended you, I'm sorry, but that argument is tired.
Eli proved with that statement that he does in fact have a fire burning inside of him, he just chooses to keep it within rather than let it flame out like a Brady or Phillip Rivers would do.
I love the confidence he showed in saying this. If you don't have confidence in your own abilities you don't belong in the NFL. This also proves something else we've only speculated on for a while.
He doesn't care what his doubters think. He's willing to feed himself to the lions, knowing full well the type of media bashing he's going to get even in his own city.
For all he cares, they can say what they want. He knows what he can do and he's going to spend every minute getting better and proving the doubters wrong.
As much as we all likely disagree with him, Giants fans have to love his confidence—if anything else that's what will propel us to the playoffs this season.