Atari Bigby to Seahawks: Did Seattle Score Starting Safety?
August 16, 2011
Doug Pensinger/Getty Images
Former Green Bay Packers Safety Atari Bigby Lands in The Great Northwest
According to Adam Schefter of ESPN.com, Atari Bigby signed with Seattle on Tuesday afternoon.
And, the Seahawks could use all the help they can get.
Other than CB Marcus Trufant and LB Aaron Curry, there's not much to slow down opposing offenses.
Yes, there's DE Chris Clemons, but he needs to play more consistent year-to-year in order to become a force.
That said, the signing of Bigby will only help as Seattle was dismal in pass defense last season.
They ranked No. 27 in allowing just under 250 pass yards per game, while ranking No. 21 in rush defense (allowed 119 yards per game).
Now, it's not guaranteed that Seattle's D will immediately bolster up the defensive ranks, but, the addition of Bigby will bring in some much needed competition.
After 2010's terrible collaborative performance, there shouldn't be any "set in stone" guarantees of who's going to start (other than Curry and Trufant).
So with Bigby, the safeties definitely need to challenge one another just to improve, otherwise it's not going to matter who starts as 2010 would encore in 2011.
He adds some much needed veteran leadership, in a very young safety crew, as well as the experience and success to be a great influence.
Through his first six seasons in the pros (all with Green Bay), Bigby started the entire 2007 season compiling 86 tackles, forcing three fumbles and picking off five passes.
It was the only year he was a full-time starter because after suffering from injuries he only became a part-time starter.
Nonetheless, Bigby still significantly contributed to the Packers until the 2010 season.
There, he had ankle surgery which kept him on the PUP list until November, thus only limiting him to four games.
Well, Bigby gets a second chance to become a full-time starter in the Great Northwest, as well as play with one of the better CBs in pro football, Marcus Trufant.
Obviously, the biggest concern for Pete Carroll's team regarding Bigby are his injuries.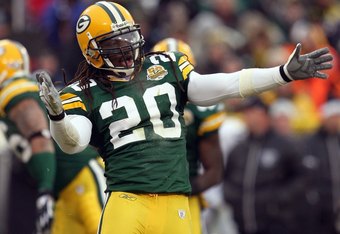 Jonathan Daniel/Getty Images
However, there is no extra baggage combined with a tremendous upside—he's only turning 30, so he has at least a few years left in him.
Lest we forget, Ed Reed was on the PUP list for almost half of 2010, and he still came away with eight picks.
Now, although I'm not saying that Atari Bigby is Ed Reed, but it gives confidence in knowing that someone can comeback from being on the PUP list to play well.
Make no mistake about it, Bigby must earn the starting job.
But as of now, he is Seattle's best bet as one of the starting safeties.
Be sure to check out John on Bleacher Report.
And you can follow him on Twitter @ Sportswriter27.