Detroit Lions' Running Game Will Excel Even Without Mikel Leshoure
August 16, 2011
Jonathan Daniel/Getty Images
The Detroit Lions used their second round draft pick in the 2011 NFL Draft on Mikel Leshoure, a strong young running back from the University of Illinois.
But, after the NFL lockout ended, there was a rash of Achilles injuries hitting the league.
This happened because players hadn't been doing the proper training during the offseason. This was through no fault of their own. They just couldn't work with coaches or the training staffs of their respective teams.
Therefore, when practices and games started, injuries followed close behind.
Leshoure fell victim to a season-ending Achilles' injury, cutting short what should have been a solid rookie season.
However, the Detroit Lions running game will recover and they will be fine in 2011.
Sure, they had their ups-and-downs in 2010, but with another year under their belts, they should be able to eclipse last year's totals in 2011.
Starter Jahvid Best had a decent year, carrying the ball 171 times for 555 yards and four touchdowns in his rookie campaign.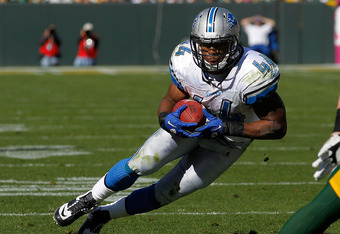 Jonathan Daniel/Getty Images
He also avoided injury, one of his biggest question marks heading into the NFL.
If he can carry the ball 200-250 times in 2011, the Lions will be in good shape.
That would mean about 700 rushing yards and six or seven touchdowns.
Then, the backups could pick up the slack.
Maurice Morris also had a decent 2010 season. He ran the ball 90 times for 336 yards and five touchdowns.
If he can match those numbers again in 2011, the Lions will have a good running back duo. They won't inspire fear in anyone, but they'll get the job done.
Finally, there's Jerome Harrison and Mike Bell. Only one of the new signees will probably make the team.
The Lions should choose Harrison, who has the potential to be a good backup running back.
Last year, while with the Cleveland Browns and Philadelphia Eagles, he carried the ball 71 times for over 300 yards and a touchdown.
He provides more big play potential than Bell and has a better NFL track record.
Therefore, he would be a good third back to complete the trio of Best, Morris and Harrison.
Leshoure will get his chance in the NFL and he'll make the most of it. But, unfortunately, it won't be in 2011.
Still, the Lions will be just fine with their one-year stopgaps at running back.
Once Leshoure is back though, Harrison and/or Morris might be out of a job.