Why the San Diego Chargers Won't Bolt for LA
August 16, 2011
As of now, no plan has been set in stone. But fear not, Chargers fans, Stadium talks are stronger than ever. With the support of the mayor and many other public officials, Charger football downtown is looking like a real possibility.
Still, many people listen to preposterous rumors and statements, when they have no feet to stand on. Here are a few reasons why the Chargers won't leave for L.A.
First of all, the Chargers have a prime location for a stadium right where they are. This stadium has everything—transportation, parking, you name it. And with a stadium, designed by DBRDS, that could potentially look like this, it is hard not to get excited.
Second, the city of San Diego knows what the Chargers mean to the community and what it means to the economy. Sunday's would never be the same. A new stadium won't just keep the Bolts, it would bring NCAA Final Fours, better bowl games, and best of all, a Super Bowl.
Unlike the Q, during the offseason the Stadium could host concerts, WWE events, and maybe even the X Games. Yes, Los Angeles should make room for the San Diego Entertainment and Sports Complex. We could even see a new MLS team, due to ongoing talks of expansion coming to San Diego. Speaking of soccer, the World Cup could also be held in the State of the Art facility.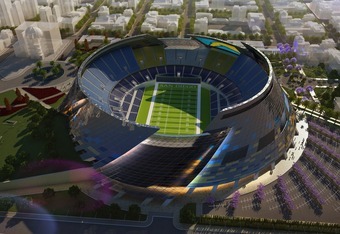 Third, the proposed stadium has many potential funding sources. Money could be brought in from a naming rights deal, the NFL, the owners themselves, the selling of the Qualcomm site, SDSU, and lastly, the taxpayers.
A new stadium could also be linked to the Convention Center, where an expansion is being conducted to help retain Comic-Con. Linking the two projects could open up more funding sources.
Only a small percentage of the funding would come from the taxpayers, and when you bring into account how much this new stadium would do for the economy, many of us should jump on right now. 
And yet, there are still a number of Charger fans and taxpayers that need convincing, despite an outstanding 80% of those who voted in favor of using taxpayer dollars on a new stadium in this signonsandiego.com poll.
I don't want just 80% of us in favor of a new stadium, I would like to see 100%. We need to convince everyone that a stadium benefits us all,and dosn't just prevent the Chargers from bolting north.
We need the help of those who support a new stadium to inform voters, because this stadium proposal may end up on a ballot come November 2012.
If you are interested in helping support the Chargers' stadium hunt, you can visit http://www.sdstadium.org/ or check out their Facebook page. Follow them on Twitter as well, twitter.com/sdstadiumdotorg.. The San Diego Stadium Coalition has been instrumental in informing and supporting the new stadium. But, they cannot do it without a lot of help from you and other supporters.
There is a lot happening with the Chargers and the San Diego Downtown Stadium effort so now is a great time to get involved!
For more on this new Stadium design, created by De Bartolo + Rimanic Design Studio, check out their website, http://www.dbrds.com/Site/home.html.