Baron Batch, Steeler Nation, and the Standard of Expectation
August 16, 2011
Thomas B. Shea/Getty Images
In case you've been in darkest Siberia and missed it, running back Baron Batch, 2011 seventh round draft pick, training camp sensation, etc., has torn his ACL and is out for the season. 
There has been a tremendous upsurge of support from Steeler Nation for the plucky Batch, who has a compelling personal story and is clearly mature beyond his years. But not everyone was on the Batch bus.
Mad Chad set off a firestorm on BR with his article: Rookie Baron Batch Out for the Year, But Who Cares?  The article garnered a number of comments, many of which accused the author of being unfeeling, or worse.
Nick Signorelli responded to Chad's critics. While admitting that Chad could have phrased his article in a more diplomatic way, he agreed with the basic premise: Batch is an unproven rookie who was unlikely to make the team. Injuries are unfortunate, but they are a fact of life and we should move on.
Perhaps the problem here is that not everyone has the same reasons for football fandom. We all love the Steelers, but some of us are a great deal more invested than others in the individual members of the team. This interest goes beyond a given players' abilities as a defensive end or a strong safety to encompass who they are as a person.
When a player like Baron Batch comes along, those of us who are drawn to the human element immediately take note. If he is drafted late, so much the better. If he does well in camp, we rush to crown him the Second Coming of, say, Brett Keisel, another seventh-round pick.
When such a player is injured, a lot more rides on it than just the need for a third running back.
Conversely, there are fans that only appear to care about what a given player can bring to the team. If Player A goes down, bring on Player B. Player B had better produce. The expectation, as Mike Tomlin would have it, does not change.
To quote Nick Signorelli: "As a Steelers fan, I EXPECT us to compete for a Super Bowl this year. Regardless of who is under center, in the backfield, on the line, in the secondary... if someone gets hurt, I don't care. No excuses. The next man has to step up, and be great."
Mike Tomlin (and Nick, in his capacity as a youth football coach) has to say that kind of stuff. But even in their world, people aren't interchangeable.
The reason Player B isn't the starter is that the coaching staff deemed him not as fit for the position as Player A. Player B presumably had the benefit of the same coaching and practices as Player A, although probably for considerably less time. But he isn't Player A. He can't rationally be expected to perform as well, especially not at first.
In the crucible of game experience, Player B will almost certainly improve to some extent. We all despaired when Max Starks went down for the season in 2010. Jonathan Scott was the backup. Scott was mostly awful at first. Mike Tomlin could "expect" Scott to be as good as Max Starks all he liked. But Scott wasn't sufficiently experienced, either in the system or as a tackle, to play at that level. Scott did gradually improve, however—enough, apparently, to make the staff feel that Starks was expendable.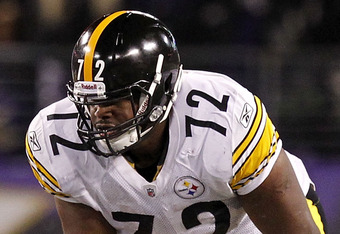 Geoff Burke/Getty Images
But it is always possible that Player B will never get it. Player B might not have the right combination of physical attributes, work ethic, and intelligence to master the position. In that case, it's back to the drawing board for the coaching staff, and you may have lost a whole season.
Paul Alexander, assistant head coach for the Bengals, has a new book out: "Perform."  To quote him: "At the beginning of each season, I share a dose of reality with my players: 'My job is to replace each of you with someone better.' ...The sooner a performer understands that the coach loves him, but will replace him the moment he finds someone more talented, the better off he is."
Coaches have to live that way. They continually look to improve their team, even as they lose players to injuries and the wear and tear imposed by the nature of football.
As fans, we needn't be bound by these constraints. Players may engage our affections, not entirely for football reasons. We then view them through an altered lens. And, like falling in love, the most exciting time is the honeymoon period, before we've had a chance to see all their flaws.
During the preseason, this time of infinite promise, this time before any unfortunate "L"s sully our schedule, we dream of the 1000+ yard rushing season our seventh round rookie might achieve. Not only do we love what he can do for our beloved Steelers, we have a personal investment in him. It seems like a match made in heaven.
Those dreams were dashed on the Latrobe turf as Baron Batch went down for the season. He can't recover instantly, nor can we. We need time to mourn what might have been.
It may not be reasonable or sensible. People like Chad and Nick may not approve. But who cares?