Jim Thome 600 Home Runs: An MLB Milestone for One of the True "Good Guys"
August 16, 2011
Jacob de Golish/Getty Images
Jim Thome is a throwback. The Minnesota Twins slugger carries himself like a baseball player from history's golden age. He doesn't tweet, he doesn't play to the cameras and he doesn't try to bring attention to himself.  
He does hit home runs. 600 of them in case you're counting.
Thome becomes only the eighth player in Major League baseball history to join this exclusive club. In an age where many of our greatest sluggers' home run records will always be tarnished by steroids, Jim Thome's record stands as a welcome exception in this drug damaged decade.
Unfortunately, three of the other more recent members of the 600-club can't make the same claim. Alex Rodriguez, Sammy Sosa and Barry Bonds all reached the 600 mark, but all of them have been linked to steroid use. The 40-year-old Thome, who will turn 41 later this month, has never been linked to performance enhancing drugs, which is added reason to celebrate him.  
So why isn't his accomplishment being met with the same degree of hoopla as when New York Yankees Derek Jeter was chasing his 3000 hit? 
Hundreds of cameras followed Jeter's every move and you could barely turn on ESPN or check out your favorite sports website without finding what seemed like an almost minute-by-minute account of Jeter's progress.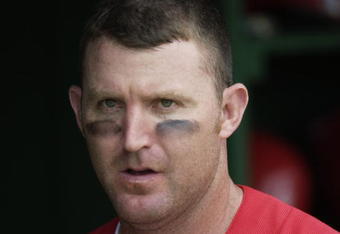 Ezra Shaw/Getty Images
Not so with Jim Thome. 
Maybe it's because he doesn't play in New York or Boston or maybe it's because he has played for so many different teams during his career. Jeter has always been a Yankee, but Thome has played for five teams—Cleveland, Philadelphia, Chicago, LA and currently Minnesota.
However, in each of these different uniforms he has always been the same Jim Thome. A quiet, classy slugger, a gentle giant of a man who never became known for his off-the-field exploits. Instead, he let his bat speak for him on the field. And fans have many reasons to be grateful for that—at least 600 of them.
As a fan of the Philadelphia Phillies, I have my own memories of Jim Thome. I remember an emotional press conference on his arrival where he sincerely thanked all of his friends, fans and the ownership in Cleveland (are you paying attention, LeBron James?). He went on to thank his wife for standing by him tearfully calling her "his rock." In fact, the big man was so overcome by emotion on this day that he had to leave the podium to collect himself.
I remember that when Thome visited Philadelphia before the trade was official, Citizens Bank Park was under construction. When his car passed the stadium Thome insisted on pulling over so he could talk with the Union Workers on site that day. He later said that it was meeting them that convinced him Philadelphia would be the right fit for him.  
I remember Thome's first at-bat in a Phillies uniform. He slammed a double to right field that started a love affair between the fans and Thome that lasted throughout his three years in Phillies red. His blue collar work ethic and obvious love for the game made him a perfect fit for the often demanding Philadelphia fans.
I remember when Jim Thome hit his 400th home run on June 14, 2004 to the delight of an adoring Philadelphia crowd and the feeling shared by many fans at the time—It couldn't have happened to a nicer guy.
I even remember the loud and long ovation Thome received when he returned to Citizen's Bank Park for the first time in a White Sox uniform. His emotions were evident as he had to wait and wait and wait for the ovation to finish before stepping up to the plate. The fans even gave him an ovation several years later when he hit a two run home run against them in a Twins uniform. 
I can think of no other opposing player who would receive that type of rare response.
So today, let's hear it for Jim Thome. Yes, he has reached a big milestone on this August morning, but what is even more worth applauding is the man himself, a humble, hard-working, old-style baseball player. 
A man who loves his family and the game he plays. 
A man who has given back to every community who has been lucky enough to have him in their midst. 
In short, perhaps most worth celebrating is that Jim Thome is a man who will always be bigger than any professional milestone he might achieve.