San Francisco 49ers Quaterback Problems: Who Is Next for the Job?
March 29, 2017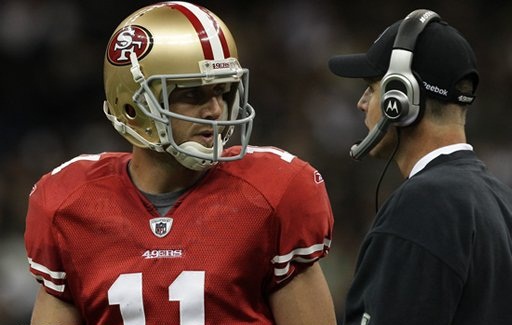 It is not old news for San Francisco 49er fans that the 49ers need a quarterback. The 49ers have not had a decent starting quarterback since Jeff Garcia in 2003. Since Garcia left, the 49ers have had nine different starting quarterbacks. That is basically like having a new quarterback every year. But the one guy that has not left is Alex Smith. He was the 49ers first overall pick in the 2005 draft.
We can all say what a waste of a pick Smith is or that we could of had Aaron Rodgers. But using "what if" is never the right way to put things in sports. Then we all can just say what if he did make that catch, what if we drafted this guy, and etc. Aaron Rodgers always had great talent and showed that while at Cal Berkley. But so Smith at the University of Utah. The difference was that Rodgers had future Hall of Fame Brett Favre to sit behind for three years and learn the offense, where Smith was thrown into the fire by failed head coach Mike Nolan. What if Rodgers did not have Brett Favre to mentor him? You just would never know.
Well the 49ers still have Alex Smith and he still needs to prove himself to the 49er faithful, how much can you really blame him? He has had a new coaching staff every year though his whole career. He also has not had a decent offensive line since 2006. So how can put so much blame on a player when he cant even take his first breath before he is being sacked? A quarterback is only as good as his offensive line.
As shown in the 49ers first preseason game of 2011, the 49ers offensive line was destroyed by the Saints. Alex Smith only had three seconds before he even had a chance to pick up his receivers. The offensive line was just totally out of sync. They were totally inept at picking up the Saints blitz packages. Even just the four man rush was giving them problems all day.
Yes, I know after signing Jim Harbaugh as our new head coach everyone expected the 49ers to start winning but change does not happen over night. This is a new style of offense, again. It will take time for it to sink in for the players.
There has been recent reports on ESPN that Daunte Culpepper has been working out with the 49ers these last few days. I know Harbaugh wants to create a competition and have a veteran backup quarterback but he is not the answer. Culpepper has not had a good season since Smith was a rookie in the league. So why waste our time trying to see if we can sign him and put more time on Smith and the offensive line learning the new playbook.
The 49ers have a better shot doing something this year with Smith as quarterback than Culpepper has going back to what he use to be with the Vikings. It was said "Rome was not built in a day" and neither will be the 49ers and there new offense. So give Smith more time with this new look offense and don't throw him under the bus after one preseason game.