MLB: 5 Reasons Adam Dunn Will Bounce Back for the Chicago White Sox in 2012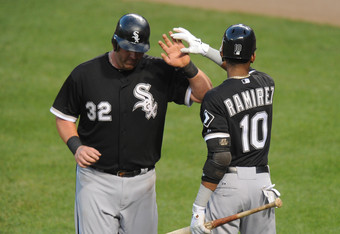 Mitchell Layton/Getty Images
Adam Dunn has no where to go but up in 2012.
Dunn has disappointed on the South Side of Chicago—to say the least. When the White Sox signed him last winter, there were visions of being comfortably atop the American League Central dancing in the White Sox organization's head. Ideally, Dunn was supposed to take up the projected slack for Paul Konerko as he continues to age. Ideally, the transition would be seamless.
In fact, this season has shown White Sox fans the opposite. Right now, batting average is south of .200, at .161 with a mere 11 home runs and 40 RBI. This season has been terrible all around for the longtime power hitter. There are five reasons for looking forward to 2012. It's important to point out 2012 will not be a career year, but listed are four more reasons he will bounce back.
It will be his second year at DH.
When rule 6.10 gave Major League Baseball the designated hitter in the American League, it was designed to produce more home runs and extend the careers of certain players. The rule allows good hitters to concentrate on just hitting and help their team to their higher and best use. With it comes responsibility and putting in the time exclusively for hitting.
Unfortunately it is a tough adjustment for everyday players. In the past, great hitters struggled in making the transition. Consider this: Frank Thomas struggled in 1998 and 1999 when he made the transition. He batted .265 in 1998 and had a mere 15 homers in 1999. Notables like Paul Molitor even struggled making the transition. The outlook bodes well for Dunn in subsequent years.
He has one year of experience with American League pitching.
With one year under his belt in the American League, Dunn will be able to prepare better for his new league. One year will work wonders in understanding the top pitchers in the AL Central, which is a pretty stable division when it come to player movement.
The one year of experience, coupled with the stable division, will aid in his offseason preparation work. He will spot the pitch selections better. As a result this will lead to more patience at the plate. In many ways, this will take the pressure off him and place it on the pitchers, as he will chase fewer pitches high or low in the strike zone.
He will practice during the offseason for the first time.
This feels strange to type, but Dunn will actually practice this year. Dunn has been a victim of his own success in the National League. Based on his success, his offseason regimen did not include practicing. Given his numbers, that routine was never questioned. The transition to the American League exposed this flaw in his game. He will be hungrier as a player because now he is forced to become a student of the game to compete at a high level.
He will move down in the batting order to start the year.
Based on the numbers, Dunn will turn it on after the 2011 season. It is safe to assume he will be moving down in the batting order. He will bat between the fifth to seventh spot in the order. This demotion will actually take some of the pressure off of Dunn.
The White Sox will more likely move to small ball and hit-and-runs. When Dunn turns it around in 2012, he will climb the batting order back to his natural position with little to no pressure. By starting the year lower in the order, he will be allowed to build confidence and work on the positive mental aspect of the game.
Follow Terrell Barnes on Twitter @TerrellBarnes or check out his profile page to become a fan.
This article is
What is the duplicate article?
Why is this article offensive?
Where is this article plagiarized from?
Why is this article poorly edited?

Chicago White Sox: Like this team?