MLB Trade Rumors: 7 Pitchers Who Could Still Change Teams in August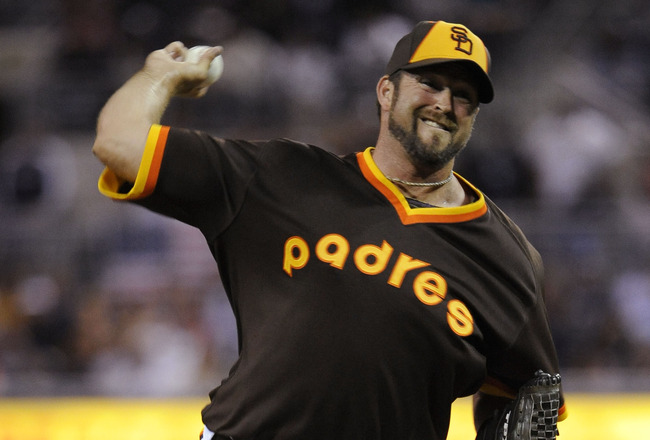 Denis Poroy/Getty Images
Is it just me, or has it been incredibly quiet on the trade front in baseball since the non-waiver trade deadline passed?
Thus far the biggest name to switch teams has been...Delmon Young.
Pretty underwhelming, especially when you consider that by this time last year, we had already seen Dan Haren move from Castles 'N Coasters to Disneyland.
With 15 shopping days left until the clock strikes midnight, rosters expand and players that contenders would like to use in the postseason are required to be on a team's roster—more deals are coming.
After the jump, seven pitchers who might want to pack a little extra when their teams leave for their next road trip.
Rich Harden, Oakland A's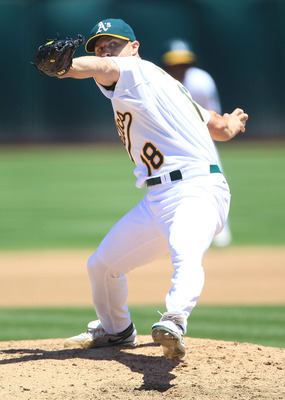 Jed Jacobsohn/Getty Images
In an unsurprising move, Oakland GM Billy Beane placed 29-year-old righty Rich Harden on revocable waivers recently. Nobody is exactly sure of when.
Oft injured, you might remember that Harden was virtually dealt to the Boston Red Sox for 1B prospect Lars Anderson and a player to be named later before the Boston medical staff voiced some concerns.
Even still, Boston tried to deal for Harden, proposing an Anderson-for-Harden swap. Oakland declined.
Harden has only made eight starts this season. Three of them saw him give up four earned runs or more, and he has allowed at least one home run in seven of the eight.
Still, Harden is averaging over a strikeout-per-inning—49 K's in 46.1 innings and the prorated portion remaining on his contract, which was only $1.5 million this season—would certainly be financially viable for nearly every contender.
I highly doubt that Harden will make through the American League without a claim being put in on him.
The Cleveland Indians and Boston Red Sox are both potential destinations, and you have to include the New York Yankees in the discussion as well. Not so much because the Yankees have genuine interest in Harden but because they have genuine interest in keeping him out of Boston.
Heath Bell, San Diego Padres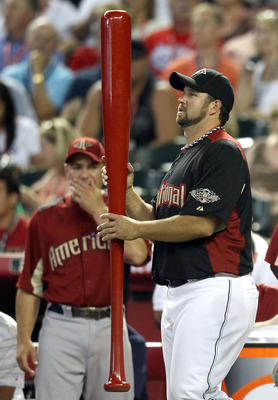 Christian Petersen/Getty Images
While nearly everyone who is associated with and who follows the game of baseball expected 33-year-old closer Heath Bell to have a different zip code for the remainder of the 2011 season, he remains a resident of the 92101.
ESPN's Buster Olney discussed the curious case of Bell last week and brought up some points worth nothing.
For the Padres to receive compensatory draft pick compensation should Bell leave and sign with another team in the offseason, they would need to offer him arbitration, something that Bell has already said he would accept.
One NL executive speculated to Olney that Bell could emerge from an arbitration hearing with a $13 million to $14 million salary, one that would essentially become an albatross for the Padres, a team on a tight budget.
With that said, trading Bell now and receiving something of value in return makes sense for San Diego. Bell has already stated his desire to remain a Padre and there is a good chance the team would be able to re-sign him in the offseason.
Jon Heyman tweeted last week that NL execs did not believe Bell would clear waivers, forcing the Padres to deal with the claiming team who had the highest waiver priority.
National League teams who would certainly have interest include the Arizona Diamondbacks, St. Louis Cardinals and Philadelphia Phillies.
I would expect the Atlanta Braves to show interest as well, as acquiring Bell would lessen the workload of their talented rookie relievers Jonny Venters and Craig Kimbrel.
Jason Vargas, Seattle Mariners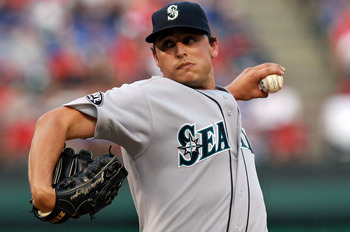 Ronald Martinez/Getty Images
Having already cleared waivers, 28-year-old lefty Jason Vargas can be traded to any team.
The 2011 season has essentially been two complete opposite seasons for Vargas.
Prior to the All-Star break, Vargas was 6-6 with a 3.49 ERA, 1.14 WHIP in 18 starts, including four complete games and three shutouts.
Since the break, Vargas has been atrocious: 1-4 with a 6.03 ERA and 1.92 WHIP.
Even so, Vargas is a serviceable pitcher who was making $2.45 million this season and is under team control until 2013.
I would expect the Arizona Diamondbacks. Boston Red Sox, Cleveland Indians and St. Louis Cardinals to have some interest in having Vargas fill the back end of their rotations.
Wandy Rodriguez, Houston Astros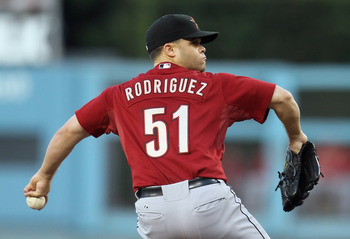 Jeff Gross/Getty Images
Wandy, Wandy Wandy.
After the Ubaldo Jimenez domino fell, you were next in line.
The New York Yankees were hot on your trail—against GM Brian Cashman's wishes—until the soon-to-be-sold Astros balked on how much of the nearly $40 million remaining on the 32-year-old lefty's contract they were willing to pay.
Last week, it was reported that Rodriguez would be put on waivers and that at least one NL team would put in a claim for him.
Yet Rodriguez remains a member of the woeful Houston Astros.
While I still find it hard to believe that a team would claim him simply because of the amount of money he is still owed, the Arizona Diamondbacks could conceivably be one of the mystery NL teams.
With Jason Marquis out for an extended period of time, Rodriguez could slide into the role of third starter behind youngsters Ian Kennedy and Daniel Hudson.
Of course, should he clear waivers, there's still the possibility that the Steinbrenner boys, Hank and Hal, look to usurp what power Brian Cashman has and make a deal behind his back.
Mike Gonzalez, Baltimore Orioles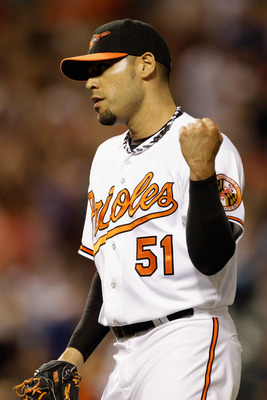 Rob Carr/Getty Images
We looked at Mike Gonzalez shortly after the first trade deadline passed, and the 33-year-old remains part of the struggling Baltimore Orioles bullpen.
Since returning from his suspension for taking part in a brawl between the Boston Red Sox and Baltimore Orioles that occurred about a month ago, Gonzalez has been near perfect: over his last seven appearances, spanning five innings, Gonazlez has allowed three hits while striking out five and leaving the opposition off the scoreboard.
On the season, he is holding left-handed batters to a .228 BA, .274 OBP and .628 OPS.
Virtually every contender could benefit from adding another left-handed specialist to their bullpen, though I would expect that he will not make it out of the AL unclaimed when he is placed on revocable waivers by the Orioles.
Bruce Chen, Kansas City Royals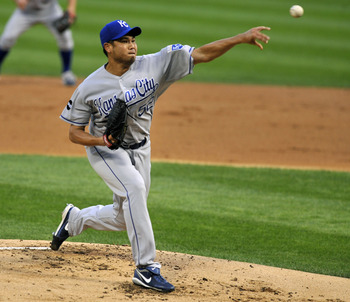 David Banks/Getty Images
Bruce Chen isn't flashy.
Bruce Chen isn't overly exciting.
Bruce Chen is what he is, a versatile pitcher who can serve as a long-man out of the bullpen or a back-of-the-rotation starter.
Since the non-waiver deadline passed, Chen has been solid: 2-1, 3.45 ERA, 1.28 WHIP over 15.2 innings.
Only owed what remains of his $2 million salary and having cleared waivers, Chen could be a low-risk, low-cost addition for any number of teams still in contention.
Tom Gorzelanny, Washington Nationals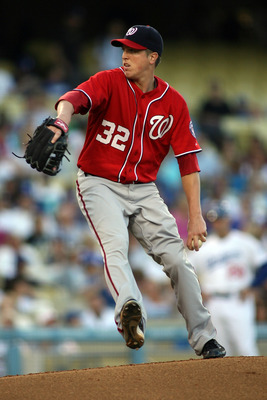 Jeff Golden/Getty Images
Like Bruce Chen, 29-year-old lefty Tom Gorzelanny is a versatile pitcher who can come out of the bullpen or fill the back end of a rotation.
Like Chen, Gorzelanny has cleared waivers and could be traded to any team.
While his 2011 numbers are not fantastic, 2-6, 4.50 ERA, 1.34 WHIP, they aren't terrible either.
He is incredibly effective against left-handed batters, holding them to a .188 BA, .240 OBP and .588 OPS.
Recently relegated to the Nationals bullpen, he is only owed the remainder of his $2.1 million salary and could be an inexpensive addition for a team looking to add some depth to their pitching staff.
Like Chen, Gorzelanny could be attractive to any number of contenders.
Closing Thoughts
Denis Poroy/Getty Images
This is only a small sample size of pitchers who could conceivably be moved before the end of August. As the playoff races continue to take shape over the next week, a team like the Chicago White Sox could decide to put some of their veteran pitchers, most notably Jake Peavy and Mark Buehrle, up for grabs.
Other names who are most definitely available but virtually impossible to trade due to their contracts and/or performance include Derek Lowe, AJ Burnett, Ted Lilly, Bronson Arroyo and Carlos Zambrano, though in the last case, nobody knows whether he is still an active major league player or if he's actually going to retire.
It should be a very interesting two weeks. Make sure to keep checking Bleacher Report for the latest analysis and commentary as the dog days of August heat up.
Keep Reading