AL Cy Young Race: Murray Chass Still Has Not Forgiven Felix Hernandez
August 15, 2011
Nick Laham/Getty Images
In his famous blog-that's-not-a-blog, former New York Times sportswriter Murray Chass analyzed the current Cy Young race with an interesting tid-bit on how objective, statistical analysis is playing a role in determining the game's best pitchers:
"Maybe much could change in the last six weeks of the season to change this outlook, but from the looks of things now, the neo-number guys are going to have a tough time pulling an American League Cy Young award winner out of their computerized hat.

Last year they came up with Felix Hernandez, whose 13-12 record belied everything the award had ever meant. The neo-number guys told us that wins don't mean anything, that it's the last thing on which to judge a pitcher."
Now, before I go on a tirade, let me just say that Chass's website/blog/whatever is actually a very fun read and provides a fun analysis on the game from an older fan's perspective. He covers a wide variety of topics from the history of collusion to the demise of the four-man rotation. He generally offers very interesting opinions and, as long as he isn't discussing statistics, there's a chance you could learn a thing or two.
But come on. Felix Hernandez was just pulled from some computerized hat?
Here's a simple fact: you take one of those other Cy Young contenders from last year (David Price, CC Sabathia, Jon Lester, Justin Verlander) and you put them on the 2010 Mariners, and they would have gone worse than 13-12. All of them would easily have had losing records.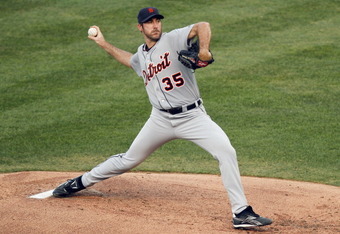 Ed Zurga/Getty Images

A pitcher can't control how many runs his team scores, especially in the American League.

Felix led the league in both ERA and innings pitched. Meaning he pitched better (even if ERA is kind of crude) than anyone else and he also pitched longer than anyone else. 

There was one guy who should have been in contention though. Check out these numbers:
| | |
| --- | --- |
| Wins | 21 |
| Strikeouts | 237 |
| ERA | 2.93 |
| Opponent Batting Average | .236 |
| Opponent OPS | .637 |
Know who that guy was? 
That was what the average, typical starter did against the Mariners offense last year. That's what Felix had to face every single time he pitched. Sure, Sabathia had to face Price, Verlander had to face Lester, once in a while, but they got breaks against bad pitchers that their offenses could decimate.
Because of his offense—which made your Brett Cecil's of the world look like Hall of Famers—Felix Hernandez was basically facing a Cy Young candidate EVERY TIME HE PITCHED.
Yes, yes. Steve Carlton won 27 games for a team that won 59. He also did it in 1972. He wasn't competing against Felix for the award. That season by Carlton was among the top-5 seasons ever turned in by a pitcher and was around twice as valuable as King Felix last year...but the Cy Young award is a comparison of contemporaries. 
 
And now, in 2011, your  top candidate is Justin Verlander of the Detroit Tigers just ahead of Jered Weaver of the Los Angeles Angels of Anaheim.
Both are leading winners; Verlander stands alone on top the American League with 17 wins and a .773 winning percentage. Weaver's 14 wins and .700 winning percentage rank him third and fifth respectively.
But this shouldn't serve as some counter-neo-statistical revolution. In terms of statistics developed by non-Neanderthals, here's how Verlander and Weaver stack up in the American League (statistics are as of the morning of August 15, 2011):
| | | |
| --- | --- | --- |
| Neo-Number Computerized Hat Statistics | Verlander (AL Rank) | Weaver (AL Rank) |
| Earned Run Average (ERA) | 2.35 (2nd) | 2.13 (1st) |
| Adjusted Earned  Run Average (ERA+) | 165 (3rd) | 175 (2nd) |
| Walks and Hits per Inning Pitched (WHIP) | 0.872 (1st) | 0.971 (3rd) |
| Innings Pitched (IP) | 195 (1st) | 181.1 (5th) |
| Strikeouts per 9 innings (K/9) | 9.046 (3rd) | 7.590 (16th) |
| Strikeouts/Walk Ratio (K/BB) | 4.781 (2nd) | 3.732 (7th) |
| Adjusted Pitching Wins | 3.7 (2nd) | 4.0 (1st) |
| Situational Wins Saved (WPA/LI) | 4.9 (1st) | 3.9 (2nd) |
| Wins Above Replacement  (WAR) | 6.5 (1st) | 5.7 (2nd) |
So if I got a vote, I would go Verlander, Weaver and then CC Sabathia, Josh Beckett (who has fewer wins than John Lackey) and throw my fifth place vote to the Blue Jays' JC Romero. If I had a sixth place vote, it would go to your reigning winner, King Felix. The more important point, is that these numbers, which are at least mostly under the pitcher's control, reflect their dominance better than the number of times they went 5 innings and had their offense outscore the team they were pitching against. 
The logical follow-up: why is Jered Weaver, your current AL Cy Young award runner-up 14-6 despite roughly the same abysmal run support as Felix Hernandez had last year?
Answer: he has pitched a lot better. Better ERA, and better WHIP in a more hitter friendly park. Luckily for Felix, he didn't have to contend against Weaver's current numbers last year.
There's no need to judge pitchers according to how their teams perform behind them. It's like judging a cook depending on the performance of the wait-staff. 50 years ago, we might have needed a simple, non-complex way to compare pitchers, but now we have outstanding, objectively sound information at our finger tips.