Florida Marlins' Recently Demoted Logan Morrison Just Doesn't Get It
August 15, 2011
Mike Ehrmann/Getty Images
In what is quickly becoming a bigger story than it should be, the Florida Marlins demoted left fielder Logan Morrison last week after a series of front office antics and what has swelled into more than two months of lousy play.
In response to the demotion, hundreds of fans of Morrison (a.k.a. LoMo) have cried foul, arguing that the Marlins' front office is out of touch with its fanbase, proved once again by his demotion for behavior that they actually enjoy.
(See also Bleacher Report's Andrew Robeson on the subject.)
This is absurd.
Do not get me wrong: I have no love for Jeffrey Loria, and I probably would not care for the Marlins' front office if I knew more about them. Loria is one of the true slimeballs in professional sports who pockets MLB luxury tax money rather than reinvesting it in the team. He single-handedly ran Joe Girardi out of town, who subsequently went to win a World Series with the New York Yankees. Worst of all, as owner of the Montreal Expos, Loria basically ruined a Major League franchise because of his own narcissism and greed.
At the same time...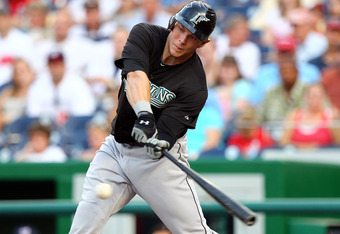 Ned Dishman/Getty Images
Is it really our position that Morrison was unfairly demoted?
Morrison has been one of the worst defensive left fielders in the National League this season, according to both FanGraphs and Baseball-Reference.
But his defense isn't what's hurting him.
Since June 1st, Logan Morrison has hit .213 with a .285 on-base percentage and a .693 OPS. He's hit 10 home runs in that time, though, not nearly enough to make up for his inadequate hitting as a whole.
And the guy has carried himself on the field with the maturity of a 12-year-old.
It has been suggested that LoMo's brash personality and outspokenness somewhat represent to the people of Miami a brand of leadership.
If the Marlins look at Morrison and see leadership, then they would have loved Tiki Barber, Albert Belle and Terrell Owens. I guess calling out teammates and coaches in the media and on Twitter, and failing to show up for team events, is what passes for leadership these days.
All I know is if you play with fire, you get burned; if Logan Morrison wanted to be popular with the fans at the expense of making his coaches and his front office angry, he may have wanted to play a little bit better ball for the last two-and-a-half months.
Let's put it this way, you can play poorly, quietly. If you are a valued member of the clubhouse and the team, as long as you don't make an ass out of yourself and you keep your head down and try to get better, people will respect you.
Or you can play well, loudly. If you put up the numbers—and not just home runs, but batting average, on-base percentage, you move runners along, you help produce runs, you play good defense—you can boast all you want. Barry Bonds- and Rickey Henderson-types may rub people the wrong way, but at the end of the day their teammates would rather have them than not.
Special are the players who play well quietly, the Chase Utley-types, the Albert Pujols-types. These are the guys who lead by example, whose bats and gloves do the talking for them. They are worth their weight in gold.
What you cannot have, though, is a guy who plays poorly loudly. If a guy wants to call out teammates and the front office and come and go as he pleases, then he better be a player, because if he is not, there will be nothing keeping him safe when his bat goes cold.
Expressed another way, the old adage goes, "Put up or shut up."
And for the last two-and-a-half months, Morrison has done neither of these things.
My favorite quote from this whole thing comes from Morrison's comments to reporters after they received the news. He had this to say:
"Heartbreaking move, disappointed. What are you hitting, .240?" Morrison said President of Baseball Operations Larry Beinfest told him in regards his release. "I don't know if that makes any sense to me or you guys, but all I know is I go out and give everything for this team. I play hurt, play through injury and this is how you get treated. It doesn't seem very fair or right to me.
"They didn't say anything about [my 17 homers and 60 RBI]. They didn't say anything about maybe the reason I was hitting .240 was getting the guy over to third rolling over groundballs, not worrying about average."
Right there is the truth about Morrison in a nutshell: He doesn't get it.
He doesn't get that playing baseball is about more than home runs and RBI. He does not get that there are guys in Major League Baseball who manage to get guys over to third and still hit better than .240. He does not get that he is in a two-and-a-half-month slump and, to his coaches and front office, does not seem to care.
And, perhaps most importantly, he does not get that you cannot make a nuisance out of yourself off the field without being productive on the field and not face consequences.
This is a guy who is a being overwhelmed by major league pitching and acting like the Marlins organization owes him something.
It is not even particularly clear why a Marlins fan would be unhappy with this move. Morrison clearly needs a little more ripening before he comes off the vine for good, and he is clearly hurting the Marlins at present.
The bright side to this story, of course, is up to LoMo himself. Because whether we see him again in September or see him again in 2012, Morrison needs to prove that he gets it, and that it won't happen again.