Troy Polamalu vs Ed Reed: Which One Is The NFL's Best Safety?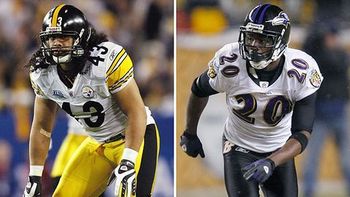 If there really was a need for adding any more hatred to the Ravens-Steelers rivalry, then this is it. Which safety is better, Troy Polamalu or Ed Reed?
Ravens fans will unquestionably go with Ed Reed, while Steelers fans won't think twice about going with Troy Polamalu. Both play with similar, yet distinct styles that opposing offensive coordinators have to be thoroughly prepared for.
So which one really is the better of the two? This topic calls for a great debate, and in this slideshow I'll prove who reigns supreme.
Career Stats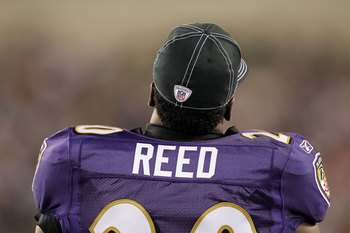 Jim McIsaac/Getty Images
While stats don't always tell the story, a comparison between these two is a must. Keep in mind that Ed Reed has played one more season than his counterpart.
| | | | | | | | | | | | | | | |
| --- | --- | --- | --- | --- | --- | --- | --- | --- | --- | --- | --- | --- | --- | --- |
| Player | GP | TACK | SOLO | AST | SACK | FF | FR | YDS | INT | YDS | AVG | LNG | TD | PD |
| Ed Reed | 128 | 496 | 412 | 84 | 5.0 | 10 | 7 | 0 | 54 | 1438 | 27 | 107 | 6 | 113 |
| Troy Polamalu | 107 | 516 | 394 | 122 | 8.0 | 8 | 4 | 0 | 27 | 328 | 12 | 49 | 2 | 81 |
The stat line looks about as even as it could be until you get to where it says INT. Reed has 27 more career interceptions and averages 27 yards per return. His pass deflection numbers stand out, which means he is more active in the passing game.
In the battle of the stat line the winner has to be Ed Reed.
Size, Power and Speed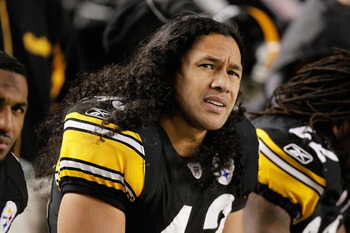 Gregory Shamus/Getty Images
Here is the tale of the tape for the two safeties. Both are of similar size, but Polamalu's 40-time is much better than Reed's.
| | | | |
| --- | --- | --- | --- |
| Player | Height | Weight | 40-Time |
| Troy Polamalu | 5'10" | 207 | 4.33 |
| Ed Reed | 5'11" | 200 | 4.57 |
Troy plays like he's 6'3", 230 pounds and is a wrecking ball out there on the field. His unique speed and awareness allow him to be one of the best defensive backs against the run that the league has ever seen.
Ed Reed can also deliver a blow, but he never lines up as a linebacker like Troy Polamalu does. If Ed Reed is in the box, nine out of 10 times he's coming after the quarterback.
Both players are special in this category, but in this battle the clear winner is Troy Polamalu.
Ball Skills
Gregory Shamus/Getty Images
If Ed Reed's 54 career interceptions don't speak for themselves, than I don't know what will.
Ed is the best defensive player in the league when it comes to going up for the ball and coming down with a pick, let alone returning them.
Ed can also be a factor in the return game, which is something Troy Polamalu hasn't done.
Troy is also great against the pass and has had some memorable interception returns himself. The difference comes in the minus-27 interception differential between him and Reed, which is a lopsided number.
The ball skills category goes to Ed Reed.
Awards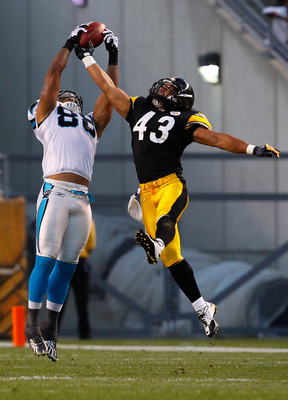 Jared Wickerham/Getty Images
When a player has started in and won two Super Bowls, that says a lot about how much that player meant to their team. Besides having two rings, Troy won the NFL's Defensive Player of the Year award in 2010.
Both Polamalu and Ed Reed were named to the 2000's NFL All-Decade team and both have a number of All-Pro and Pro-Bowl selections.
Reed has been selected to seven Pro-Bowls and five All-Pro teams, while Troy has been selected to six Pro-Bowls and three All-Pro teams.
Ed Reed was also named the AP Defensive Player of the Year back in 2004, which was only his third season in the league.
Polamalu's Super bowl victories kept him close, but Ed Reed wins this battle once again.
And the Winner Is...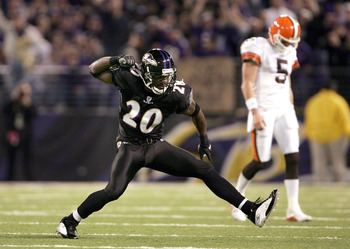 Doug Pensinger/Getty Images
Ed Reed.
Both players have been as dynamic as they come and this decision was extremely hard. I would love to have either guy on my team, but Ed Reed seems the most complete.
Both players should be first ballot Hall of Famers when they decide to call it quits and I expect Reed to say goodbye in the next two years.
We are all excited to see how this years Ravens-Steelers rivalry plays out. I know for certain that these two will play a major role.
Keep Reading

Baltimore Ravens: Like this team?